Walter Deffaa addresses World Cities closing conference in Shantou, China
23/03/2016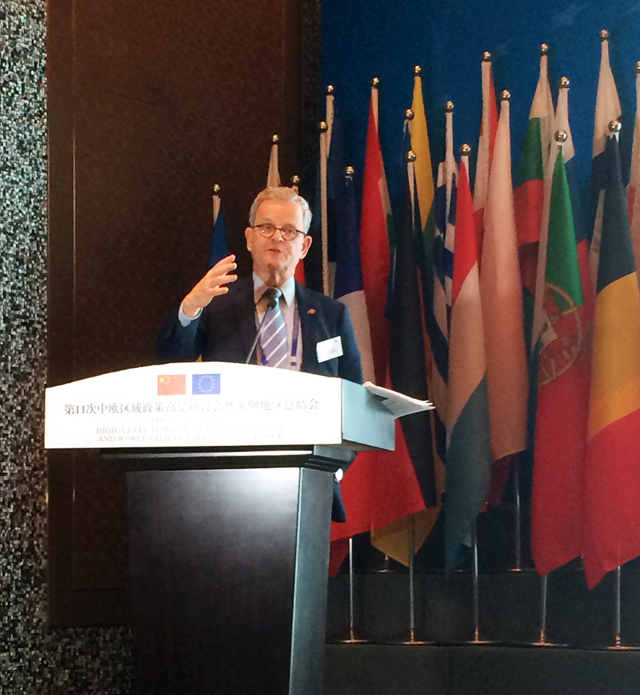 On Saturday 19 March 2016, Director General Walter Deffaa addressed the closing conference in Shantou of the EU's highly successful World Cities cooperation project. The project, which originates in a proposal of the European Parliament, provides for the pairing of city authorities and actors in Europe with their counterparts in, respectively, China, India, Canada and Japan with the aim of encouraging exchanges of experience and best practices, and the development of joint projects. Participating in the Shantou event were the Chinese cities of Chengdu, Shantou, Tianjin, Guangzhou and Wuhan and their EU counterparts, respectively, Dublin/Fingal (Ireland), Andalucía Smart City (Spain), West Midlands (UK), Lyon (France) and Barcelona (Spain). The project is implemented in China in partnership with the National Development and Reform Commission (NDRC).
In his keynote address to the conference, which also doubled as the annual EU-China seminar on regional and urban policy, Walter Deffaa said that urbanization was a global challenge. He said, "On the one hand, we have an urban population that is expected to double from 2.6 billion in 2010 to 5.2 billion in 2050, bringing with it environmental and social challenges such as congestion and threats to our security. On the other hand, cities are the engines of growth and innovation and social and cultural development so that in many ways our future depends on the future of our cities. He drew attention to the UNO's Sustainable Development Goal, number 11, which called for efforts to "make cities inclusive, safe, resilient and sustainable". The conference was a major event for Shantou, reflected in extensive media coverage including on television.
Mr. Zheng Renhao, Mayor of Shantou and host of this World Cities closing conference, spoke of the many concrete actions involving the business sector, the universities, etc, that Chinese cities were developing in partnership with EU cities under the World Cities project. He said "We have to grasp opportunities and guide enterprises to explore investment and cooperation with EU regions and cities for win-win results".
The conference was informed of the progress made under the different pairings between the EU and Chinese cities, respectively. For Barcelona-Chengdu/Wuhan the focus has been on projects in the fields of smart city development, support to SMEs and innovation and academic education and research. For Dublin/Fingal-Chengdu/Wuhan the key themes concern smart city development, university and research and green technology and innovation. In the case of West Midlands-Tianjin/Guangzhou key themes are green technologies, infrastructure and smart cities, health care and bio-tech and the organization of a British Week within the Tianjin International Trade Fair. For Lyon-Guangzhou the exchanges cover cooperation on business start-ups, smart city technologies and cluster promotion. For Andalucía–Shantou, the main themes are ICT solutions, green buildings, renewable energies, urban design, cloud-based HR management and sea port development.
Mr Deffaa concluded his keynote speech by speaking of future prospects for EU-China cooperation. He said, "The World Cities project is being followed from this year onwards by a larger, more ambitious International Urban Cooperation Programme to bring together city and regional actors, including the private sector. It will include a specific component for EU-China exchange, and will build on the very concrete, project-centred approach that we have developed together over recent years".
Earlier Mr Deffaa held bilateral meetings with, respectively, Mayor Zheng Renhao to discuss the cooperation with Shantou and with Mr Liu Sushe, Director General of the NDRC who informed him of the content of the just-approved Thirteenth Five-Year Plan.