New report just published: Jaspers at 10
22/02/2016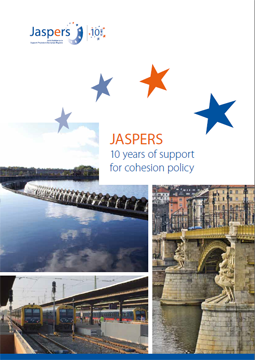 A report "Jaspers: 10 years of Support for Cohesion Policy" has just been published to mark the organization's first decade of successful operations as a unique source of expertise to Member States and regions for the implementation of, often complex, major investment projects in infrastructure many destined for support under EU regional and cohesion policy .
The report was published by the European Investment Bank (EIB), the original partner to the Directorate General for Regional and Urban Policy (REGIO) of the European Commission in this innovative venture when it was set up in 2005. The European Bank for Reconstruction and Development (EBRD) joined at a later stage while KfW bank participated during 2008-2013. In her introduction to the report, Commissioner for Regional Policy, Corina Creţu, said, "From modest beginnings nearly a decade ago, Jaspers has become a key instrument of cohesion policy…The mix of skills and experience, and independence of judgement, that Jaspers brings is a unique resource which has made a real difference to the quality and also the speed with which new investment is implemented". Looking ahead, the President of the EIB, Werner Hoyer, said, "I have no doubt that Jaspers will adapt and continue to provide the same high quality service to the Member States and to the Commission as in the past".
This important milestone in the life of Jaspers was celebrated at a major event held in Brussels on 9 November 2015 which was attended not only by high representatives from the EIB, EBRD and REGIO but by representatives of the Member States and regions who attested to the contribution made by Jaspers, describing it variously as "a powerhouse of knowledge", "always there to help", "high added value".
More information on the 10-year celebration event
JASPERS: 10 years of support for cohesion policy