Cross-border cooperation in the European Union: an opportunity for Europe's border regions
15/09/2015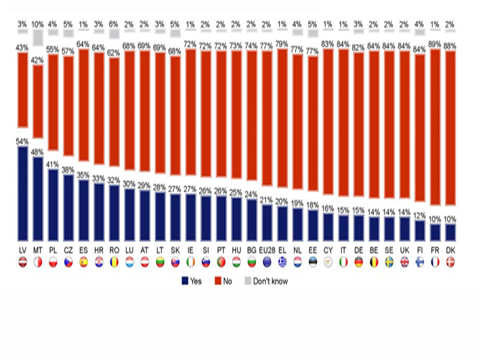 More than one third of EU citizens live and work in Europe's border regions. Those borders have a direct and indirect impact on their lives.
European Territorial Cooperation (the Interreg programmes) plays an important role in removing border obstacles and fostering cross-border cooperation. Relatively small in budget, the Interreg projects have achieved many concrete outcomes for the citizens – whether in the area of cross-border security, transport, education, energy, health care, training or job creation.
For 2014-2020, more than EUR 10 billion will be invested in cooperation between regions, of which around €6.6 billion will go to cross-border regions. This should ensure maximum impact and even more effective use of the investments.
However, a significant economic potential remains untapped in the border areas due to a lack of trust or even the existence of negative attitudes among neighbouring countries. DG REGIO therefore conducted a first-ever Eurobarometer survey to identify and map attitudes of citizens living in the border areas. The study will help arrive at more targeted EU interventions. Below the main findings:
Awareness of EU funded cross-border cooperation activities:
One third (31%) of people living in the border regions are aware of EU funded cross-border cooperation activities in their region.
Awareness is generally highest among the respondents living in the border regions in the Eastern and Central countries.
Reasons for crossing the border to a neighbouring country:
Around three quarters (76%) of respondents have travelled to another country. Respondents living in the border regions in the Northern and Central countries are generally more likely to travel abroad.
Respondents are most likely to travel to a partner country for leisure activities including tourist visits (57%), followed by more than one third (35%) who do this to shop for goods or services. Only 14% travel for work or business purposes. Ireland and the United Kingdom (Northern Ireland) is the only border where at least half of all respondents have crossed the border to see friends.
Level of trust of people living in the border regions:
A vast majority (61%) of respondents agree that most people can be trusted. Respondents living in the Scandinavian countries are generally more likely to agree that most people can be trusted.
There are few differences between levels of comfort when it comes to having a citizen from a partner country as a neighbour (59% feeling totally comfortable with this statement), work colleague or a family member (both 58%). Respondents are less likely to be comfortable with having a citizen of a partner country as a manager (49%).
Perceived obstacles to cross-border cooperation between border regions
More than one third (37%) consider living in a border region as an opportunity, while only 4% say it is more of an obstacle. Half (55%) of respondents say living near the border with a partner country has no impact.
At least half of the respondents (57%) identify language differences as a problem for cross-border cooperation.
More than four out of ten consider socio-economic differences, and legal or administrative differences as problems, while at least three out of ten identify cultural differences or accessibility as problems for cross-border cooperation.
Cultural differences are mentioned most often in the area along the German-Polish border. Accessibility was indicated as a problem more often in the West, in particular in Italy.
A recent Eurobarometer survey on "Citizens' awareness and perceptions of EU Regional Policy",found that only a fifth of all citizens (including those not living in border regions) were aware that EU regional funding is invested in this field. The results show that there is more work to be done to promote the Interreg programmes.
Those findings will be discussed at a high-level Conference celebrating 25 years of Interreg, which is organised by the Luxembourgish Presidency of the Council of the European Union together with the European Commission and the INTERACT Programme.
More Information