A sustainable welcome for migrants and refugees
07/04/2021
In 2015 and 2016, hundreds of thousands of people reached Europe after fleeing their countries, often with little chance of returning any time soon. Local volunteers, welfare groups and public authorities cooperated to help these migrants and asylum seekers to integrate into their new home, with EU support.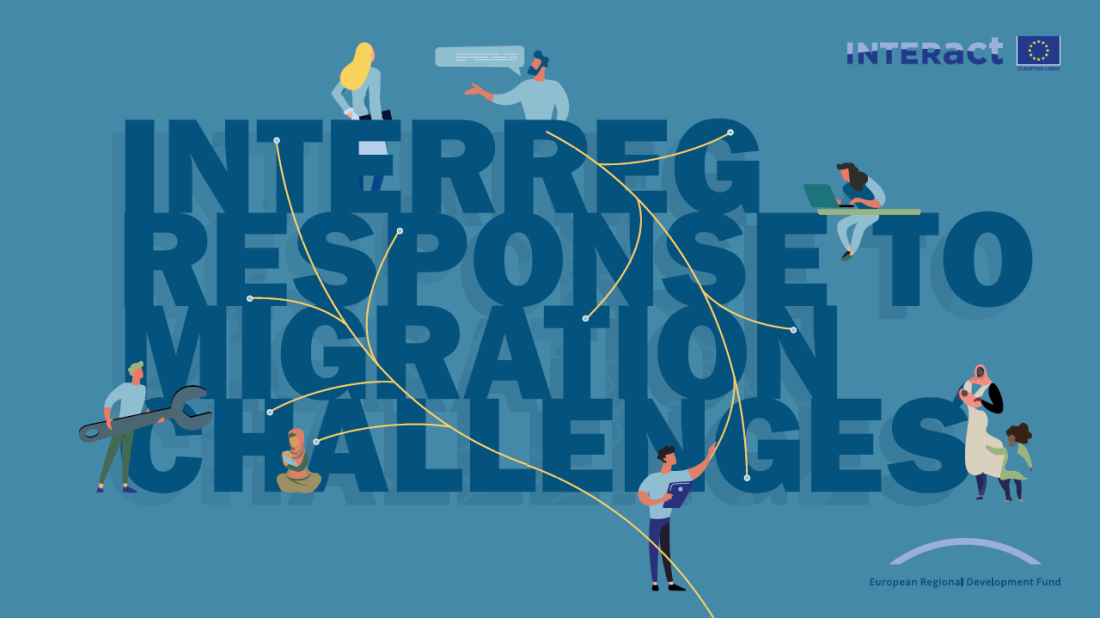 Eighteen projects are featured in the brochure 'Interreg response to migration challenges'.
A few years on and many newcomers are now active members of communities, making local friends, adapting to a new way of life, sending their children to school, working and, in their turn, volunteering for others.
Projects run by committed individuals and organisations alike were essential to this inclusive outcome.
All had the courage to imagine new ways of working. They recognised that just as migration blurs borders, the resulting local challenges can only be overcome when regions join forces.
With financial support from the EU's Interreg fund, these projects have been able to realise their dream of creating a welcoming environment in which migrants and refugees can contribute their skills and talents to Europe.
'Interreg stands for the truly European spirit of crossing borders. Not only in geographical terms, but also with regards to overcoming obstacles, bridging differences and joining forces for the sake of a common good … We need the spirit of cooperation more than ever,' says Johannes Hahn, European Commissioner for Budget and Administration.
Creating cohesion
For example, local people and refugees have been setting up cohesive mixed communities in Austria, Italy, Germany and Slovenia in the SIforREF project, in the regions of Vienna, Emilia-Romagna, Berlin and Zahodna Slovenija.
Participants get to know each other better in the project, which also enables refugees to make a smoother transition into local life. Activities range from practical work experience in businesses to sharing personal stories to boost mutual understanding.
One beneficiary is Khalid, an asylum seeker who volunteered in a project in Slovenia's capital Ljubljana. 'I met a lot of good people in Ljubljana and integrated myself … I learned a lot,' he says. He is still volunteering.
Another is Katja, who provides practical support and advice to migrants through civil society organisation Infokolpa. She took part in a study visit to share insights from the Croatia-Slovenia border. 'The repressive border regime negatively impacts the possibilities of integration,' she says. 'It is important to pursue the goal of an inclusive Europe.'
Nine research institutes, public authorities and NGOs run the project, led by Ca' Foscari University of Venice, with funding from the Central Europe Programme for transnational cooperation. When one activity has particularly good results, project members share the idea so that another region can target funds and effort to the most effective initiatives.
Information for integration
Migrants are also taking charge of their adaptation to local life in WoHealth. This Finnish-Swedish project empowers migrant women to guide their families through local healthcare systems.
Specialists from Turku University of Applied Sciences in Finland's Etalä-Suomi region and a medical centre in Östra Mellansverige, Sweden have produced leaflets on 28 healthcare topics in easy-reading versions of Finnish and Swedish for women still learning the languages. The project, funded under the Central Baltic programme, is also training longer-established migrant women to advise new arrivals on skills such as how to make a doctor's appointment.
Easy access to healthcare information has reduced stress for families and improved their ability to study, work, and take part in local society. Meanwhile, the peer supporters have been a vital link between local services and migrants, improving women's health.
Nasra Abdullah was a volunteer WoHealth coordinator in Finland, on behalf of NGO Sateenkaari Koto. 'My role was to identify women needing support on gender-related health issues. Many of them shared their experiences and fears, questions, and thoughts about their own health. Through the project, the women got to look at health and its role in everyday life and the factors that affect them as a broader concept,' she says.
Online outreach
In local authorities, public servants are as keen to improve services as migrants are to find education, jobs and homes for themselves.
Barbara is a director of regional employment services in Slovenia. 'We often face obstacles such as services for unemployed migrants being dispersed across various institutions,' she explains. 'We needed a tool, a kind of IT platform, where we could find all the information in one place.'
Ten service providers and research organisations, led by the Research Centre of the Slovenian Academy of Sciences and Arts, joined forces in the DRIM project to develop the DANUBE COMPASS. This online platform provides information in 21 languages about jobs, training and services in regions in nine countries around the river Danube.
Eight more partners contributed as associates to the project, which fell under the Danube Transnational Programme.
For ease of access, the platform can be reached via smartphone, tablet and computer. The more direct access to practical data from neighbouring regions gives refugees skills to adapt to their new lives.
When Ali first arrived in Austria from Syria, he needed help to navigate doctors' and official appointments. 'Life here in Austria was quite a struggle,' he says. 'But since my German has improved and I have become acquainted with local laws, rules and customs, I really feel like [I'm at] home.'
Long-term cooperation
These projects and many other EU-funded projects put Europe's policy to integrate migrants and asylum seekers into practice.
The EU's Asylum, Migration and Integration Fund contributes to the cost of the initial welcome, while communities can access skills and jobs training financed by the European Social Fund Plus.
Interreg supports the bottom-up and regional projects that help refugees and migrants to learn, find jobs and homes and care for their health as full members of European society.
In the last 20 years alone, Interreg has funded almost 80 such projects – both cross-EU initiatives and partnerships between neighbouring regions, tailored to local needs and opportunities.
'This programme supports and facilitates territorial cooperation, with a view to overcoming formal and informal obstacles that prevent border regions from growing and developing to their full potential … We are here at the heart of the European project,' says Elisa Ferreira, the European Commissioner for Cohesion and Reforms.
Read the full publication to find out more about how Interreg can help regions to integrate migrants and refugees into local communities.