European Celebration of 30th Anniversary of Erasmus+
Official European-level celebrations marking the 30th anniversary of the Erasmus Programme took place in Strasbourg, France on 13 June.
Young people, Erasmus+ beneficiaries, directors of Erasmus+ National Agencies, and members of the European Parliament and European Commission were invited to celebrate the achievements of the programme and to build the future of Erasmus+ post-2020 together.
Representatives of the Erasmus+ generation and stakeholders were joined by
Antonio Tajani, President of the European Parliament
Jean-Claude Juncker, President of the European Commission
Tibor Navracsics, Commissioner for Education, Culture, Youth and Sport
During the ceremony 33 representatives of the Erasmus+ generation - one from each programme country - were awarded prizes. You can see the prize winners on the Celebrating 9 million participants page.
In addition, a new Erasmus+ mobile app was launched by the European Commission, aiming to make the programme even more inclusive, and an exhibition showing the history, impact and success of Erasmus+ was opened for temporary display.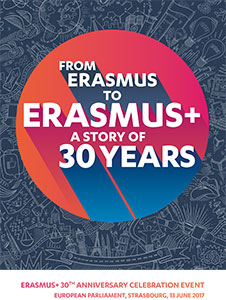 Event agenda and 9 Millionth representatives details.
Report on the debates taking place 13 June 2017