United Nations Food Systems Summit, Fall 2021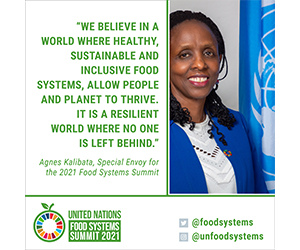 The Summit will launch bold new actions to deliver progress on all 17 Sustainable Development Goals, each of which relies to some degree on healthier, more sustainable and equitable food systems. It is convened by the UN Secretary-General António Guterres and it will be a call to all stakeholders across the food value chain to work closely together to take and scale up action in order to transform the way the world produces, consumes and thinks about food.
The Summit will build around five Action Tracks:
Action Track 1: Ensure access to safe and nutritious food for all
Action Track 2: Shift to sustainable consumption patterns
Action Track 3: Boost nature-positive production
Action Track 4: Advance equitable livelihoods
Action Track 5: Build resilience to vulnerabilities, shocks and stress
Food loss and waste is part of Action Track 2, as the latter promotes the reuse and recycling of food resources, especially among the most vulnerable, and recognises the need to eliminate wasteful patterns of food consumption. In this context, the Summit will provide a new impetus in the fight against food loss and waste at global level.
Take action!
The Summit's success relies on the active involvement of all actors across the world's food systems sharing their expertise and views. Please find below various ways in which you can get involved:
Have your say in the Summit's Action Tracks:
Your input is valuable for the UN leadership teams who are looking to progress the work of each Track, by gathering game-changing ideas and insights from everyone, through surveys carried out.

You are encouraged to provide your input regarding food loss and waste prevention and reduction initiatives that you consider to be 'game changers' through the survey for the 2nd Action Track. The potential game-changing ideas submitted will then be screened, prioritised and a few will be finally selected for development ahead of the Summit. This process includes working up the detail of the ideas, consulting with others, building a coalition of players who need to be involved, and starting to mobilize efforts. The 'game-changers' will be announced at the Summit.


Yolanda Kakabadse (World Wildlife Fund US Board Member) is chairing the workstream on food waste, with support from Liz Goodwin (Senior Fellow and Director, Food Loss and Waste at the World Resources Institute).

Please find the links to the surveys of the Action Tracks below:

Become a Food Systems Hero: By signing up to become a #FoodSystemsHero, you commit to learn, share, gather and act for food systems transformation.

Follow the Summit on social media and spread the word using relevant communications materials (#FSS2021). More information here.