EFSA scientific opinion: Guidance on date marking and related food information: part 1 (date marking)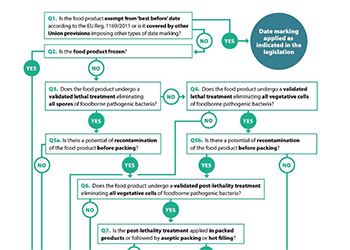 Scientific experts from the European Food Safety Authority (EFSA) have developed a risk-based approach to be followed by food business operators when deciding on the type of date marking (i.e. 'use by' versus 'best before' date), when setting the product shelf-life and when identifying the related information to provide on labelling in order to ensure food safety.
The first scientific opinion relates to factors that should guide food business operators in deciding between 'use by' or 'best before' dates and setting of shelf-life (adopted in October 2020). Helping food business operators in their decision making on the choice between 'use by' or 'best before' dates and on setting the appropriate shelf-life, storage conditions and open life instructions will improve the understanding and use of date marking and contribute to the better management of foods by all actors, which will have an impact on food waste reduction. EFSA also developed a decision tree, consisting of a series of questions, to assist food business operators choose the type of date marking for their products.
The second opinion is to be adopted by March 2021 and will focus on other food information aspects (such as storage conditions, time limits for consumption after opening and thawing practices).