Three MEP claim for energy renovation in buildings: ATLAS project brings a transnational solution in the Alpine Space!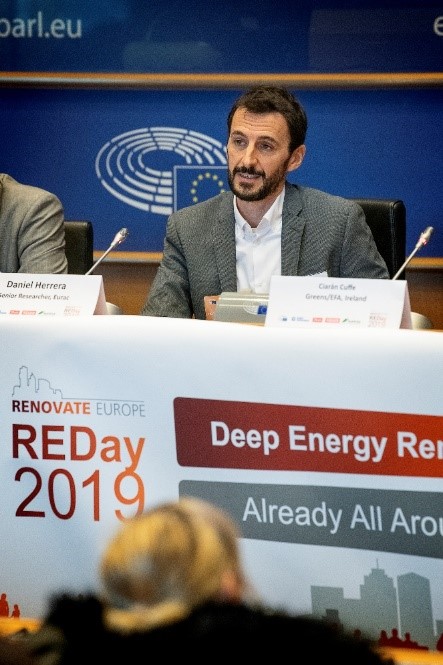 The message was clear and shared at the European Parliament last week: "buildings are responsible for about 36% of CO2 emissions in the EU, we need to renovate for climate protection and energy efficiency". Three MEPs from three different political parties and member states – Pernille Weiss (EPP, Denmark), Ciarán Cuffe (Greens, Ireland) and Theresa Griffin (S&D, United Kingdom) – agreed and urged: "we all need to work together in order to make Europe more energy efficient" (T. Giffin) and "now we have to deliver!" (P Weiss). And delivering cooperative and transnational solutions is what the Interreg Alpine Space project ATLAS is doing. Daniel Herrera from the lead partner organisation EURAC was on stage last week at the Renovate Europe Day 2019 to present the first international database on historic building renovation for energy efficiency. Gathering nine partners from six different Alpine countries, the project aims at paving the way for sustainable development of historic structures. On top of feeding into the international database, the project partners support municipalities in the implementation of solutions for the renovation of historic buildings and share knowledge gained througy the project with stakeholders from academia to all policy levels. "Buildings shape us and no buildings shape us more than historic buildings" says Daniel Herrera, adding: "It is not anymore about whether or not the technologies exist to renovate historic buildings - it is now about convincing people that we need to renovate these buildings".
More information about the project: www.alpine-space.eu/atlas.