Quoi de neuf du côté de Sysper Pensions ? What's new on Sysper Pensions side?

Depuis le 25 novembre 2019, vous pouvez déclarer via votre Front Office de Sysper Pensions les changements concernant vos données personnelles, telles que votre adresse privée, votre numéro de téléphone, les coordonnées de votre personne de contact. Vous pouvez également consulter votre composition de famille et informer le PMO de tous les événements qui ont un impact sur vos droits pécuniaires, comme le mariage, une naissance, une adoption, un changement dans la scolarité ainsi que les allocations familiales que vous percevez d'une autre source, en remplissant une déclaration dans Sysper. Pour votre facilité, dans chaque déclaration familiale, nous avons publié un tutoriel directement disponible dans Sysper.
Sysper Pensions vous permet aussi de demander le remboursement de vos frais de déménagement après la cessation de votre service.
Un autre changement à noter : depuis décembre dernier, la déclaration de vie change d'apparence et vous propose dorénavant les liens vers les modules correspondants de Sysper où vous pouvez effectuer les modifications de vos données.
A partir du 3 février, deux nouvelles déclarations ont été mises à votre disposition dans Sysper : « Activité professionnelle / revenu de mon conjoint / partenaire reconnu(e) » et « Divorce ».
Nous vous invitons à vérifier dans votre Sysper si vos données personnelles, adresse, numéro téléphone et coordonnées de la personne de contact sont correctes. Le processus de la migration de vos données à partir des 3 autres applications vers Sysper était un exercice difficile et même si nous avons déployé beaucoup d'efforts pour les corrections, il se peut que certaines données ne soient pas exactes.
Par exemple, les coordonnées de la personne de contact étaient stockées en version papier uniquement et par conséquent, nous n'avons eu aucun moyen de les importer dans Sysper.
Pour cette raison, si vous étiez enregistré(e) dans Sysper durant votre service, les coordonnées de votre personne de contact sont celles de la période de l'activité. Vous pouvez les modifier vous-même ainsi que votre adresse et le numéro de téléphone.
Vous pouvez accéder à Sysper Pensions si vous disposez d'un compte EU Login externe en vous connectant via le lien : https://myremote.ec.europa.eu/
My Remote est le point d'entrée unique de toutes les applications auxquelles les pensionnés ont accès : Sysper Pensions, RCAM en ligne, My IntraComm et EU Login. Dès que vous êtes redirigé vers la page affichée ci-dessous, il suffit de cliquer sur le lien de Sysper Pensions pour y accéder :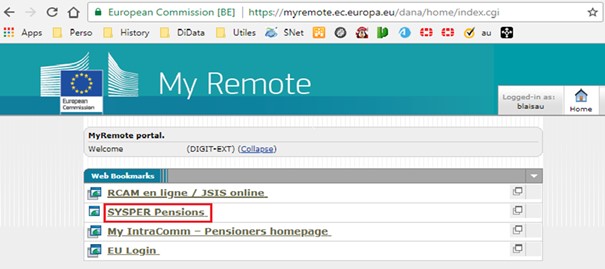 Une fois vous êtes connecté à Sysper, veillez aller dans le "MENU" et ensuite dans l'onglet " Données personnelles" afin de vérifier si les informations vous concernant sont exactes.
Si vous constater une erreur, vous pouvez le corriger vous-même dans Sysper. Pour les modifications des noms et des nationalités vous devez nous contacter par e-mail : PMO-PENSIONS@ec.europa.eu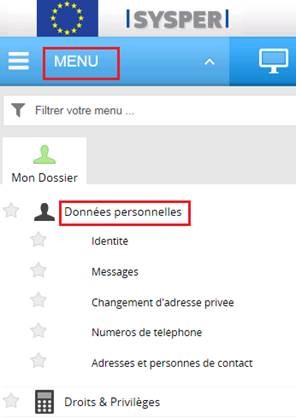 Si vous ne disposez pas encore d'un compte EU Login et souhaitez en créer un, merci de vous référer à la procédure publiée sur le site de l'AIACE Internationale : https://aiace-europa.eu/eu-login/
Nous espérons que Sysper Pensions répondra à vos attentes et vous sera utile.
Chef d'unité PMO.4

Since 25 November 2019, Sysper Pensions Front Office enables you to declare the modifications concerning your personal data such as your private address, telecoms and contact person.
You can also check your family composition via Sysper and inform PMO about the events, which impact your financial rights: marriage, child birth, adoption, schooling and also family allowances that you are receiving from other sources. For your convenience, you will find a tutorial published in each Sysper declaration.
Sysper Pensions also gives you the possibility to request the reimbursement of your removal expenses related to the end of career.
Last but not least : starting from December 2019, you can experience a new format of the life declaration which now gives you a direct link to the different Sysper modules to declare changes in your personal data.
As from 3th February, two other declarations are available in your Front Office : "Spouse / recognized partner's professional activity / income" and "Divorce".
We invite you to verify in your Sysper file if your personal data, your address, phone number and contact person details are correct.
The data migration process from 3 other applications into Sysper was a very challenging exercise and it is possible that some information related to your file maybe incorrect, despite significant efforts spent to correct it.
For example, the details related to your contact person were stored on paper version only and to import this information to Sysper was simply impossible.
That is why if you were registered in Sysper during your duty, the contact person details you see in your Sysper file are still those from the activity period. Then you can modify them by yourself in Sysper, as well as you address and telecoms.
If you have an EU Login account, your access to the Sysper Pensions will be automatically granted. In order to connect, please use the following link: https://myremote.ec.europa.eu/
This is the single entry point for all applications that are accessible to the retired Staff: SYSPER Pensions, JSIS online, My IntraComm and EU Login. When you are redirected to the page displayed below, please simply click on the link of Sysper Pensions in order to access the application: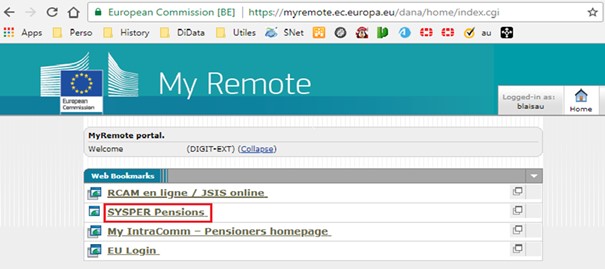 Once you are connected to Sysper, please go to the "MENU" and next to the «Personal data" tab in order to check if your personal details are correct.
If something is wrong, you can change it yourself. The requests of modification related to names and nationalities should be addressed by email to: PMO-PENSIONS@ec.europa.eu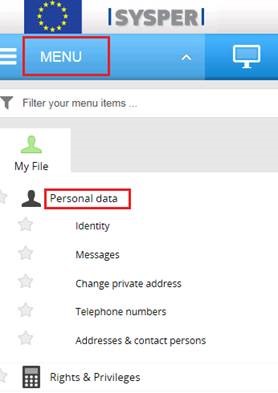 Those who have not yet an EU Login account and would like to create one, please follow the procedure published on AIACE Internationale website: https://aiace-europa.eu/eu-login/?lang=en
We hope that Sysper Pensions will meet your needs and will be useful for you.
Head of Unit PMO.4