Consumer Conditions Scoreboard: Consumers at home in the Single Market 2017 edition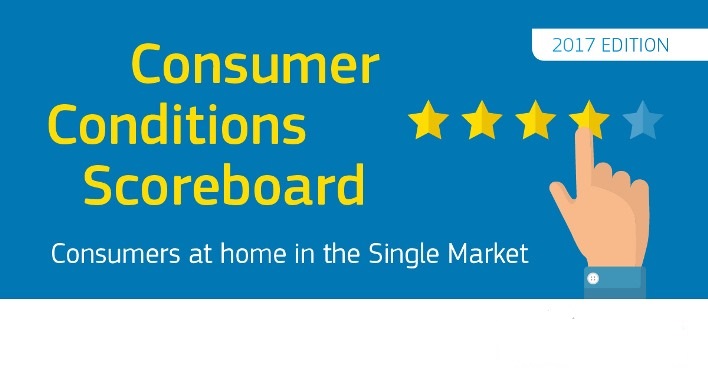 The Consumer Conditions Scoreboard monitors the consumer environment across Europe through three key dimensions: knowledge and trust; compliance and enforcement; complaints and dispute resolution. It also examines progress on the EU Digital Single Market from a consumer perspective.
Highlights
More consumers are buying online and their trust in online purchases has dramatically increased especially in buying from other EU countries: compared to the previous scoreboard edition, levels of trust increased by 12.4 percentage points for purchases from retailers located in the same country and for purchases from other EU Member States, by a stunning 21.1 percentage points.
Retailers, however, remain reluctant to sell online to consumers in other EU countries: Their main concerns are higher risks of fraud and differences in tax regulations. They are also discouraged by differences in national contract laws, differences in national consumer protection rules, and potentially higher costs for solving disputes cross-border.
Conditions for consumers have improved across the EU, mainly due to an increase in the knowledge and trust indicators: consumers do not only know their rights better, they are also more confident that their rights are respected by companies and protected by the actions of public authorities and non-governmental consumer associations. Compliance by retailers with consumer rules has also improved. As in previous editions however, significant differences between countries can be observed. Consumer conditions are generally better in northern and western EU countries than eastern and southern ones.
Consumer vulnerability significantly influences consumer conditions. Consumers may perceive themselves to be vulnerable due to their financial circumstances, their employment situation, age, health problems, personal issues or belonging to a minority group. Those who perceive themselves as vulnerable have less trust in organisations, product safety and environmental claims. They are more likely to report having been exposed to unfair commercial practices. They are also more likely to experience problems and be less satisfied with how their complaints were handled.
Relevant documents:
Related links: