RENAISSANCE Survey Glossy Report shows the level of social acceptance of energy communities in Europe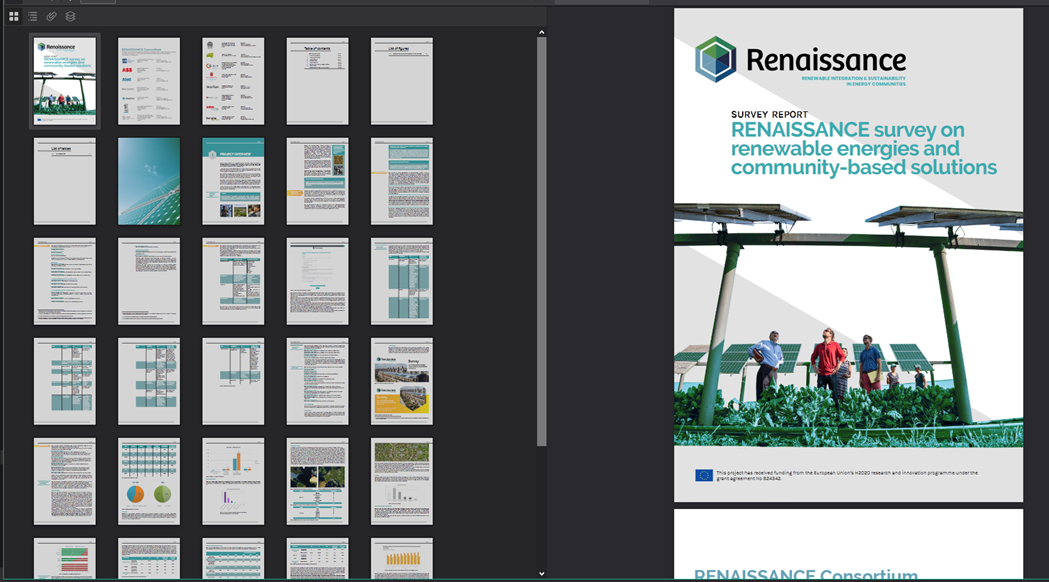 The socio-economic context and the quality and quantity of information received by European citizens strongly influence their acceptance of clean technologies and measures, including renewable energy generation technologies. Technologies that are technically and economically feasible in a given context may not be successfully implemented due to social resistance, lack of awareness of the technology, low engagement and so forth. The RENAISSANCE survey helped the research Consortium identifying end-users' needs and concerns while also offering the respondents an initial set of information which can support them towards an energy transition process.
The Glossy Report contains insights from respondents of different ages, income, countries and population density area, in order to spot differences in their attitude. Here some of the main conclusions of the report.
1)      We are all aware that the way the energy we use is generated has a strong impact on the environment. Citizens are convinced that it is mainly the responsibility of policy makers and energy producers to promote and invest in the energy transition. Most people know there are incentives and measures towards "green" energies, but they consider them largely insufficient. About the possibility of installing small systems in their own properties or accepting small plants for the production and consumption of local renewable energy, benefits to the environment and wallet are crystal clear, but maintenance costs scare away.
2)      The amount of incentives or facilitating measures for the consumers' transition to renewable energy sources are perceived as too low to make an impact and almost half of respondents, independently from their age, income or geographic distribution, are not aware of any existing local or regional initiatives with 10% to 13% of the respondents who believe there are no initiatives at all. Such figure clearly indicates that there are gaps in the effective citizens' outreach by such initiatives and it would be interesting to fully understand and mitigate their low uptake.
3)      Concerning the contents of the Directive "Clean Energy for all" which introduces and regulates the Energy Communities, most respondents agree on its highest desirability compared to traditional energy business models. Apart from small deviation this is true, regardless of the age and the population density of the area respondents live in.
4)      The economic benefits of becoming "prosumers" are a strong driver, nevertheless the participation in the energy transition is driven more by energy saving and collective benefits rather than seen as an investment (i.e. people are aware they will not become rich, whatever their participation in the energy market would be).
One of the objectives of the RENAISSANCE approach is addressing in particular the issue of low uptake of citizen-led renewable energy production with an innovative stakeholder engagement strategy and with user-centric design of tools and solutions.
Read more here: https://www.renaissance-h2020.eu/survey-results-full-report-available/