Updates on the Batteries Partnership - November 2020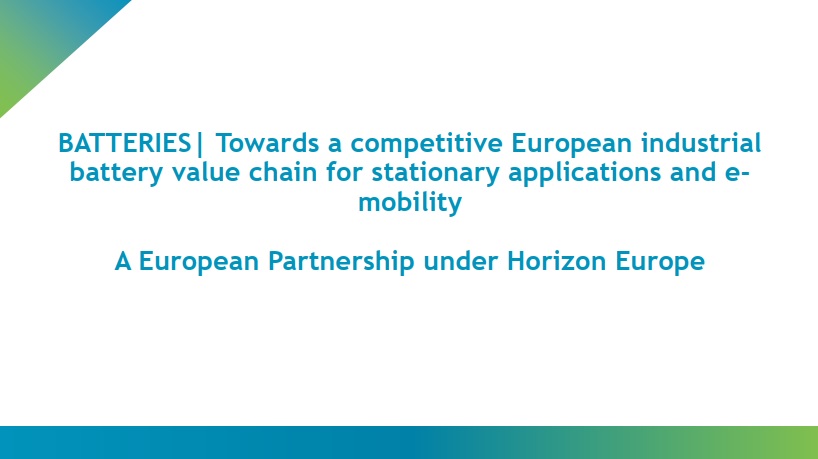 The Batteries European Partnership will gather - on the public side - the European Commission (EC) and - on the private side - all the interested stakeholders of the European battery community regrouped in a dedicated association (the Batteries European Partnership Association – BEPA). Its ambitions is to prepare and equip Europe to commercialise next-generation battery technologies by 2030, the objective of the Partnership is thus to pool Europe's resources and knowledge in order to accelerate the development, industrialisation and deployment of strategic battery technologies via a common R&I strategy and coordinated investments.
The Batteries European Partnership Association (BEPA) is currently finalising its setting up process.
As of November 2020, these are the updates:
A first draft for the Articles of the Association and its Code of Conduct have been published. They can be downloaded and receive amendments until 2 December by writing to secretariat.bepa@clerens.eu.
The membership application form can be downloaded at this link. A copy signed by a duly-empowered representative must be sent via e-mail and physical mail to BEPA Secretariat, Avenue Adolphe Lacomblé 59/8, B-1030 Brussels.
The first Statutory General Assembly will take place on Monday 14 December, 9.30-12.30.
Applications for the following governing positions are open:
-9 positions for representatives in both the Executive Board and the Association Delegation
-15 additional positions in the Association Delegation
In order to apply, the following application form must be completed and submitted by Monday 30 November 2020.
For additional information (e.g. provisional schedule of membership fees), please contact the Partnership Secretariat at secretariat.bepa@clerens.eu.