New FET coordination and support actions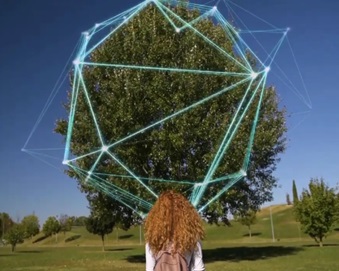 BRIEFING
Bridging the FET Innovation Gap
Future and Emerging Technologies (FET) supports the early-stages of science and technology research and innovation around new ideas towards radically new future technologies. The mission of FET is to turn Europe's excellent science base into a competitive advantage. Nevertheless, business utilisation is still considerably low. The BRIEFING project tackles this challenge.
The goal of BRIEFING is to bring together innovative and groundbreaking FET research results with different business players to promote the facilitation from idea to product.
The project leader is bwcon (Baden-Württemberg: Connected, Stuttgart, Germany), the consortium partners are innomine (Budapest, Hungary) and Politecnico di Milano (Milano, Italy) CILab (Creative Industries Lab) – Department of Design and Department of Management, Economics and Industrial Engineering.
The long-term impact of the project is to reach technological breakthroughs on different scientific fields (e.g. medicine, space technology, environmental sciences, etc.) and to utilise these results economically to be used in our everyday lives in the future.
The project started in December 2018; during the kick off meeting, the partners went through the specific details and tasks of the project: trainings, online pitching sessions, scientific and business partner twinning.
Please check out our website in the links below for further information, news on the trainings and business pitching opportunities. For further information please contact us at info@fetbriefing.eu
BRIEFING website - Facebook - Twitter - LinkedIn
FETFX
Unleash your FET impacts
The emergence of a science-driven breakthrough innovation is the essence of the FET programme. Stimulating effects of FET through communication and outreach is the main aim of the FETFX project.
For the last 30 years, the FET programme has been intensively stimulating FET researchers and its community to the foundation and consolidation of the next promising technologies of the future, by conducting high-risk, long-term, multidisciplinary and collaborative frontier research and innovation.
The FETFX project will support all FET projects in their communication and outreach activities to increase their influence and impact among society, policy makers and research and innovation communities.
The project will turn up the volume for opinion leaders and multipliers, the general public and wider business community, who may investigate, benefit, invest or just promote the emerging technology supported under the FET programme.
Acting as a communications hub across various media, FETFX will stimulate the debate on the technologies of the future through different media channels and several events.
Your hidden innovation potential will be the focus of the next FETFX Start Cup, capable to foster the emergence of the next generation of deep tech companies, in line with the European Innovation Council purposes.
Open your laboratories to independent Journalists, who will support the communication of your FET research and results in novel ways, independently reviewing content to boost outreach potential!
More opportunities will arise…

FETFX is here to help FET projects boost their effect!
Contact them at the links below to benefit from their experience and support.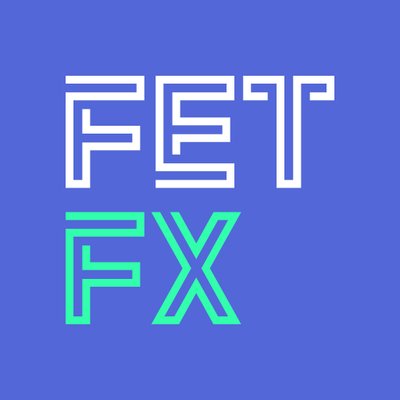 FETFX website - Twitter - LinkedIn - YouTube
PREFET
Converting emerging technology trends to successful FET proposals
The PREFET project is about evidence-based detection of emerging technology trends with high-impact potential, and funnel them down to successful FET proposals. This implies an efficient process into which the Consortium is fully immersed.
It started with human intelligence-based (manual) scanning of tens of information sources to detect signals for potential trends. As a result, we have compiled more than +500 signals. This is being followed by a second step in which Artificial Intelligence (AI) is used to validate these signals and convert them into specific tech trends. For this purpose, we use Linknovate's technology (one of the partners in PREFET). It has resulted in more than 50 pre-detected trends.
The following step, to be launched in April, will be an open and wide consultation to experts around the pre-detected trends, in order to validate, prioritise and complement them. An online survey is being designed in order to maximise usability and relevancy of responses. Through this step, we will filter to a list of 15 trends, which will be presented during the so called Trendington Event in Madrid, September 2019.
This event will have two purposes: 1) Discussing with key experts around the trends in order to identify the most promising ones and compile as much preliminary knowledge as possible around technical and future application challenges; 2) Engaging multidisciplinary researchers interested in preparing a FET proposal around one of these trends.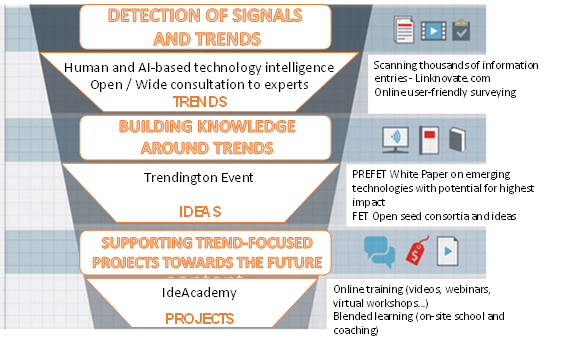 The final step will be to coach and train FET applicants in order to increase their probabilities for success in terms of getting funded as well as towards exploitation of results. We are targeting proposals for May 2020 FET Open Call, to whom we will offer online training in which we are already working (including webinars, videos, virtual workshops). Towards the future of FET within Horizon Europe framework programme for R&D and Innovation, an IdeAcademy will be organised to reinforce coaching and training under blended learning approaches. The location and duration of this opportunity will be defined in the coming months.
In the end, the PREFET Project will:
Create really valuable information towards the definition of future flagship or key enabling topics;
Support researchers in their decisions around future research investment with high-added value information about the state of the art, which normally takes either a long time to generate or high costs for accessing databases and platforms (or both).
Help European researchers to focus more efficiently into high-impact technologies which will generate long-term social benefits, such as promising ground for young researchers, competitiveness and related employment.
Promote European social welfare, since from the very first steps, RRI aspects and SDG Social Development Goals (SDGs) are being taken into account while searching and filtering signals and trends.