OI2 Conference 2017 conclusions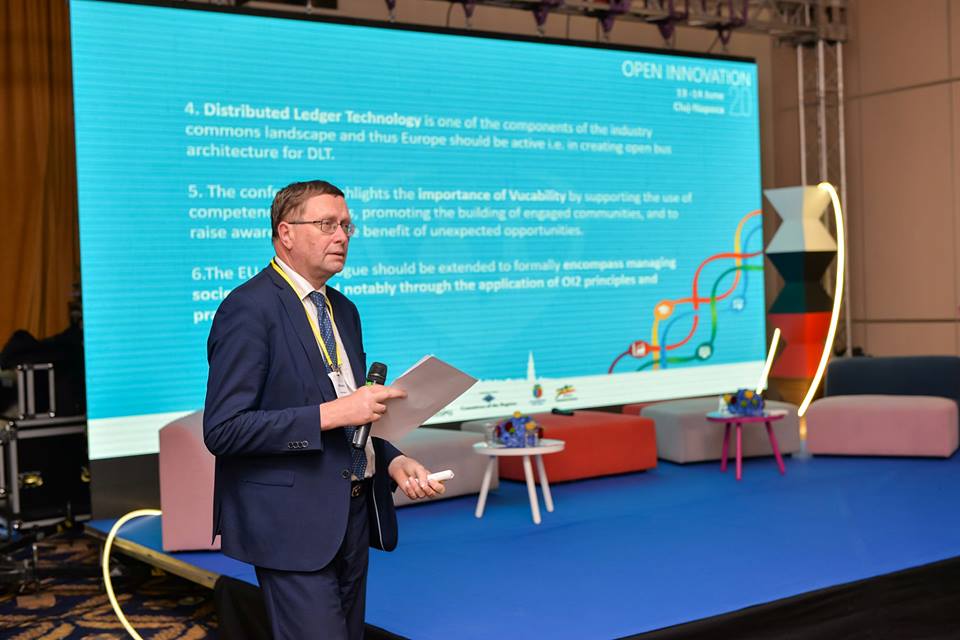 OI2 is the platform for digital innovation
We shared a minimum viable platform (MVP) of an emerging OI2 pattern language and we encourage the OISPG community to trial and give feedback.
Through the mechanism of the Industry Commons, OI2 enables safely building disruptive innovation on top of existing industry capabilities.
Distributed Ledger Technology is one of the components of the industry commons landscape and thus Europe should be active i.e. in creating open bus architecture for DLT.
The conference highlights the importance of Vucability by supporting the use of competence platforms, promoting the building of engaged communities, and to raise awareness for the benefit of unexpected opportunities.
The EU-Japan dialogue should be extended to formally encompass managing societal change and notably through the application of OI2 principles and practice.
Digital Innovation Hubs (DIH) are important tools to digitize SMEs by providing contents from technologies and should be encouraged in collaborative manner.
Open innovation ecosystems around DIH are integral parts of DIH as they create also business model experimentation environments.
Open innovation 2.0 ecosystems as a service must be created to ensure rapid experimentation and prototyping in quadruple helix settings, enabling easy and fast access to co-creation spaces geographically or thematically.
OI2 encourages new innovation governance models to be adopted to enable and even lead innovation take-up, enabling co-creation of modern public service and governance
The European Commission should increase its use of insights from relevant innovation data sources – such as Innovation Radar - when shaping future Framework Programmes and developing priorities (and use of instruments) in Work Programmes?
The European Commission should tailor its support offerings based on unique characteristics of different ecosystems. The Innovation Radar should be enhanced with some new signals to improve its ability to detect social innovations.
Downloads
OI 2.0 Conference Conclusions ...
English
Download