06/2022

Better Internet for Kids bulletin

Your quarterly update on creating a safer and better internet
Editorial

Welcome to the 30th edition of the Better Internet for Kids (BIK) bulletin. This quarterly bulletin aims to keep you informed of safer and better internet issues and opportunities across Europe and beyond. In each edition, we'll bring you a mix of news, research and resources from many of the key stakeholders in keeping children and young people safe online, be they European Safer Internet Centres (SICs), research organisations, industry partners, policy makers or experts in the field.
In each edition of the BIK bulletin, we look at a topical issue – this time, we introduce you to the new European strategy for a Better Internet for Kids (BIK+). Adopted by the European Commission in May 2022, the strategy builds on previous work to improve age-appropriate digital services and to ensure that every child is protected, empowered and respected online. Read on to find out more about its aims.
At the heart of the new strategy is active participation of children and young people, giving them a say in the digital environment, and facilitating child-led activities to foster innovative and creative safe digital experiences. Therefore in this edition, we also bring you some insights into just a few such initiatives - youth shaping proactive communication strategies, artificial intelligence (AI) initiatives which uphold children's rights, and an industry-led toolkit for enabling meaningful child and youth participation.
Also in this edition, we take a look at the efforts to support children and young people in dealing with the terrible current events in Ukraine.
If you have any comments on this resource or would like to contribute to a future edition of the BIK bulletin, please contact us.

Focus on BIK+

Introducing the new BIK+ strategy
Our vision... age-appropriate digital services, with no one left behind and with every child in Europe protected, empowered and respected online.
In May 2022, the European Commission adopted a new European strategy for a Better Internet for Kids (BIK+) to improve age-appropriate digital services and to ensure that every child is protected, empowered and respected online. Ten years after the first BIK strategy, BIK+ wants to spotlight the voices and opinions of European youth.



Over the past ten years, digital technologies and the way children use them have changed remarkably. Nowadays, most young people use their smartphones daily and almost twice as much compared to the past. They also use them from a much younger age, as the EU Kids Online 2020 survey indicates.
The digital environment brings opportunities and benefits by enabling significant interactions with others, to learn and be entertained. But the online world also comes with concerning risks such as cyberbullying, the exposure to disinformation or harmful/illegal content, from which children, especially, need to be sheltered. For example, read the Joint Research Centre (JRC) study on the dramatic impact of COVID-19 on the lives of young people, and the increasing frequency of online risks experienced.
It therefore follows that a new European strategy for a Better Internet for Kids was needed, advocating for accessible, age-appropriate and informative online content and services that are in children's best interests.
The strategy in a nutshell
The updated BIK+ strategy considers the European Parliament Resolution on children's rights, the Council Conclusions on media literacy and the Council Recommendation establishing a European Child Guarantee. This new strategy is based on an extensive consultation process with children, complemented by targeted consultations with parents, teachers, Member States, ICT and media industry, civil society, academics and international organisations.
BIK+ aims to complement and support the practical implementation of the existing measures to protect children online, develop children's skills, and empower them to safely enjoy and shape their life online.
The vision for a Digital Decade for children and youth contemplates "age-appropriate digital services, with no one left behind and with every child in Europe protected, empowered and respected online" and proposes three main pillars to achieve this vision:
Ensuring safe digital experiences:

protecting children and young people from harmful and online content, conduct, and online risks and improving their well-being in an age-appropriate digital environment.

Digital empowerment

: children and young people must acquire the necessary skills and competences to make informed choices and express themselves in the digital environment safely and responsibly.

Active participation:

children and young people must be respected by giving them a say in the digital environment, with more child-led activities to foster innovative and creative safe digital experiences.
The European Commission proposes a series of actions to build on and reinforce the existing infrastructure and to deliver the vision for a Digital Decade for youth.
Discover more about how actions under each of these pillars will be delivered in the full version of this article on the Better Internet for Kids (BIK) portal.



The child-friendly version of the BIK+ strategy
As part of the plans to ensure a safer online experience for all children and young people, it was pivotal to address them directly and provide them with the necessary tools to learn how to safely access and enjoy what the online world has to offer, and to be aware of potential risks and concerns. Thus, a child-friendly version of the BIK+ strategy was developed, starting from the key principles (or pillars) of the strategy and adapting the language and visual style to target a younger audience ranging from 0 to 18 years of age. Additionally, the child-friendly version includes a guide to explain some of the more specific jargon used in the leaflet, providing further context and information about the development of the strategy. The child-friendly version of the strategy will be rolled out over the coming months through Safer Internet Centres across Europe, in all European languages.
The making of the child-friendly version of the strategy would not have been possible without the crucial contribution of young people themselves. Indeed, a number of BIK Youth Ambassadors from all over Europe were consulted during the process, and provided invaluable feedback and assistance on the tone, style, and content of the child-friendly version.
Please note: this is a temporary version of the document. While the text will not change, we are working on providing a fully accessible version of the template.



BIK+ workshop at the Digital Assembly

On 21-22 June 2022, the Digital Assembly took place in Toulouse, France. The two-day conference included a workshop on the newly adopted European strategy for a Better Internet for Kids (BIK+). The workshop provided the opportunity to present the new strategy and saw the participation of BIK Youth Ambassadors Dimitris and Sina, who thoroughly voiced the thoughts and opinions of children and young people. The BIK Youth Ambassadors stressed the importance of involving youth in the decision-making process and encouraging their participation in such initiatives for change, and that it should be mandatory for young people to learn about online risks, misinformation and disinformation, and other key online safety concerns.
Read more about the participation of BIK Youth Ambassadors in the workshop about the new Better Internet for Kids strategy at the 2022 Digital Assembly.


A date for your diary


Save the date for this year's Safer Internet Forum (SIF) which will take place in a hybrid format on Thursday, 27 October 2022 with a theme of A Digital Decade for children and youth: BIK+ to protect, empower and respect!
SIF is a key annual event where policy makers, researchers, law enforcement bodies, youth, parents and carers, teachers, NGOs, industry representatives, experts and other relevant actors come together to discuss the latest trends, risks and solutions related to child online safety and making the internet a better place.
Following the recent launch of the new BIK+ strategy (see also the focus article above), this year's edition will provide an opportunity to discuss the strategy in detail, identifying its key objectives and priority actions. Significantly, given the strategy's key focus on youth participation and empowerment and to mark also the European Year of Youth, the event will be organised in a youth-led manner, with young people playing an active role in the planning, preparation and delivery of the Forum.
While we are only able to accommodate a smaller invited audience in person in Brussels on this occasion, we welcome wide attendance online from all with an interest in creating a safer and better internet for children and young people. Public registration will open in early September, and we'll send you a BIK bulletin extra mailing at that time with the details.
In the meantime, keep an eye on the Better Internet for Kids (BIK) portal for regular updates on the agenda and speakers.

Spotlight on Ukraine

The world has been shocked by the conflict in Ukraine and the terrible events and images of recent months. At a recent Insafe Training meeting, participants from the European network of Safer Internet Centres heard first-hand about the atrocities which are occurring, and how Ukraine's children and young people are being impacted. Alona Kryvuliak and Yuliia Anosova from La Strada-Ukraine, the Ukrainian Safer Internet Centre, shared their experiences and gave insights into how the Insafe network can also help the ongoing efforts.
The helpline and hotline service offered by La Strada-Ukraine has continued to operate since the start of the conflict and has received almost 32,000 requests to date from children seeking help and support on a range of issues. Not all requests have concerned the internet or digital skills, and the requests have come from Ukrainian children all over Europe, especially as many of them have fled to other countries with their families. Because of language barriers in other countries, these children are still contacting the Ukrainian Safer Internet Centre for support.
The main reasons why children are reaching out are for support on mental health and well-being matters, violence against children, and adaptation to life in another country. When contacts do relate to online issues, the main concerns raised relate to cyberbullying, sexting, and phishing, while mis- and disinformation is also a significant issue. Alona Kryvuliak stated: "The war in Ukraine doesn't only exist as a physical war; Ukrainian children are also at the frontline of Russian fake news." To give an example, Ukrainian children are at risk of harm from online bots that target them and spread misinformation on social media. Alona continued: "Quite often we are contacted by children who have seen cruel photos of events that have happened during the war. This is very traumatic for children from Ukraine."
Safer Internet Centres across Europe are rallying to support children and families displaced by the war. For example, several Safer Internet Centres have translated their resources into Ukrainian and Russian, or have recruited counsellors who speak Ukrainian to offer support over phone and chat services. Likewise, several Safer Internet Centres are developing special trainings for schools specifically to help Ukrainian children in their use of technology. Moreover, Safer Internet Centres are helping all children and young people who have concerns, or feel anxious and unsettled by what they are seeing on the news and social media, supporting them in developing the necessary media literacy skills to recognise disinformation and directing them to appropriate sources of information.
Talking to young people about the war

As part of the session, a colleague from the Red Cross in Norway (part of the Norwegian Safer Internet Centre) provided an overview of a resource providing guidance on how to talk to children about the war.
Ways in which to support children include to listen, to ask open-ended questions, to let the child set the agenda, and to support the children's initiatives. In conversations about the war, the most important thing to realise is that a child mostly needs someone to listen to them, and that you should meet them in a supporting and caring way. They do not need someone who just gives solutions to them.
Discussion also focused on how to manage false information on social media, and especially unfiltered information where it is hard to separate fact from fiction. It is important to explore together with a child how the content affects them, to give advice on source criticism, and to be neutral when listening. All children have the right to be supported, regardless of their point of view.
It is crucial to give children and young people information on where to find trustworthy and child-friendly news sources. In this regard, many Safer Internet Centres have developed materials containing useful tips and resources to help parents, carers and children discuss events such as wars, catastrophes, and other emergency situations in a helpful and child-friendly way. Examples include:
See also the article how to identify child-appropriate news and background information for more pointers from a positive online content perspective.
Dealing with disinformation
Mis- and disinformation is a key challenge in the online world, and has become even more prevalent in recent years. Tom Willaert from the Vrije Universiteit Brussel and Maria Giovanna Sessa from EU DisinfoLab presented an overview of their recent research that evidences growing trends for mis- and disinformation to be shared. In their study, From infodemic to information war, they conduct an analysis of 225 Dutch-speaking far-right and conspiracist Telegram public channels. The findings show the porosity between disinformation linked to the COVID-19 pandemic and pro-Russian war propaganda, and also highlights how this phenomenon fits into a more global trend of convergence of narratives on these two topics.
In the first part of the investigation, the researchers conducted a comparative analysis of fact-checked disinformation about the ongoing conflict across different countries, languages, and platforms. From conspiracy claims to clickbait, similarities emerged with narratives pushed with regards to the COVID-19 pandemic and the Russian invasion of Ukraine. The second part of the study concluded that, in order to persist and propagate, disinformation needs to contain predictable, recurring elements but also that "twists and innovations need to be introduced in order to keep up with rapidly changing external events".
Looking more generally at the spread of disinformation, a representative from TikTok spoke about the importance of ensuring integrity and authenticity on the platform. TikTok's community guidelines state that there is no room for disinformation, and this is rigorously enforced. In the specific case of the war in Ukraine, between 24 February and 31 March 2022, the safety team at TikTok removed almost 42,000 videos on the topic. 87 per cent of those videos violated TikTok's policies against harmful misinformation.
Similarly, a representative from Bellingcat, an independent international collective of researchers, investigators and citizen journalists using open source and social media investigation to probe a variety of subjects, provided an interactive example of how online sources can be used to explore and question the validity of certain situations. Many of the techniques are at the core of media literacy education; a topic of focus for all Safer Internet Centres.
Reach out to your national Safer Internet Centre for further information, guidance and support on any of the issues covered in this article, or check the Better Internet for Kids resource gallery for materials on a range of topics in various languages.

Insafe helplines

Helplines respond to the conflict in Ukraine
The Insafe network of helplines collects data about the types of calls received and this is analysed every three months to look at trends, and new and emerging issues. The most recent helpline data covers the period from January to March 2022. There were just under 19,000 contacts made to the network and numbers were very similar to the last quarter of 2021. There is an overall upward trend in the numbers of people who are reaching out to helplines, and this has been the case for the last three years – contacts have increased by 52 percentage points since the same period in 2019.
A key topic of concern for many children and young people during this period has been the conflict in Ukraine. Many are seeing graphic images of what is happening on the ground in Ukraine via their social media platforms and are struggling to deal with this. At a recent training meeting, the Insafe network of Safer Internet Centres in Europe heard from colleagues who operate the helpline in Ukraine. They recounted how social media, especially, is being used to scare and frighten children and young people, telling them that they and members of their family could be captured and tortured. Such posts are widespread and are causing real concern for children and their families. The network has already developed a range of materials that can be used to help to provide support (see also the spotlight article above), and continue to provide support for all those displaced by the conflict through national Safer Internet Centres across Europe.
Read more on the latest Insafe helpline statistics on the Better Internet for Kids (BIK) portal.

INHOPE hotlines

A look behind the INHOPE Annual Review
INHOPE's vision is a world free of child sexual abuse material.
Sitting behind INHOPE's annual review are the various processes taken to ensure that it represents the amazing work of the network's 50 hotlines in 46 countries which work to combat child sexual abuse material (CSAM) online. During 2021, the INHOPE network focussed strongly on people and technology. In fact, in the past three years, INHOPE has taken great strides in both its strategic direction as well as its data collection and analysis methods. It has done so to ensure that what it shares is truly representative of the current situation, as well as the network's future plans and objectives. While one would typically jump to the key takeaways to get an overview of achievements in annual reviews such as this, it is the core fundamental changes to the strategic planning process that allows INHOPE to provide the public with a clear and transparent overview of the facts.
Read the full article on the Better Internet for Kids (BIK) portal.

BIK youth

Youth participation in the INHOPE webinar 'Proactive vs reactive hotline communication'
The INHOPE network, a global network that fights child sexual abuse material (CSAM) online, organised a webinar on proactive versus reactive hotline communication on 1 June 2022. Two senior BIK Youth Ambassadors, João Pedro Martins (Portugal) and Kathrin Morasch (Germany), were asked to share their opinions on campaigns that aim to reach young people.
During their interventions, João and Kathrin covered topics such as ensuring a campaign is easy to understand, the usefulness of data and demographics to ensure that a campaign is on target for the intended audience, and the importance of feedback loops in reviewing impact.
They also considered the specific challenges of dealing with serious and sensitive topics with younger audiences. João commented: "Take time to find 'the sweet spot', the place where you make the topic relevant and serious enough for a young person to understand without them thinking 'this will never happen to me'".
Read more about the webinar on the Better Internet for Kids (BIK) portal.

Research and publications

Tackle cyberbullying with the KID_ACTIONS educational toolkit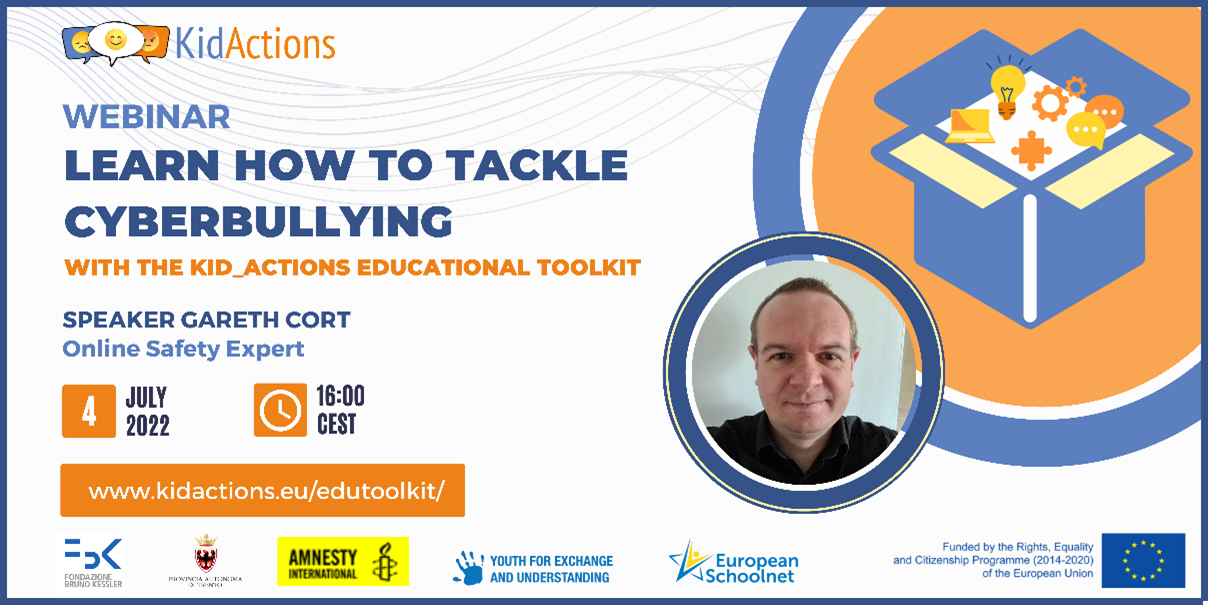 Tackling cyberbullying is a core principle in the new BIK+ strategy, and there are already a host of initiatives to support this aim.
The KID_ACTIONS project, for example, has recently launched an educational toolkit to provide formal and non-formal educators with the knowledge, skills and resources they need to counter peer violence among young people, discrimination and intolerance, and to break down stereotypes in the online and offline world. The toolkit consists of 20 activities for use with young people aged 11-18, and it's available in English, French and Italian.
Additionally, on Monday, 4 July 2022 at 16:00 CEST, the KID_ACTIONS project will host a webinar where participants can learn how to implement the toolkit in the most efficient way - book your spot now.



Examining artificial intelligence (AI) technologies through the lens of children's rights
Artificial intelligence-based internet and digital technologies are increasingly used by children, with one in three internet users globally being under 18 years old. AI undoubtedly offers children many opportunities, but it also raises the risk of compromising their rights, such as their right to protection, participation, education and privacy.
A report on Artificial intelligence and the rights of the child from the European Commission's Joint Research Centre seeks to draw attention to this. The report recommends that researchers, policymakers and industry should involve children and their caregivers when designing new policies and initiatives dealing with artificial intelligence-based technologies. Find a short overview of the report here.

Stakeholder news

Kids included: Enabling meaningful child and youth participation within companies in the digital era
As the impact of digital technology on children's lives continues to grow, there are mounting calls for businesses to engage with children to deliver meaningful child participation throughout the design and development of their operations.
Engaging children in how businesses make decisions and in how they design their digital products and services can, if done responsibly, create substantial value for both businesses and children. However, it also presents a broad number of challenges that businesses will need to address.
What is meaningful child participation?

Why is it important for children and businesses in relation to the digital environment?

What are the key challenges to achieving this?
How can businesses overcome these challenges?
This report, compiled by The LEGO Group in collaboration with a range of stakeholders, is a practical tool intended for businesses that are embarking on a journey towards meaningful child participation and encountering the challenges that come with it. It brings together expert voices from across sectors, including those of children and young people, to reflect on the following questions:
Hans Martens, Head of Digital Citizenship at European Schoolnet, contributed a chapter titled "Making the voice of children and young people matter in the Better Internet for Kids initiative" in which he draws on experiences of consulting with children and young people in creating a safer and better internet; a principle which is at the very heart of the new BIK+ strategy.
Find out more and read the full report at www.kidsincluded.report.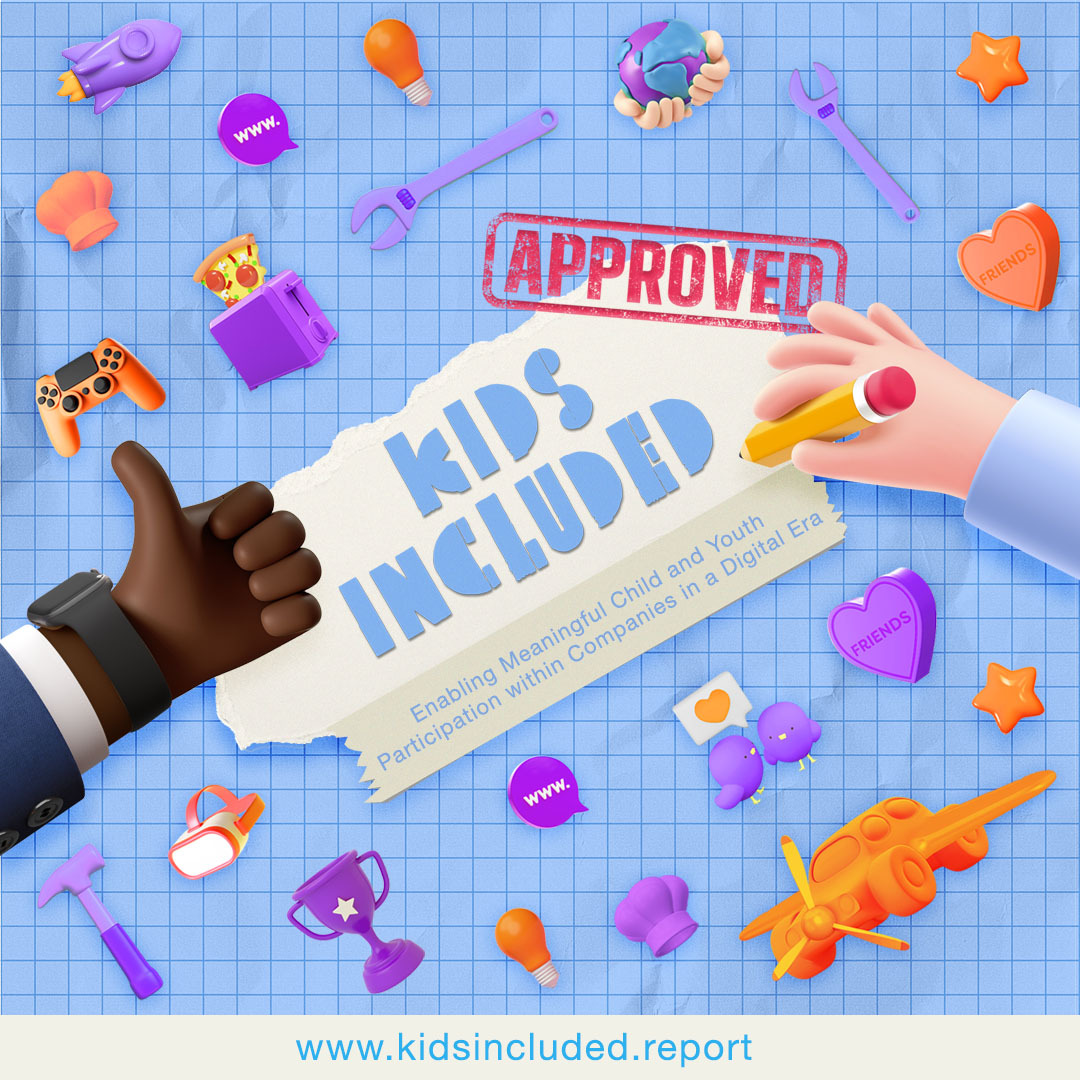 Under the Connecting Europe Facility (CEF), the European Commission (EC) has co-funded a range of better/safer internet services, both at the European and the national level. Building on the European Strategy for a Better Internet for Children (BIK strategy) as published in 2012 and the updated BIK+ strategy published in May 2022, the BIK core service platform aims to bring together European stakeholders in the field to work collaboratively in achieving the goal of a better internet for all. In the future, actions will be funded through the Digital Europe Programme. This bulletin is just one of a range of tools and services provided. Keep following us across all BIK communication channels - see links in the header of this email.
The Better Internet for Kids (BIK) bulletin is compiled and issued by the BIK Coordination Team at European Schoolnet (EUN) on behalf of the European Commission. In case of comments or queries, please contact bulletin@betterinternetforkids.eu.
If you no longer wish to receive the BIK bulletin, please unsubscribe here. You can review your personal data on your profile page.
If this email was forwarded to you, subscribe here.
The European Commission is committed to personal data protection. Any personal data is processed in line with the Regulation (EU) 2018/1725. Please read the BIK bulletin privacy statement.
Visit www.betterinternetforkids.eu for the latest news and information on keeping children and young people safe online.
ISSN 2600-5360, Catalogue number KK-BD-22-002-EN-N.