Manfred Rosenstock explains the structure and the role of the EU Circular Economy Monitoring Framework
Dr Manfred Rosenstock joined the European Commission in 1993 and is currently Deputy Head of Unit of the Sustainable Development, Green Finance & Economic Analysis Unit of DG Environment. His main fields of work concern questions relating to the availability of private and public finance for investments in circular economy and resource efficiency projects and to the use of market-based instruments in environmental policy. His previous assignments were in the State aids Directorate of DG Competition and the Socio-Economic Analysis Unit of DG Regional Policy. Before joining the Commission, he studied economics at the Goethe-University of Frankfurt, Germany, and the London School of Economics, UK from 1982-1987. Thereafter, he worked as a graduate research assistant at the Institute for Public Sector Economics of the University of Frankfurt until 1993, where he obtained a Ph.D. in Economics.
Why is monitoring progress of Europe's transition towards a circular economy important?
Circular economy is a key priority of the Juncker Commission. It contributes to the sustainable growth and jobs agenda and it involves changing our growth and economic model. In that sense, circular economy is a key element of the current work of the Commission to boost our economy and long-term wellbeing. Circular economy is also linked to the wider policy on sustainable development and contributes to delivering our commitment to the SDGs. The Monitoring Framework for the circular economy is a piece of this puzzle. It's important to measure progress towards the circular economy, to be able to see where we are going, the progress made so far and areas where more actions are needed. The Circular Economy Action Plan includes a long list of measures and the Commission has decided to adopt these measures in stages. The latest "batch" of measures came out on 16th January with a focus on the Plastics Strategy, and the Monitoring Framework was one of the elements. The monitoring framework, by having data at Member State level, allows for comparison and learning from best practice.
How is the EU monitoring framework for the circular economy designed?
There is no single overall encompassing indicator for measuring circularity. We wanted to have a simple and effective monitoring tool, catching the key elements of the circular economy, that's how we have designed the Circular Economy Monitoring Framework. If you look at the circle (see figure 1 below), you can see that we structured the monitoring framework into four areas and ten indicators. Three areas in the inner circle define the loop: 'production and consumption, 'waste management' and then 'secondary raw materials' that go back into the 'production and consumption'. That nicely shows the idea of circularity. Then you have to embed this in broader a framework on 'competitiveness and innovation'.
Figure 1. EU Circular economy monitoring framework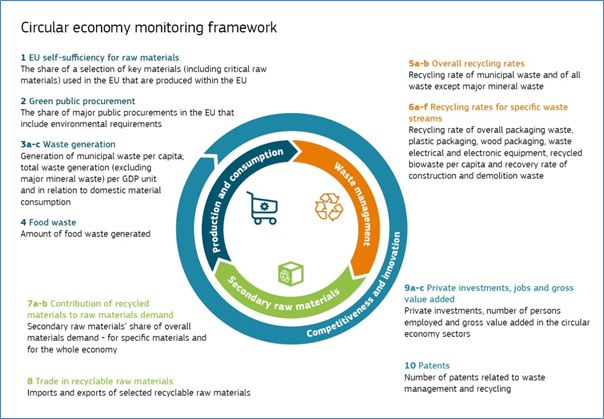 How does the EU Circular Economy Monitoring Framework complement the Resource Efficiency Scoreboard and the Raw Materials Scoreboard?
The Action Plan from 2015 mentions that the monitoring framework is to be based on both the EU Resource Efficiency Scoreboard (RES) and the Raw Materials Scoreboard (RMS). We have looked into these two existing scoreboards, and have identified a number of indicators that for us are key to describe and analyse progress towards a circular economy. There's partial overlap with both scoreboards - but there are also things relevant to circular economy that these two don't contain. For example, RES is a broad analytic exercise covering all areas of the economy and looking also at environmental impacts. For instance, it contains indicators on air emissions, energy, land, nature and biodiversity. However, it doesn't cover issues like secondary raw materials. Consequently, in designing the monitoring framework for circular economy we have added elements relevant for the issue at hand, with a structure and logic that provides an overall view of the whole game.
According to what criteria were the relevant indicators for the monitoring framework identified and structured?
We wanted - and needed - to cover the overall circular economy, and we aimed to identify indicators relevant for the different elements of circularity mentioned earlier. The Action Plan also directed us to use existing data where possible so as to minimize administrative burden. However, there are two new indicators among the ten which did not come from existing data sources: the Green Public Procurement (GPP) indicator and the food waste indicator. Both of these indicators are still work in progress, but both are economically and environmentally important. Public procurement is a substantial part of government expenditure and a significant part of GDP whereas food is a major part of private expenditure. Furthermore, these indicators are also highly politically important and reflected in the global SDGs. Governments, by changing their procurement practices, provide a political signal and hopefully encourage consumers and businesses to change their purchasing decisions as well. The same goes for food waste, where policy measures can help to incentivise consumers and retailers to change their current behaviour. The Commission is working to establish these two indicators, which implies defining methodologies to gather the data, and, within a few years-time, to come up with reliable and workable data on these indicators.
What kind of picture of EU's circular economy does the monitoring show? Which are the areas where the EU is performing well? And where is there need for improvement?
Let me illustrate some of the results with the help of a few interesting figures.., The municipal waste management chart (below) shows the development of municipal waste generation and treatment, by management categories such as landfill, incineration, recycling and composting. Within this chart you have two significant messages. As far as the management is concerned, we are moving in the right direction. In 2016 the share of landfilled waste has gone down significantly, reduced by around half since 1995. Incineration has increased somewhat but if you take both together, incinerated and landfilled waste have gone down. On the other hand, if you look at the municipal waste generation overall the line is almost horizontal, indicating hardly any decoupling. This means that the overall amount of municipal waste produced is not changing, hence, we have to change our production and consumption habits. This is something where eco-design, repairability and other circular approaches to production and consumption can play a role.
Figure 2. EU municipal waste generation and treatment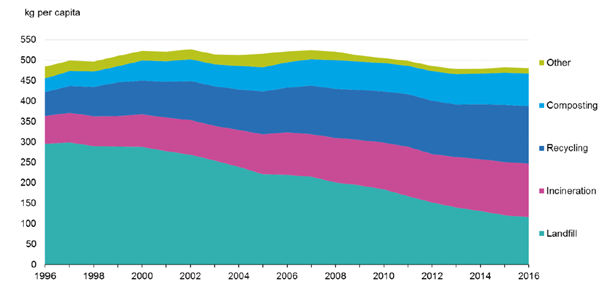 Another important point that we can mention concerns secondary raw materials: these only account for 10% of overall material use so we still have a long way to go there. On the other hand, the number of patents relevant to circular economy have increased by 35% since 2000. This is positive because innovation can play a major role in the transition to circularity. So, overall we are making some progress, but you can see also from the monitoring framework areas where progress is slow - and then you have to reflect upon what policy measures are needed to address this problem. In this way, the monitoring framework gives you indications on the needs for policy change.
Do you see any limitation in the current set of indicators? Are there any significant data gaps which will need to be addressed in the future?
As mentioned earlier, Green Public Procurement (GPP) and food waste are where we have the data gaps. For GPP we are having discussions with the Member States to see how reporting on Public Procurement, in the context of the internal market, can be improved. Food waste indicators are work in progress, but Eurostat estimates for the EU are available. In addition to data gaps, there is also an issue with the comparability of some data. This aspect was important in the discussion on the waste package that will be formally adopted by Council and Parliament in the coming weeks. The definition that Member States use to define and measure the recycling rates can differ greatly hence, to improve comparability, we are in the process of reducing the variability and incoherence of these definitions.
How are concepts captured in the Beyond GDP initiative, such as metrics for progress, development and well-being, linked to the circular economy indicators?
The circular economy and the monitoring framework are looking at issues that go beyond GDP. We are not just looking at consumption and production levels, but we are also addressing stocks, resources and depletion of resources, and secondary raw materials. We are also looking at innovation, an element not directly captured in GDP either. As for the monitoring framework, it looks at the quality of growth, with an eye to environmental, social, and innovation aspect, this way providing a piece of the puzzle to establish deeper and more thorough measures of well-being. From this basis, we will work further on the beyond GDP initiative over the upcoming years.
How is the monitoring process linked to the broader framework of delivering on the EU's commitments to SDGs?
We think that circular economy is an important element to meet the SDGs and that the EU monitoring framework can contribute to measure progress in this regard. If we look more precisely at the links to the specific SDGs and related indicators for the EU, the most relevant one is SDG 12 on sustainable consumption and production, for which we are using indicators on materials consumption, waste generation, waste recycling and circular material use. There is also a link to SDG 11 on urban environment: by improving municipal waste management we are also contributing to making urban life more sustainable. There is a link as well to SDG 9 concerning infrastructure, industrialisation and innovation, where an indicator on patents is used. For the future we expect that further developments of relevant indicators will feed in both indicator sets for the circular economy and for the SDGs.