Kultūrų įkalnė (Cultural Uphill), an inclusive and social day centre
Case studies
Infrastructure
Caritas of Vilnius Archdiocese
Gabija Pranckene (Login to send email)
Co-ordinator of the day centre activities, senior social worker
Caritas Lithuania, through its Foreigners' Integration programme, established a social centre called 'Cultural Uphill' (Kultūrų įkalnė) in 2008. The centre located in Pabradè, a city in the Vilnius county, welcomes both asylum seekers and the local community around joint activities such as computer literacy classes, board game tournaments, as well as social, legal and psychological counselling for adults. It is linked to the Foreigners Registration Centre, where asylum seekers and undocumented immigrants are accommodated.
Issue/Challenge and Goal/Assumption
The ultimate goal of the centre is to foster integration as a two way process, enhancing the multicultural coexistence of asylum seekers and locals: it helps Pabradè's local and migrant communities to meet. Its team, mostly consisting of volunteers, works to facilitate the adaptation of asylum seekers into the Lithuanian society, as well as to improve their intercultural competences and social skills.
The reason behind the creation of such centre is the lack of open spaces enabling asylum seekers to communicate with Lithuanian citizens. Caritas believes that informal communication opportunities between both groups are necessary for the successful adaptation and further integration of foreigners.
Cultural Uphill operates on weekdays from mid-day to 6 pm. Besides activities for children, it also proposes occupations for adult men and women. Services offered to asylum seekers include:
medical registration, consultation and accompaniment, operated by the Lithuanian Red Cross Society,
individual and group social consultations,
legal counselling, including both procedural and non-procedural questions,
psychological consultations, provided upon request by the local Foreigners Registration Centre and organised by the Lithuanian Red Cross Society,
Lithuanian language and culture classes,
handcraft classes (sewing, knitting, drawing and other creative work),
computer literacy classes,
sport and music (individual and group activities),
excursions,
a small library, with books available in English, Russian, French, Spanish.
The provision of such a variety of services is made possible by volunteers.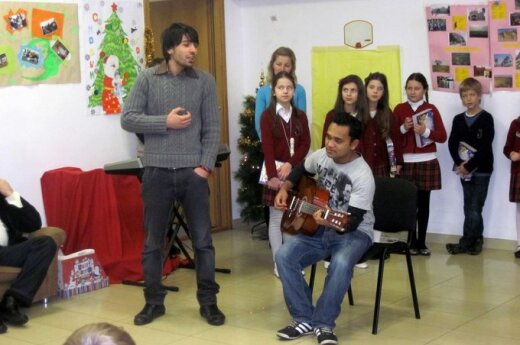 In addition to integration activities, Cultural Uphill provides first hand humanitarian and material help such as clothing, food and hygiene packs.
Between 50 and 400 asylum seekers visit the centre everyday and between 5 and 40 volunteers work in the centre on a daily basis.
An evaluation has been made in 2012 by an external independent expert. Results show that the centre effectively enhances the adaptation process of asylum seekers, strengthens their social resources and creates the background for intercultural coexistence within local community in Pabradè. The project is also evaluated in this national report on the Life of Refugees in Lithuania, wherein refugees also describe their general experience in the town and in the reception centre.
Asylum seekers awaiting for the decision on their asylum application in Lithuania. Once granted international protection, they no longer participate in activities of the Day Center as they leave Pabradè for other towns where the national integration programme is implemented. However, as refugees or beneficiaries of subsidiary protection, they will continue carrying and benefiting from intercultural and social skills acquired here trough the next steps of their integration process.
In addition, thanks to these informal exchanges, the local community's diversity and welcoming culture is sustainably enhanced.
Source of funding and Resources used
The Cultural Uphill centre is financed by the Asylum, Migration and Integration Fund (AMIF), with the contribution of national and local partners.
The centre employs 10 professionals of diverse profiles, including social workers and pedagogues, as well as language, handcraft, IT, sport and music teachers. The full team
The involvement of volunteers, who actively participate in the day-today activities of the centre, is also highly crucial to the project.