ISA²
Interoperability solutions for public administrations, businesses and citizens
SEMIC 2017 Conference followed by more than 1100 participants on the spot and online
Brussels, 19 June 2017
The SEMIC 2017 Conference attracted 220 participants coming from 33 countries, including Canada, Japan and the United States. In addition, the event, which was held in Valletta, Malta on 14 June was followed via web streaming by more than 800 people from all over the world. The conference was a trending topic on Twitter in Malta.
SEMIC 2017 in its seventh edition focused on data and information management. The Conference was organised by the ISA2 programme of Directorate-General for Informatics of the European Commission, with the support of the Malta International Technology Agency (MITA). 20 speakers gave their view and experience on how semantic interoperability can improve the delivery of digital public services across the EU. 
/isa2/file/familyphotojpg-5_enfamily_photo.jpg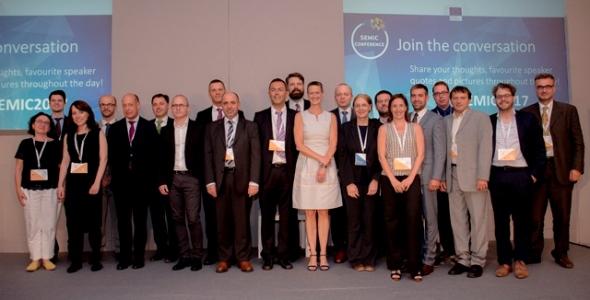 The Parliamentary Secretary for Malta, Hon. Silvio Schembri, opened the conference. He stressed that a better Europe calls for better data and information management, and urged all public administrations in Europe to work together to improve the EU citizens' experience when dealing with bureaucracy. 
The Director-General of the Directorate-General for Informatics at the European Commission, Gertrud Ingestad, highlighted that adequate, coherent and standard legislation is essential for public administrations to be trusted and to provide better public services to citizens.
The SEMIC 2017 Conference showed that semantic interoperability matters across Europe, said the Head of Interoperability Unit at the European Commission, Natalia Aristimuño. She also explained the ways in which the ISA2 programme is contributing to the better performance of public administrations by delivering numerous cross-borders and cross-sector IT solutions. 

Keynote speaker, Janek Rozov, Head of Department of Information Society Services Development, Ministry of Economic Affairs and Communications for Estonia, explained the successful case of Estonia, outstanding in the EU for the high efficiency of its public administration at delivering public services, and the reasons behind.

Vassilios Peristeras, now Assistant Professor at the Hellenic University of Thessaloniki, initiated the SEMIC Conference seven years ago when he was a project manager at the ISA Programme. In the VII edition of the SEMIC Conference, he was moderator, and while playing such a role, he stressed the use of open data standards and metadata to transform unstructured web content to reusable public sector's data. 

Markku Markkula, president of the Committee of the Regions, closed the event bringing the local and regional insights on how to boost the potential of semantic interoperability in Europe, highlighting that smooth data exchange is very important to European cities and regions. 

If you could not make it to SEMIC 2017, stay tuned at @EU_isa2. We will upload the videos from all conference sessions at the conference page soon, so you can learn everything about the event still now.