Discover EUSurvey – A free online survey tool for civil servants and citizens in the EU
Benoît ORIGAS, Project / Programme / Service Manager, Team Leader, Data services Unit – Collaboration sector, Directorate General for Informatics, European Commission
---
EUSurvey is a secured platform for designing and conducting small to large online surveys. The service is multilingual, flexible and widely accessible for consulting stakeholders on a specific issue, conducting satisfaction surveys or collecting event registrations. EUSurvey is also the platform used for public consultations organised by the European Commission (see Have your say) allowing Europeans to have their voice in Commission initiatives.

What is EUSurvey?
EUSurvey is publicly available to all European citizens who want to design and conduct a survey and covers all the steps, from the design and launch to the analysis and publication of results. Anyone with an EULogin account can connect to the application and start designing a questionnaire.
/isa2/file/eusurvey-statisticsjpg-0_eneusurvey-statistics.jpg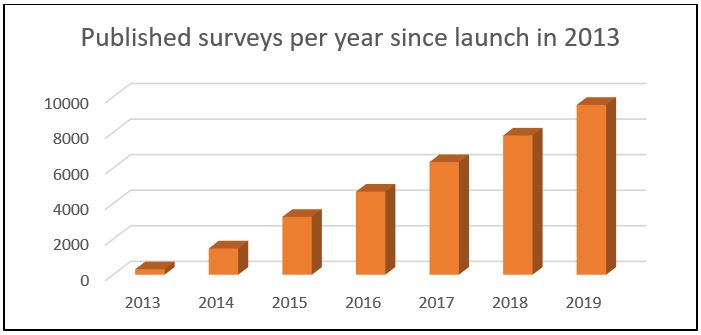 The dissemination of the tool has been a continued success since its launch in 2013 and reached more than 10,000 surveys this year.
The European Commission decided to make the tool open and widely accessible for all European citizens, businesses or public organisations. It is free of charge with access to all features.

Features and user experience
We are user-driven and constantly listening to the requests coming from our users to make the tool better. We are continuously working on accessibility, security, data protection and privacy, performances as well as on new features and improvements of the existing ones. 
EUSurvey benefits from a large variety of features, designed to meet a wide range of surveys:
Customizable questionnaire through a large list of question elements such as single and multiple choice questions, free text field, inclusion of pictures and files, etc.
Modifiable questionnaire allows you to change your questionnaire even after the publication without losing any contribution already received.
Quiz survey is a special type of survey that allows calculating a final score for each participant, and so useful for skill tests or electronic exams.
23 official EU languages are supported and machine translation is available to help you translate your survey.
Survey accessibility ensures that your survey can be fully open, password protected or restricted to people having an EULogin account.
Scheduled publishing allows users to schedule the publishing of your survey at a specified date.
Address book for sending invitations gives you the opportunity to invite a group of persons by sending them an email from your address book.
Anonym survey helps you create anonymous forms where no participant personal data will be held.
Analytics of results is provided through the statistical view.
Publication of results is available with EUSurvey.
Customisable look & feel allow you to adapt the layout of your survey with a CSS editor and embedded rich-text editors.
Example of a survey: House of European History 
Example of a satisfaction survey: Erasmus+ Sport Cluster meeting 2019

Data privacy at the heart of EUSurvey
We recognize that privacy is extremely important to all survey respondents. We also recognize that guarantying the security, privacy and protection of all data collected via an online survey is extremely important for the survey owner whether it is an organisation or an individual. Our team is committed to continuously improving the tool for those purposes.

Advanced analytics coming soon
We are currently integrating EUSurvey with the Doris application. This will allow you to benefit from advanced reporting capabilities in the survey results, including sentiment analysis of the stakeholder feedback. 

Get the tool
Built by DG Informatics and funded by the ISA² Programme, EUSurvey is fully open source and published under the European Union Public Licence. You can download the source code from GitHub. We welcome any persons or entities that have interest in EUSurvey and want to use it for their own project. We currently support our colleagues from DG Environment with the implementation and customization of this open source tool. Installing EUSurvey on your own data centre/applications servers gives you the opportunity to run your own autonomous EUSurvey instance. Contact us if you need more information or support.

Get involved
Do you want to contribute to the further development of EUSurvey? Contact us at DIGIT-EUSURVEY-SUPPORT@ec.europa.eu.
 
Tuesday, 17 December, 2019