ISA²
Interoperability solutions for public administrations, businesses and citizens
ISA² collaborative platform: a hub for community building activities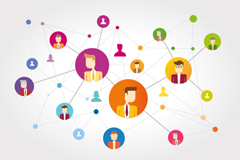 2016.22 Community building and effective use of the collaborative platforms
FUNDING ENDED, ACTIVITIES CONTINUE UNDER ACTIONS 2016.20, 2016.30 AND 2016.31...
When is this action of interest to you?
You are working in a public administration. You are looking for best practices within the public administration domain to implement in your work environment. You want to share your own experiences and solutions. The community building within the ISA² programme is the ideal way to showcase, support and promote best practices across borders.
What is this action about?
In order to facilitate electronic cross-border and cross-sector interaction between European public administrations, the ISA² programme provides the ISA² collaborative platform. This platform focuses on eGovernment, semantic interoperability and open source software (OSS), which facilitates the sharing of best practice and ideas, as well as the reuse and collaborative development of semantic assets and IT solutions.
The platform is the hub for community building activities that are key to promoting collaboration between EU public administrations. It creates visibility for most of the interoperability measures taken, lessons learnt and solutions developed by public administrations. It also facilitates cross-border interoperability, the reuse of best practices and solutions, and supports European communities around the notion of interoperability.
What are the objectives?
supporting public administrations with regard to eGovernment, the use and reuse of interoperable IT solutions and other issues related to interoperability
increasing the know-how and competences of EU public administrations, while fostering collaboration in the design, establishment and operation of public services in the abovementioned areas
What are the benefits?
Showcasing better knowledge about developments / best practices elsewhere
Supporting the sharing and reuse of common solutions
Providing opportunities to work together with others on common problems
Promoting better, more effective and efficient public services via sharing, reuse and collaboration
What are the next steps?
Activities will continue under the Joinup action, Sharing and Reuse action and Communication action.