Fostering national interoperability frameworks across Europe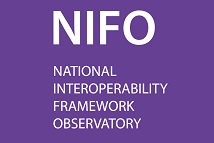 2016.21 National Interoperability Framework Observatory (NIFO)                                 
When is this action of interest to you? 
You work in public administration and you are in charge of drafting or reviewing your country's National Interoperability Framework.
You are responsible for an interoperability initiative.
You wish to learn more about the state of play of interoperability and digital public services in Europe.
What is this action about?
The National Interoperability Framework Observatory (NIFO) provides information on interoperability activities in Europe. It analyses the National Interoperability Frameworks (NIFs) of the EU Member States and associated countries, as well as the alignment of these frameworks with the European Interoperability Framework (EIF). 
The NIFO community offers several resources and tools. Country factsheets give an overview of the most recent progress in interoperability and eGovernment made by European countries. You can also compare country alignments with the EIF and find best practices. In addition, you can discover the annual report State of Play on Interoperability in Europe and find news and events.
What are the objectives?
The main objective is to provide public administrations with guidance and support for the creation and further development of national interoperability frameworks and their alignment with the EIF. The action is also aimed at:
Making NIFO an authoritative source of information on interoperability in Europe
Providing insight into countries' approaches to interoperability and maintaining a comprehensive snapshot of the eGovernment activities
Facilitating the sharing of best practices
What are the benefits?
Up-to-date information on interoperability and eGovernment activities presented in one spot
Better understanding of the situation on interoperability in Europe and the position of individual countries within the continent, which can help national officials in policymaking, and businesses when building interoperability and eGovernment solutions
Promoting interoperability by presenting its results and offering a place to share best practices
What has been achieved? 
The NIFO provides the latest information on the state-of-the-art of digital Government at strategic, organisational, and technical level through the annual individual country factsheets that span to more than 35 European states. The factsheet was revamped in 2019 to introduce the digital government dimension. A 10th Anniversary report was produced as well to celebrate this anniversary and take stock on the changes on digital government in Europe.
NIFO also provides on an annual basis a report on the role of eGovernment and Interoperability in the European Semester process. This is a study on the main actions, plans and funding priorities of Member States.
The baseline data collection for the EIF monitoring was finalised in early 2019. The monitoring mechanism has then been concluded by defining the scoreboards ant fine-tuning the individual indicators.
In 2018 and early 2019 NIFO has built the new EIF monitoring mechanism for the MS and the baseline data collection was carried out to define the composite indicators in collaboration with the Competence Centre on Composite Indicators and Scoreboards (COIN) of the JRC. The EIF and IAP monitoring mechanism for EC services were also defined.
What are the next steps?
Data collection for the monitoring of the EIF and the IAP across 35 European States and Commission Services respectively.
Provision to the Digital European Programme replacing ISA² the level of progress on interoperability under specific objective 5 of DEP, according to the EIF monitoring results. Coordination of activities to ensure a smooth transition and the reusability of the NIFO indicators.
Works to ensure convergence on indicators in DEP
Provide the monitoring results on the DEP SO5 on interoperability.
Adjustments to the EIF monitoring indicators and PKIs according to the EIF implementation evaluation results
Deployment, configuration, integration and maintenance of a data visualisation and business intelligence tool into the observatory
Creation of the dashboard, filters, and visualisation views for the EIF monitoring results
Display of the results of the EIF monitoring by using a data visualisation tool, REDISSTAT created under the ISA² programme.
Continue the monitoring of digital government, interoperability activities and state of play of Digital Government in Member States and associated countries.
Creation of the digital government package and publication of Digital Government factsheets in electronic format (PDF), in html and linked open data
Publication of the annual State-of-play of digital services and interoperability synthesis report covering 35 European States
Capacity building policy and modernisation of public administrations: ad-hoc support, interoperability diagnose and analysis report of Member States' public administrations to ensure the EIF implementation across all levels of their national administrations.
Analyse the way in which interoperability and eGovernment polices are being addressed by the Member States in national reforms and operational programmes in the context of the European Semester, in collaboration with SRSS, REGIO and EMPLOI
Content update of the EIF toolbox and other supporting material for EIF implementation
Raise awareness of the new EIF, the new NIFO observatory, and on the benefits of applying the EIF
Manage the NIFO community and editorial work of Joinup NIFO collection