Communicating the ISA² programme and its solutions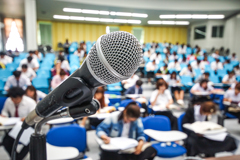 2016.30 Raising interoperability awareness - Communication activities
When is this action of interest to you?
You would like to learn more about how ISA² communicates with its stakeholders.
What is this action about?
To achieve its strategic objectives, the ISA² programme needs to communicate extensively with its stakeholders, with a view to both establishing needs and promoting solutions supported or developed under the programme.
By involving stakeholders in the programme and promoting and informing them about programme-related issues and activities in a consistent and holistic way, a stronger buy-in and a broader take-up can be achieved. In turn, this will increase the effectiveness of the programme.
The ISA² programme's "Communications activities" action spans the entire communication process from the establishment of a global communication strategy, through to its implementation with workshops, printed publications, audiovisual material and presence in both printed and electronic media.
The communication campaigns being launched aim to raise awareness of the importance of interoperability, reuse and sharing on local, regional, national and European levels. The goal is to encourage stakeholders in the Member States to prioritise interoperability, sharing and reuse from the earliest stage of any eGovernment action.
What are the objectives?
establishing an overall communication strategy for the ISA² programme and its actions
implementing communication campaigns and promotional activities based on the communication strategy
implementing impact monitoring and evaluation of the communication activities
What are the benefits?
Enabling awareness of ongoing activities and solutions allows Commission services to align efforts in due time and to profit from generic and reusable solutions, as well as to influence programme focus and solutions.
Allowing stakeholders to influence the design of solutions. Enabling awareness of ongoing activities and solutions allows stakeholders to align efforts in due time and to profit from generic and reusable solutions by adapting them to the needs of administrations.
What has been already achieved?
Publication of the communication strategy
Continuous informing partners and the public through the newsletter
Establishing and maintaining web and social media presence (Twitter, LinkedIn, YouTube)
Events management: From ISA to ISA

² Conference, annual SEMIC Conference, Sharing & Reuse Conference
What are the next steps?
In 2018, the Commission will continue in promoting ISA² through the website and social media, as well as holding workshops and participating in conferences to inform stakeholders about the reusable instruments developed under the programme. In the first half of the year, the communication activities will focus on the promotion of the annual semantic conference SEMIC 2018. The second half of the year will be dedicated to promotion od the ISA² Mid-term Conference.