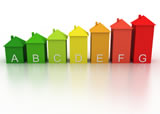 Limited energy supplies and environmental damage mean we have to develop sustainable energy-use policies. The EU's Sustainable Energy Europe campaign seeks to raise awareness of simple and cost-effective methods to counter the growing problems current patterns of energy consumption are bringing to Europe and the rest of the world, and the policies needed to put our energy use on a sustainable footing.
The Sustainable Energy Europe (SEE) campaign, supported by the EU's Intelligent Energy-Europe programme, is working to highlight the many examples across Europe of companies and organisations boosting the sustainable use of energy through new products and services. Partners who join the campaign demonstrate their commitment to sustainable energy consumption and help raise awareness, among policy-makers and energy consumers alike, of the need to manage energy use better.
Running until 2011, the campaign aims to spread good practice and to encourage an increase in private investment in sustainable energy technologies. The examples below demonstrate the breadth of support for the campaign from across Europe.
Wineries
The 'Amethyst' project aims to develop benchmarking and self-assessment tools to help small and medium-size wine producers increase their energy efficiency by identifying cost-effective energy savings. It is being carried out by Ecofys Netherlands and due to be completed by December 2009. The benchmark software tool will be available on the internet, together with a manual, in five languages: English, French, Italian, Spanish and German. As part of a larger dissemination campaign, eight computer-assisted workshops will be given in major wine regions in France, Spain, Italy and Germany to train an expected 240 wineries in the use of the tool. Ecofys estimate that savings of more than 20% can be achieved at wineries, resulting in 20% lower CO2 emissions.
Company emissions
Cutting emissions is at the heart of the Business Climate Appeal, an initiative for Swedish companies who commit themselves to becoming CO2-neutral. The first step is to reduce emissions from their business activity by 30% by 2020 and 60-80% by 2050, compared to 1990 levels, in line with EU objectives. About 30 companies, both large and small, are currently taking part in the programme. A web tool, called 'Svante', has been developed to calculate company's emissions.
Eco-friendly driving
On the consumer side, reducing environmental damage is a major part of the awareness-raising 'Save more than fuel' campaign. Launched in May 2008, the campaign gives ten tips on how to drive more efficiently and will help motorists to save fuel and reduce their carbon footprint. Leaflets on fuel efficiency and responsible driving behaviour have been made available to consumers at over 45 000 petrol stations in 29 European countries. Over 40 oil companies joined forces through the Europia association to create this campaign.
Domestic appliances
Other big companies that have been getting in on the act include Sony and Electrolux, both of which have been developing sustainable energy solutions. Sustainable Energy Europe prizes have been awarded in 2007 and 2008 to showcase some of the best projects. In 2007, Electrolux and Sony shared the top prize for the corporate commitment award.
Electrolux was commended for integrating environmental and energy-related concerns into the design and marketing of its home appliances such as fridges, dishwashers and microwave ovens. It also provides information tools to enable consumers to make more energy-efficient choices.
Sony was praised for, among other things, conveying to consumers how they can reduce their environmental footprint and providing information which enables consumers to make informed choices. The company has achieved reductions in energy consumption in a range of its products, including television sets, computers and camera recorders.
Optimising use of resources
In 2008, the SEE award for Market Transformation was attributed to ÖKOPROFIT, a project from the City of Graz (Austria). This programme for sustainable economic development aims to optimise the consumption of energy and resources in companies. They profit from lower energy consumption, an increase in energy efficiency, and a reduction of waste and emissions while benefiting from savings and competitive advantages. ÖKOPROFIT has now also been adopted in several other European regions.
Intelligent Energy-Europe
The Intelligent Energy-Europe programme, part of the EU's Competitiveness and Innovation Framework Programme (CIP), supports a wide range of initiatives across Europe. The programme aims to encourage energy efficiency and greater use of renewable sources of energy, thereby supporting EU policy goals of reducing dependence on fossil fuels which contribute to greenhouse gas emissions and for supplies of which we rely on foreign countries.
EU Sustainable Energy Week 2009
The 2009 SEE awards will be presented during a ceremony in Brussels next February, when the Belgian capital and many other European cities celebrate the third EU Sustainable Energy Week (EUSEW) from Monday 9 to Friday 13 February 2009. The EUSEW is the major annual focus for sustainable energy issues in Europe.