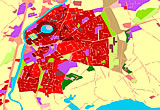 Europe's urban planners have new tools to ensure that towns and cities grow and prosper not only sustainably but also safely. Urban Atlas, a digital mapping tool launched this year, offers reliable and comparable urban planning information delivered through the Global Monitoring for Environment and Security's (GMES) services. With full operability foreseen for 2011, the tool has potential applications in several fields, including a deeper understanding of climate change.
European cities need reliable and comparable urban planning information for safe, sustainable and prosperous development. Thanks to Urban Atlas, a new digital mapping tool launched this year, this is now possible in a growing number of European cities, both large and medium sized.
Compiled from thousands of satellite pictures, Urban Atlas has been produced by the European Commission and Member States with the support of European space technology. Combining imagery from various satellites provides sufficient coverage for detailed and cost-effective digital mapping of larger urban zones, which means city planners have current and accurate data on changes in land cover and use.
With plans to cover more than 300 major cities in the EU by early 2011, Urban Atlas enables urban planners and authorities to better assess the risks and opportunities in their urban areas as they unfold, ranging from the threat of flooding and the impact of climate change, to identifying new infrastructure and public transport needs.
"European cities and municipal authorities face significant new challenges for future urban planning in the coming years and this project provides a practical and cost-effective solution for their needs. Through the use of European space technology, we will open up possibilities for mutual learning from a land-use perspective and help cities to make more informed investment decisions. The Urban Atlas demonstrates the benefit of an integrated European approach and is an excellent example of how space-based applications contribute to local solutions across Europe," noted the European Commission at the launch of the first edition of Urban Atlas earlier this year.
Down-to-earth service
The technical partners in Urban Atlas have really brought earth observation down to earth, detailing changes down to a quarter of a hectare, with adjustable output map-scaling from 1:10,000 - 1:25,000.
This is a very useful, scientifically proven service, confirm trial users in Europe. "There is an urgent need for cross-border data [to] be used for joint projects (transport, economic and regional development, urban development)," said the Lille (FR) community in a statement.
The Urban Atlas team has streamlined its data handling - pre-processing, geo-coding, segmenting, classifying, visualisation and quality control - to get the mapping costs right down to €2.45 per km², a marked improvement on equivalent services.
Urban Atlas maps provide a pan-European classification of city zones, allowing for comparable information on the density of residential areas, commercial districts and industrial zones, the extent of green areas and urban sprawl, which is important for public transport planning in suburban areas.
For climate change, too
Thanks to its bird's eye view, Urban Atlas can highlight where, for instance, industrial and suburban expansion is encroaching on greenbelts and farmlands which typically encircle Europe's cities.
Unchecked urban sprawl threatens to rob cities of their valuable open spaces and air-producing pockets. Shrinking farmlands and green areas can also potentially alter the delicate ecosystems that operate in and around urban settings, from pollinating insects to habitats for small mammals.
The data delivered by Urban Atlas is also useful for spatial statistical calculations. By comparing figures every three years, city managers can see where to alter their development 'master plans' - for example, by limiting building or road-making activities in areas flagged as potential flooding hotspots due to increased surface runoff.
The data from one city can also be compared against cities of similar size or surface area in their region or in other countries. And it may also provide insight into why and, indeed, pinpoint where CO2 emissions are climbing alongside urbanisation trends.
Sustainable urban development
Urban Atlas is a GMESservice (see box) and has €1 million in funding from the European Regional Development Fund - the Union's Structural Funds aimed at bridging the inequalities between regions in Europe.
The first phase of the Urban Atlas is scheduled to cover 185 cities across Europe by February 2010. This includes European capitals and a number of large and medium-sized cities participating in the European Urban Audit - a programme to collect and compare statistical data (i.e. demographics, socio-economics, civic involvement, education/training, environment, travel/transport, information society, culture/recreation) from some 300 participating cities in Europe.
Future editions of Urban Atlas are planned in three-to-five-year intervals in parallel with the Urban Audit exercise. The Urban Audit is co-financed by the European Commission and managed in close consultation with National Statistical Institutes in all EU Member States.
This all makes for much smarter, joined-up urban development, based on up-to-date, reliable, comparable and, importantly, affordable data and maps.
Urban Atlas in the GMES context
Global Monitoring for Environment and Security (GMES) establishes a European capacity in the increasingly important field of earth observation. The main aim of the initiative is to monitor and better understand our environment and to contribute to the security of every citizen.
GMES' service component depends on a vast network of earth observation data collected from space (i.e. satellites), air (weather balloons), water (buoys and ships), and land (measuring stations).
Urban Atlas comes under the Land Monitoring Services of GMES. Urban Atlas' mission is to provide high-resolution hotspot mapping of changes in urban spaces and indicators for users such as city governments, the European Environment Agency (EEA) and European Commission departments.
The results of the Urban Atlas will be made available to the public through a web service which will be hosted by the EEA.