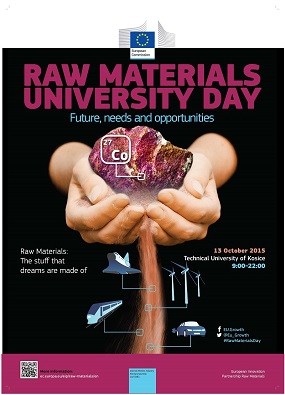 Have you ever thought about the importance of raw materials? Metals and minerals are everywhere around us and they play a major role in our lives. Without them, the smart phones and tablets we have today, would only be science fiction.
If we want Europe to lead the digital revolution of this century and to keep having the greenest industry on Earth, we need to ensure targeted innovation, resource efficiency and recycling, and a sustainable supply of raw materials for the European economy. Moreover, key economic sectors in Europe such as automotive, aerospace and renewable energy are highly dependent on raw materials. These raw materials represent the lifeblood of today's industry and are fundamental for the development of green technologies and the digital agenda.
To face these key challenges, and to secure the supply of natural resources for European industry, the EU institutions and EU countries have already made significant efforts and brought forward numerous initiatives. However, despite the fact that Europe has many universities with a long tradition and excellent programmes in the raw materials sector, the need for knowledgeable and skilled professionals is still highly in demand. The European Commission wants to promote skills and employment in raw materials to boost sectorial competitiveness and sustainable growth while also showcasing the huge potential of European raw materials.
''Raw Materials University Day'' is a communication campaign launched by the European Commission in the framework of the European Innovation Partnership (EIP) on Raw Materials.
The Commission is planning a series of events in various EU countries. These events will take place four times per year between 2014 and 2020. To date, 27 universities have expressed their desire to take part.