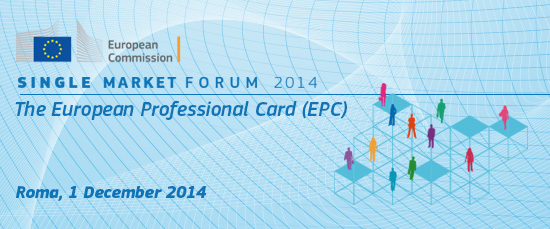 This conference presented the political background to the EPC, and discussed on-going work to achieve the first issuance by the beginning of 2016. Participants also discussed the card's potential to change the way recognition processes are conducted in the EU.
Background
The event was organised in the context of the Single Market Forum 2014, which is an event to assess how well the EU's single market works in practice. The aim is to identify issues that have to be addressed so that businesses, individuals and public authorities can reap the full benefits of a vast borderless market.
There are rules designed to make the single market a reality for Europeans: as businesses, consumers, creators, employers and employees, public authorities... But how well do these rules work on the ground? Are people benefiting from the single market as they should, or are they held back by remaining barriers? In some areas, new EU rules have been decided – how will they be made effective?
From September 2014 to February 2015, 21 workshops and conferences are held in 16 EU cities, from Verona to Vilnius to discuss these and other issues, by those who know best: the people who actually work and do business in the single market. Practitioners and other stakeholders can present their experiences and point out where further action is needed or reflect on how to make new rules decided at EU level work on the ground.