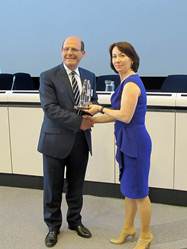 The best achievements in making tourism more accessible were:
Category 1: Accommodation and Catering
This 5-star hotel on the Island of Malta was given the Most Accessible Hotel award. The resort goes beyond basic accessibility requirements and ensures that the wellbeing of all guests is catered for in every way.
Where modern comfort meets spacious accommodation, offering every single guest a comfortable and carefree holiday experience.
An accessible village offering practical, cost-effective solutions for blind, deaf-blind, and visually impaired guests.
Offering quality treatments, particularly for those with rheumatism and movement/joint issues.
Category 2 : Nature, Heritage, Culture, Entertainment & Leisure
An app allowing deaf visitors to discover one of the world's most important collections of Classical art.
'A ticket for fair tourism', letting everyone enjoy the beach and surrounding area.
The winners were proposed by Member States authorities with the support of and in accordance to guidelines of the European Commission.-->Offering a multitude of leisure activities, with special features for people with disabilities.
Photo © Ben Gale, Creative Spark Design Partnership