This section of the Futurium will create an opportunity for other interested stakeholders to provide an input to the ongoing work of partnership or the Action Plans, as well as express their willingness to contribute to specific Actions. The implementation of the Actions can be followed in full transparency in this section.
/futurium/en/file/infographieurbanagenda3png-0infographieurbanagenda3.png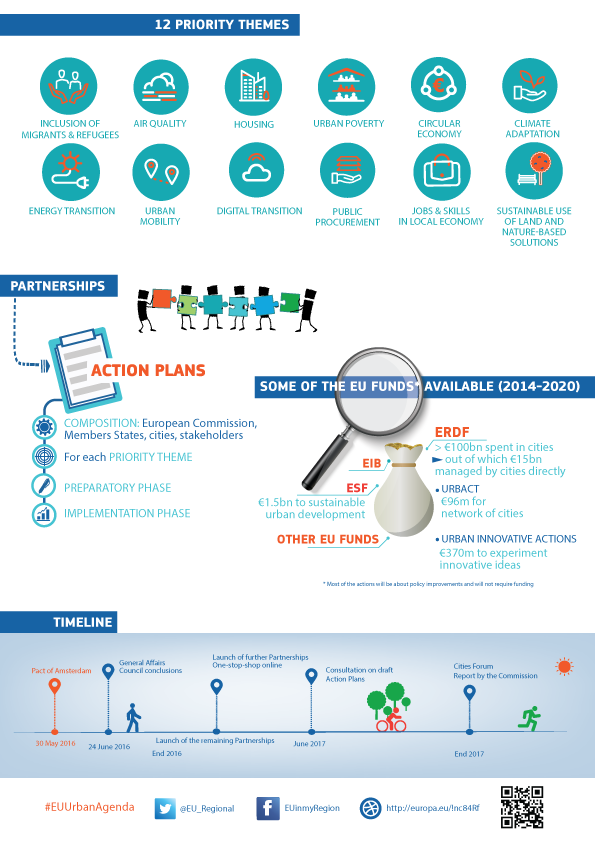 Each Partnership will formulate an Action Plan with concrete actions for Better Regulation, Better Funding and Better Knowledge, related to the theme of the Partnership. These actions are regarded as non-binding contributions to the design and revision of legislation, instruments and initiatives.
The coordinator(s) will coordinate the drafting of the Action Plan which will then undergo a public consultation before being approved by the Commission, Member States and cities.
Regarding the public consultation, once the draft Action Plan is available, a consultation will take place on Futurium. Everyone is invited to join this consultation. To do so you need to register on Futurium. Once you are registered you will be automatically updated on open consultations and when you can actively contribute to this and to other discussions relevant to you.
In this section, the actions proposed for approval by the DG meeting on Urban Matters are listed. This DG meeting includes Member States, the European Commission, the Comittee of Regions, Council of European Municipalities and Regions, and EUROCITIES as members in order to reflect the multilevel character of the Urban Agenda for the EU. Partner States, EESC, EP, EIB, URBACT, ESPON and EUKN participate as observers in the DG meeting.
The actions are set in a specific timeframe (start and end date) and are allocated to one or several responsible.