Informative webinar on the Circular Economy Draft Action Plan now available!
/futurium/en/file/20180309webinarcirculareconomypng2018.03.09_webinar_circular_economy.png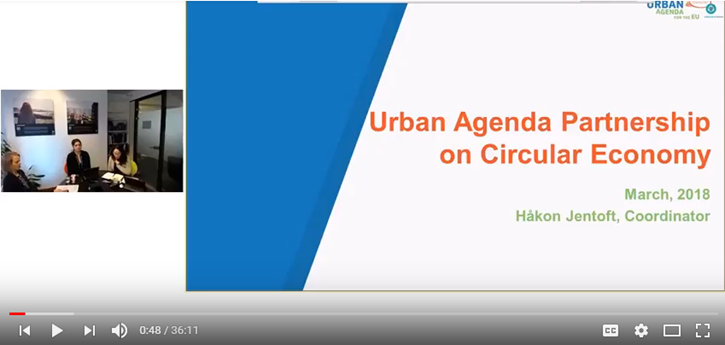 On March 5th, Håkon Jentoft, Coordinator of the Partnership on Circular Economy, took part in an informative webinar to present the work of the Urban Agenda for the EU and, in particular, the Partnership's Draft Action Plan.
Published on February 6th, the Draft Action Plan represents a step forward in the path of the Partnership. It introduces a set of actions to support the efforts of European cities in the field of circular economy.
The webinar included a general presentation of the proposed 8 actions drafted under the three pillars of the Urban Agenda (better regulation, better funding, better knowledge) as well as different rounds of questions and answers from participants.
Likewise, it encouraged them to contribute to the Partnership's work by participating in the Public Feedbacks, open until March 16th and available under each action section on Futurium.
Organised by EUROCITIES on behalf of the Urban Agenda for the EU, the webinar is now published and available here. To access the presentation, please click here. To contact the Partnership on Circular Economy please drop an email to the UA Communication Team.