Small and Medium Enterprises: What eIDAS can do for you?
Being part of the Digital Single Market can be challenging, especially for European Small and Medium Enterprises (SMEs).

To "beat" this challenge, eIDAS regulation provides some tools to help SMEs "navigate" in the Digital Single Market.

So, to check these tools and if you need them, ask yourself the following questions:​
Does my business need to do secure cross-border transactions and/or does it want to increase the convenience of its clients and customers? 
If yes, then Electronic Identification (eID) is what you need!
Do I want to show my website is trustworthy and to protect my business' online name/domain?
If yes, then the Qualified Web Authentication Certificate (QWAC) will ensure that!
Do I want to be able to sign documents remotely or, a trustworthy member of my team, to be able to seal documents, such as contracts?
If yes, then eSignature and eSeal can get the work done!
Do I want/need to know the exact time and from who a document (like a contract, or a purchase order) was signed or sealed and be able to track it better?
If yes, then eTimestamp will help you do that by also saving you time and money!
Do I want to send important documents (as contracts, purchase orders) remotely and/or be sure that they will reach their destination by guaranteeing that they will not be altered / stolen or lost?
If yes, the Electronic Registered Delivery Service (ERDS or eDelivery) can protect you!
In a nutshell, electronic identification (eID) and the trust services (tools) mentioned above can help a business to:
• Avoid phishing and to increase consumer trust;
• Be in compliance with "know your customer" principle and anti-money laundering requirements;
• Trust in the origin of the documents;
• Reduce time in document exchange;
• Protect against loss, theft, damage or alterations of a document;
• Reduce costs through streamlined processes and enhance document tracking;
• Provide greater accountability; and
• Expand one's business customer base.
Need to get more practical?
The infographic below shows and combines many of the tools and benefits described above by using a real business-case example: 
/futurium/en/file/eidasintheprofessionalservicessectoren-page-001jpg-1eidasintheprofessionalservicessectoren-page-001.jpg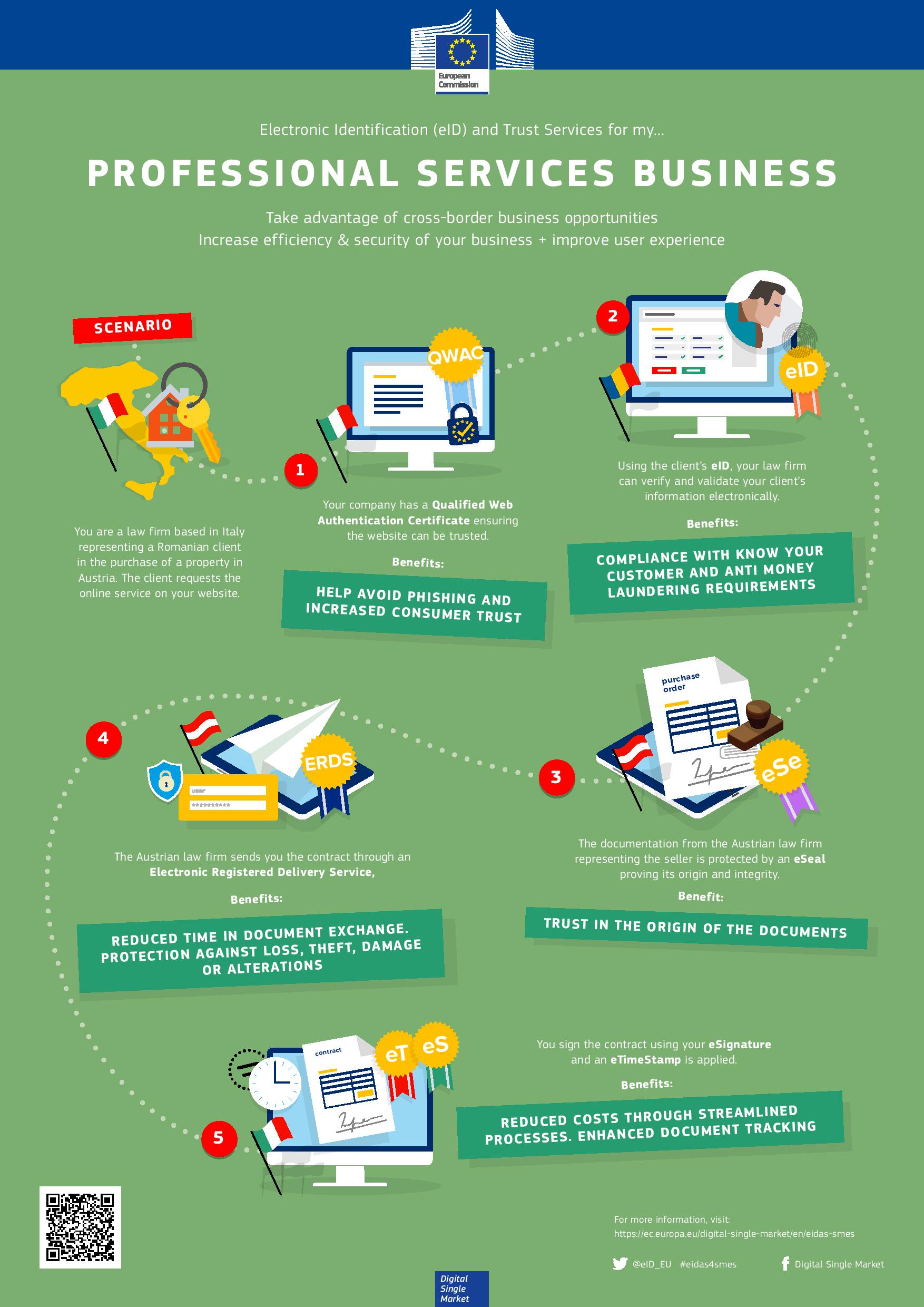 More sector-focused information? Check the infographics below:
What else?

Well, are-you an SME, multiplier or service provider wanting to evolve? Do you want to be more "up-to-date" and the same time trustworthy and secure?

We invite you to boost you knowledge on the use and integration of eIDAS solutions into your business processes.
Check our Webinar Programme on different topics surrounding eIDAS for SMEs and our course material, which is a set of training material to provide additional information on the topics covered by the webinars.
And don't forget our Toolkit for SMEs which is available on the eIDAS for SMEs web page hosted on the Digital Single Market website: https://ec.europa.eu/digital-single-market/en/eidas-smes !
To get an insight from the Toolkit, it will give you the opportunity to:
test out electronic identification (eID) and trust services in a simulated environment by using our Interactive Tool;
watch the video below, which introduces briefly eIDAS and focuses on the key benefits that the eID and trust services can bring to SMEs;

find the  

/futurium/en/file/eidas-guidebookenpdfguidebook  

guidebook  

which can work as a quickstart guide for an SME on how to understand and begin to use eIDAS services, and of course;
our  

/futurium/en/file/eidaschecklistforbusinessesenpdf-0checklist  

checklist  

that is helping businesses to choose the appropriate eID and trust service solutions according to their needs through a series of questions and checks.

Finally yet importantly, for greater insight and more details, we invite you to consult our recently finalised study aiming at analysing the eIDAS potential and clear benefits for SMEs.

Find, as well, the published report here.

We hope this post to be useful for you and we invite you to send us your feedback, ask questions and why not, share and spread the word!