A further step towards shared/common principles and guidance on ID interoperability for Online Platforms: Impressions and take-aways of the participatory workshop of 29 November 2017
On 29 November we held the workshop on Principles and Guidance on ID interoperability for Online Platforms – Finalisation and way ahead. Thanks to the constructive input received during such an enriching and collaborative event, a further step was taken towards common principles and guidance.  
More than 80 representatives of online platforms, consumer and business organisations, individual businesses, digital identity providers, Member State authorities, academia, think tanks, etc. participated and exchanged views on the draft principles and guidance on eID interoperability for online platforms and the next steps to promote them. The draft principles and guidance, which had been developed via an open and participatory process including an earlier workshop on 24 April 2017, were positively received, discussed and reviewed. Many interesting suggestions and ideas were raised on how to complete the drafting and how to operationalise the principles by targeting and mobilising the relevant stakeholders.
All this we was done collaboratively and involving all participants. A great discussion and a lot of energy in the room, but what counts most is definitely the outcome. So, what did emerge from the discussions? How far are we with the principles? What can we do to operationalise them? How can we mobilise the right stakeholders to make these principles broadly accepted and adopted?
Let me share with you our main takes from this participatory day:
There is a great support for the draft principles and guidance as well as the initiative in general.

Suggestions were made to better scope the draft, providing a clearer context and improving the readability. In this context, it was suggested to further clarify the intended purpose of the principles and guidance as it would help better target the key/main stakeholders.

Tailoring better the principles and the guidance to relevant stakeholders would facilitate operationalising them. In this regard, a better alignment between the principles and the guidance, i.e. "which guidance for which principle" approach, would certainly help.

It was underlined the importance of relevant sectorial, national and general data protection laws that provide a key element of the overall framework for principles. Hence, ensuring consistency and coherence of the language with GDPR will be key.

Principles could form a blueprint for consumer organisations to compare the online platforms.
Suggestions were also made with regard to which stakeholders should be targeted and mobilised to ensure uptake of the principles, in particular on:
Awareness raising and education campaigns, especially targeted at the young generation. For example target 18-25 year-olds for Erasmus, enrolment to university, festivals, proof of age etc., and people under 18 for youth voting, safe dating for 'under 18 access' etc.

General information campaigns highlighting the good practices accessible in more languages.

Specific campaigns and guidance by and towards regulated industries (e.g. medical, health, banks, insurance etc.).
But also flanking measures were proposed like:
Developing a label/certificate to show compliance of online platforms with the principles;

An eID champion Competition;

National awareness raising activities and guidance by eID service providers;

Possible model clauses to be added in the eID schemes by data protection authorities to be GDPR compliant;

Additional work on liability.
All in all, the workshop gave a lot of enriching ideas and suggestions for the way ahead. So, what is next?
The inputs and ideas gathered so far will be digested with a view to prepare a final draft that will be shared via the eIDAS Observatory for the last round of comments and suggestions by beginning of January 2018 at the latest.

The goal is to reach a stable version of the principles and guidelines embracing all views and contributions in first quarter of 2018.

To progress on the way ahead, we will use an open and inclusive approach to which all interested parties are invited to contribute. To this end, we:

Invite those who would like to be actively involved in the further promotion of the principles and guidance and the way ahead to express their interest by writing to us at CNECT-EGOVERNMENT-AND-TRUST@ec.europa.eu.

Welcome suggestions and ideas on the topic which you may share by posting in the eIDAS Observatory.
See presentation of the day here:
/futurium/en/file/presentationpdf-0presentation.pdf

presentation.pdf
/futurium/en/file/ingroupsjpgingroups.jpg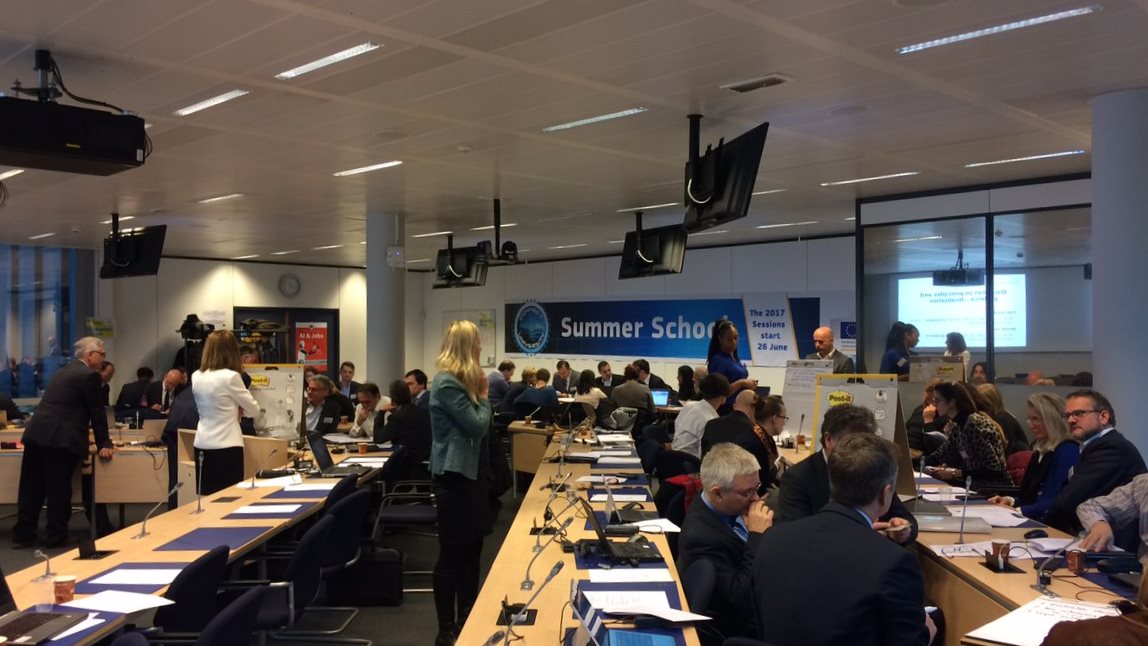 /futurium/en/file/paneljpg-0panel.jpg
/futurium/en/file/img9695jpg-1img_9695.jpg