Back
Key figures on Europe — Statistics illustrated — 2019 edition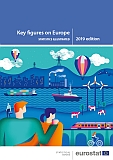 Key figures on Europe — Statistics illustrated — 2019 edition
This second edition of Key figures on Europe — Statistics illustrated follows on from the success of last year's publication.
It aims to provide intuitive visualisations, innovative data presentations and more concise text, so users can rapidly obtain an understanding of differences between Member States. It is available in English, French and German.
This publication provides you with a selection of interesting key statistics on the European Union (EU), its Member States as well as the countries of the European Free Trade Association (EFTA). Drawing from the rich collection of data available at Eurostat, we aim to provide insight into the current situation and recent developments across the EU with regard to people and society, the economy and business, and the environment and natural resources. This publication may be viewed as an introduction to EU statistics and provides a starting point for those who wish to explore the wide range of data that is freely available on Eurostat's website at https:/ec.europa.eu/eurostat and presented in a large number of online articles in Statistics Explained.
We would welcome your feedback on this publication. Thank you for your help!
Electronic format
Download Publication
(EN)
Download Publication
(FR)
Download Publication
(DE)
Release date: 18/10/2019
Additional information
Product Code: KS-EI-19-001
ISBN: 978-92-79-98680-2
ISSN: 2315-201X
Digital Object Identifier (DOI): 10.2785/415908
Theme: General and regional statistics
Collection: Statistical books