Last year, over 34 billion litres of beer containing alcohol were produced in the EU, according to Eurostat's latest production statistics released earlier this week. The EU's beer production was equivalent to around 77 litres per inhabitant.
In addition, in 2019 the EU produced 1.4 billion litres of beer which contained less than 0.5% alcohol or had no alcohol content at all.

Germany, top producer
Among the EU Member States, Germany was the top producer in 2019 with a production of 8.0 billion litres (or 23% of the EU total production). In other words, about one in every four beers containing alcohol produced in the EU originated from Germany.
Germany was followed by Poland and Spain (each 3.9 bn litres produced, or 11%), the Netherlands (2.5 bn litres, or 7%), Belgium (2.4 bn litres, or 7%; 2017 data), France (2.0 bn litres, or 6%), Czechia (1.9 bn litres, or 6%).
Compared with 2018, Lithuania recorded the largest increase in the production of beer containing alcohol (+7%), followed by Spain (+6%) and Italy (+5%).
In contrast, the production of beer in the Netherlands fell by 9%, in Latvia by 7% and in Slovakia by 6%.
Source dataset: DS-066341
The Netherlands, top exporter
The Netherlands exported 1.9 bn litres of beer containing alcohol in 2019. This made it the largest beer exporter of all EU Member States, ahead of Belgium (1.7 bn litres) and Germany (1.6 bn litres), followed by Czechia, France and Ireland (all 0.5 bn).
The main destinations for beer exports to non-EU countries were the United States (911 million litres, 22%) and the United Kingdom (825 million litres, 20%). They were followed by China (364 million litres, 9%), Russia (258 million litres, 6%), Canada (193 million litres, 5%), South Korea (184 million litres, 4%), South Africa (108 million tonnes, 3%), Switzerland (98 million litres, 2%), Australia (92 million litres, 2%) and Taiwan (86 million litres, 2%).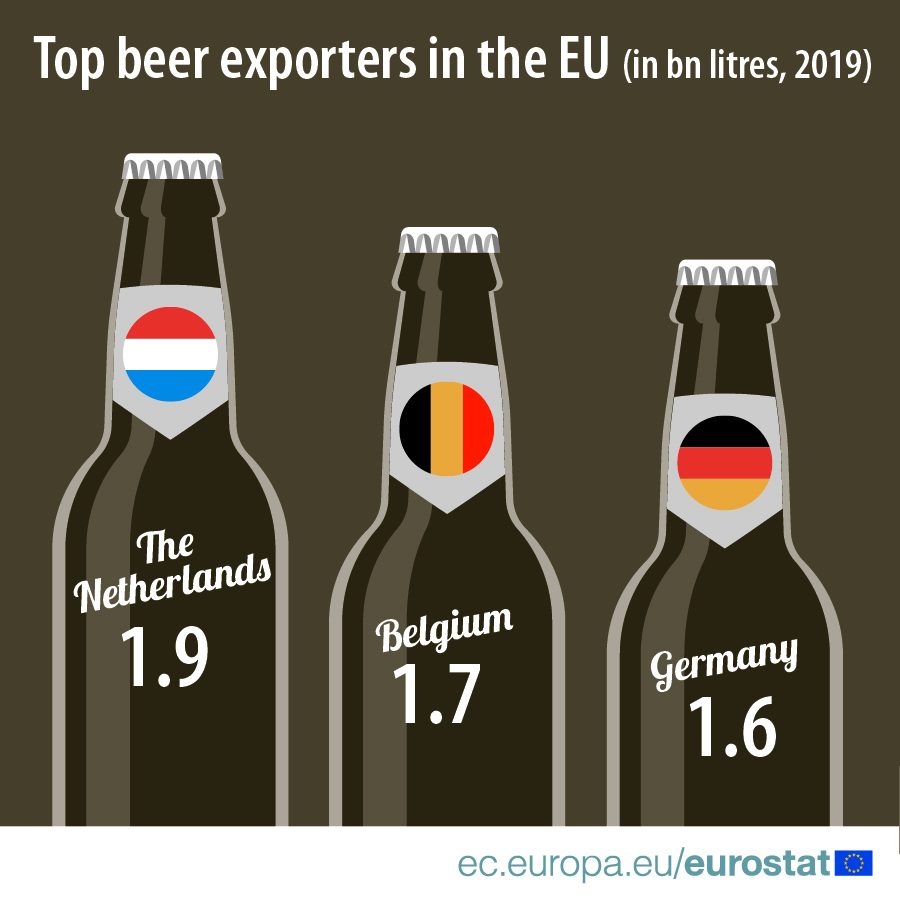 Source dataset: DS-645593

British beer heads imports from outside the EU
The internal market for beers containing alcohol that are not produced in the EU is marginal. However, when importing from non-EU countries, Member States favoured British (278 million litres, or 47% of all extra-EU imports of beer in 2019) and Mexican beer (125 million litres, 21%), ahead of Serbian beer (61 million litres, 10%), Belarusian beer (33 million litres, 6%), US beer (19 million litres, 3%), Ukrainian beer (15 million litres, 2%), Chinese beer (13 million litres, 2%) and Russian beer (9 million litres, 2%).

This news item marks today's International Beer Day.
Note:
The European Union (EU) includes 27 EU Member States. The United Kingdom left the European Union on 31 January 2020. Further information is published here.
The EU data reflect the political change in the EU composition so the UK is considered as an extra-EU partner country for the EU. However, the UK was still part of the internal market for the period covered, meaning that data on trade with the UK were still based on statistical concepts applicable to trade between the EU Member States.
To contact us, please visit our User Support page.
For press queries, please contact our Media Support.