To prevent the spread of the COVID-19 pandemic, countries around the world have taken a variety of restrictive measures, which have negatively affected international trade in goods. However, at the same time demand for a range of products increased. One of these products is exercise equipment, which gained in popularity following the restrictions to indoor activities in gyms and other sport facilities.
In the early months of 2020, the first wave of COVID-19 caused a disruption to international trade and imports of exercise equipment to the EU also decreased. These initial falls were followed by an impressive recovery in June and July (+44% and +42% compared with June and July 2019). In past years, the imports of exercise equipment usually peaked at the end of the year or beginning of the next.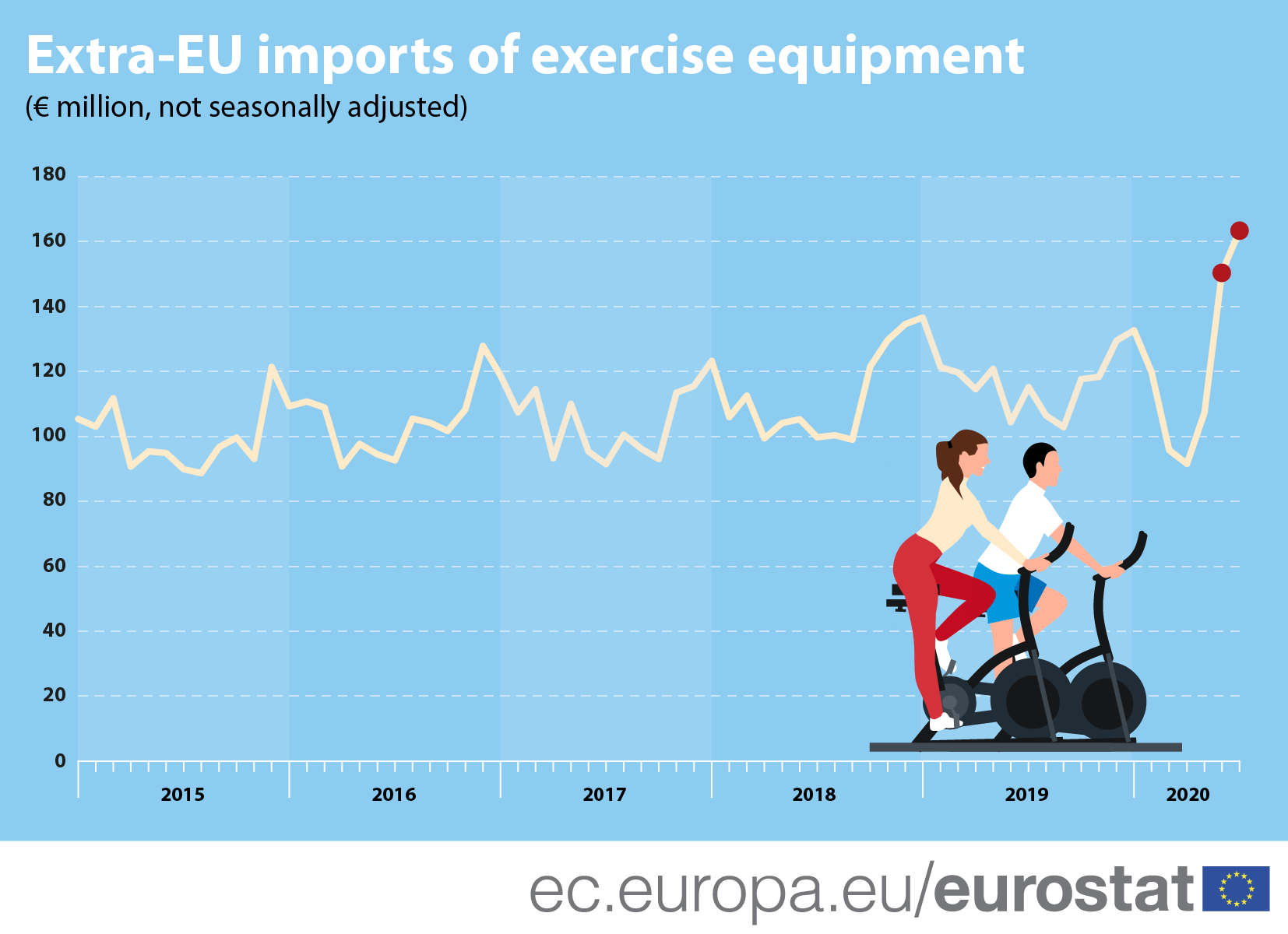 Source dataset: DS-645593
China was the main EU partner for the imports of exercise equipment. Over the period January - July 2020, China accounted for 73% of the extra-EU imports. The other main EU partners were Taiwan (9% of extra-EU imports in January - July 2020), the United States (8%) and the United Kingdom (5%). All together, these four countries accounted for 95% of the extra-EU imports of exercise equipment.
Notes:
The European Union (EU) includes 27 EU Member States. The United Kingdom left the European Union on 31 January 2020. Further information is published here.
The EU27 data reflect the political change in the EU composition so the UK is considered as an extra-EU partner country for the EU27. However, the UK is still part of the internal market until the end of the transitory period, meaning that data on trade with the UK are still based on statistical concepts applicable to trade between the EU Member States. Consequently, while imports from any other extra-EU27 trade partner are grouped by country of origin, the UK data reflect country of consignment. In practice, this means that the goods imported by the EU27 from the UK were physically transported from the UK but part of these goods could have been of other origin than the UK. For this reason, data on trade with the UK are not fully comparable with data on trade with other extra-EU27 trade partners.
To contact us, please visit our User Support page.
For press queries, please contact our Media Support.