There is no better way to celebrate tomorrow's European Statistics Day than to honour the professionals that make it possible and in a way that they know better than anyone: with numbers.
In 2020, there were 97 300 mathematicians, actuaries and statisticians employed in the EU, the equivalent of almost 22 professionals per 100 000 people.
Compared with 2011, their number increased by 70% from 57 100. From that year onwards, the number of professionals increased steadily, reaching its highest total in 2020.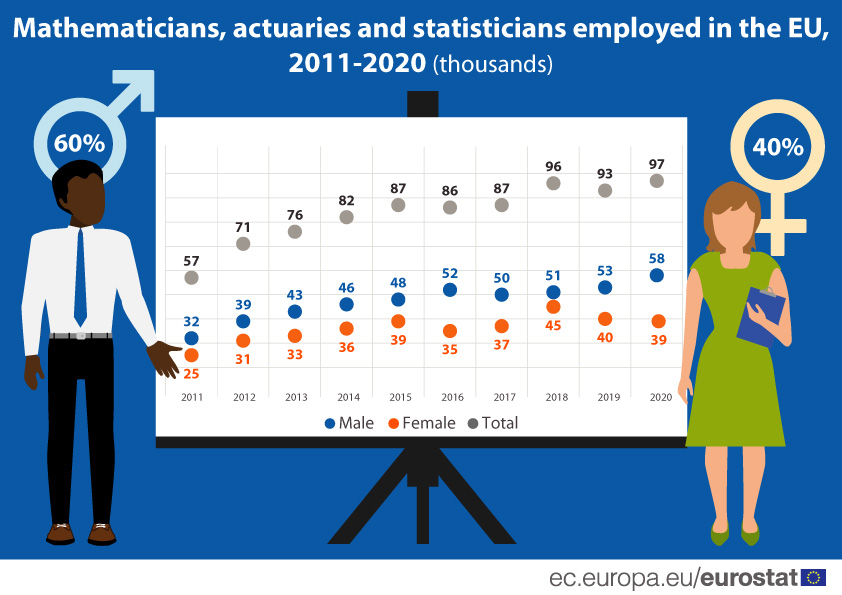 Source: EU Labour Force Survey special data extraction
There were more men than women employed in these professions, with a 60% share in 2020, a 3 percentage point increase compared with 2019 (57% of men in 2019).
In 2020, these professionals were working in financial and insurance activities (28%), public administration and defence and compulsory social security (18%), the professional sector (17%) and the information and communication sector (10%). Only 8% of them worked in education.
To celebrate European Statistics Day, Eurostat is holding an open day in the form of a webinar tomorrow (20 October) from 2:00 PM to 3:30 PM CET. The open day will feature an overview of official statistics published by Eurostat as well as recent initiatives. Questions can be sent via Slido.
Happy European Statistics Day!
For more information:
Mathematicians, actuaries and statisticians as defined by ISCO-08 (code 2120) conduct research; improve or develop mathematical, actuarial and statistical concepts, theories and operational models and techniques; and apply this knowledge to a wide range of tasks in such fields as engineering, business and social and other sciences.
Eurostat database on EU Labour Force Survey (LFS)
Eurostat dedicated section on the EU Labour Force Survey (LFS)
Statistics Explained article on EU Labour Force Survey (LFS)

To contact us, please visit our User Support page.
For press queries, please contact our Media Support.