In 2019, the densest railway networks in the EU were observed in two capital regions: Berlin in Germany (698 km of railways per 1 000 km2) and Prague in Czechia (491 km per 1 000 km2). They were followed by Hamburg in Germany (395 km per 1 000 km2), the capital region of Hungary - Budapest (390 km per 1 000 km2) and Bremen in Germany (337 km per 1 000 km2).
To mark the European Year of Rail, we look at the density of our railway networks, which is generally highest in the western and central regions of the EU.
The high densities in capital regions may reflect, among other factors, the relatively small area covered by most capital regions and their high population density, as well as the presence of mainline terminals/stations from which railway lines tend to radiate outwards.
The regional distribution of railway infrastructure is also driven by specific regional historical developments, their geographical characteristics as well as the presence of economic activities such as heavy industries or seaport infrastructures. Hamburg and Bremen are two smaller regions where extensive freight lines to and from seaports contribute to the high density of railway lines.
Freight transport railway lines also play a leading role in several regions where coal and steel industries remain important, such as the Saarland region in western Germany (134 km per 1 000 km2) and Śląskie in southern Poland (156 km per 1 000 km2).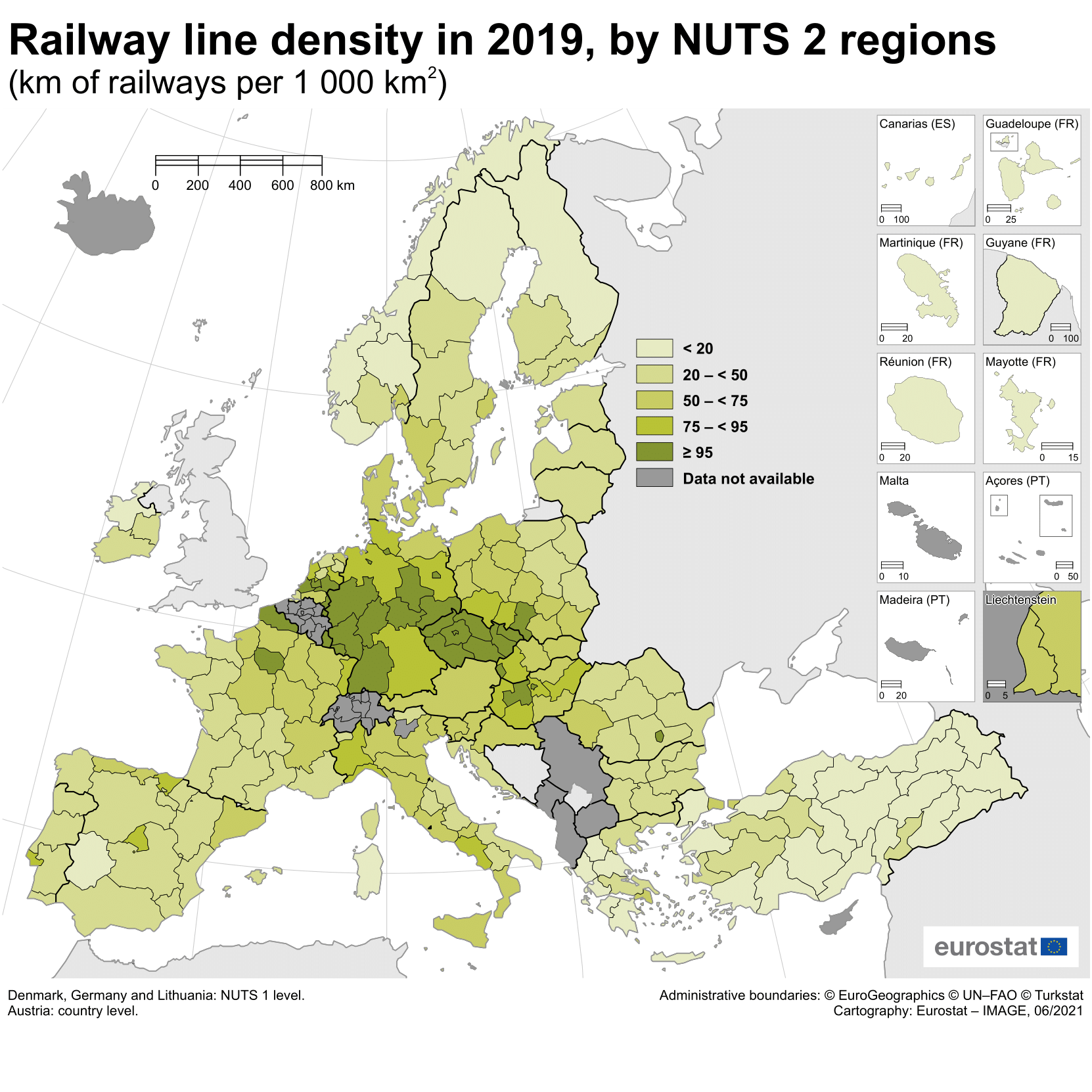 Source dataset: tran_r_net
You can find more data on the inland transport network of motorways, railways and inland waterways in the Statistics Explained article on inland transport infrastructure at regional level.
For more information:
Eurostat website section dedicated to transport statistics
Eurostat database of transport statistics
In this article, the regional data are presented at NUTS 2 level, with the exception of Denmark, Germany and Lithuania (NUTS level 1) as well as Austria (country level). The names of the regions are in English.
To contact us, please visit our User Support page.
For press queries, please contact our Media Support.