The 27 EU Member States spent €301 billion altogether on family benefits in 2017 (2.3% of EU GDP). This represented 8.6% of the total spent on social protection benefits.
Share of expenditure on family benefits highest in Luxembourg, lowest in the Netherlands
The share of social protection expenditure on family benefits varied significantly between EU Member States. It accounted for more than 15% of total social benefits only in Luxembourg (15.3%), followed by Poland (13.4%) and Estonia (13.1%). The lowest shares were registered in the Netherlands (4.2%) and Portugal (4.9%).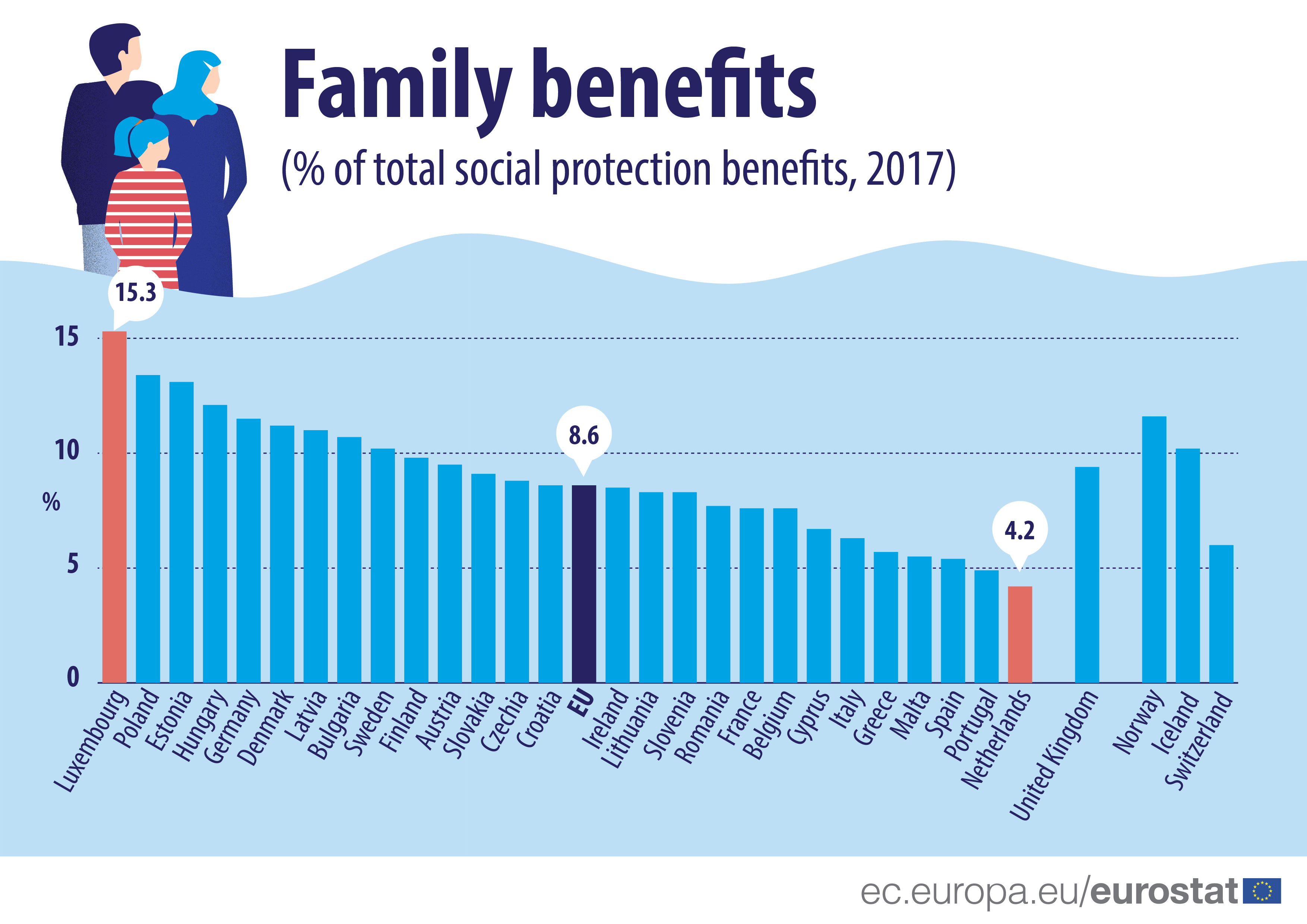 Source dataset: spr_exp_sum
The annual family benefits expenditure per inhabitant was also highest in Luxembourg (€3,100 per inhabitant), followed by Denmark (€1,700), Sweden (€1,400), Germany (€1,300) and Finland (€1,200). Please note that the value is overestimated for Luxembourg compared with other countries, as a significant proportion of benefits are paid to persons living outside the country. In 2017, three countries had family benefits expenditure below €200 per inhabitant: Romania (€100), Bulgaria (€130) and Lithuania (€180).
Source dataset: spr_exp_sum
This information is published by Eurostat on the occasion of the Global Day of Parents and International Children's Day, celebrated every year on 1 June.
Notes:
In this article, 'family benefits' refer to 'family/children benefits' as classified by the European system of integrated social protection statistics (ESSPROS) methodology. They include support (except healthcare) in connection with the costs of pregnancy, childbirth and adoption, childcare and caring for other family members.
The European Union (EU) includes 27 EU Member States. The United Kingdom left the European Union on 31 January 2020. Further information is published here.
For more information:
To contact us, please visit our User Support page.
For press queries, please contact our Media Support.