Sunday 24 February marks the start of a two-day summit between the European Union (EU) and the League of Arab States (LAS) in Egypt. Trade is one of the areas expected to be addressed at the meeting, and to help set the scene, here are some statistics on trade in goods between the EU and this group of countries. The figures below for the LAS exclude Syria, which has been suspended from the League since 2011.
Trade in goods surplus of €72 billion between EU and LAS
In terms of trade in goods, in 2017 the LAS was the destination of 10.3 % of exports from the EU and the origin of 6.5 % of all EU imports from the rest of the world.
Between 2007 and 2017, exports from the EU to the LAS exceeded the imports from the LAS and in 2017 the resulting surplus in trade in goods in the EU stood at €72 billion. This was below the surplus recorded in 2016 (+ €93 billion) following an increase in imports from the LAS into the EU between 2016 and 2017.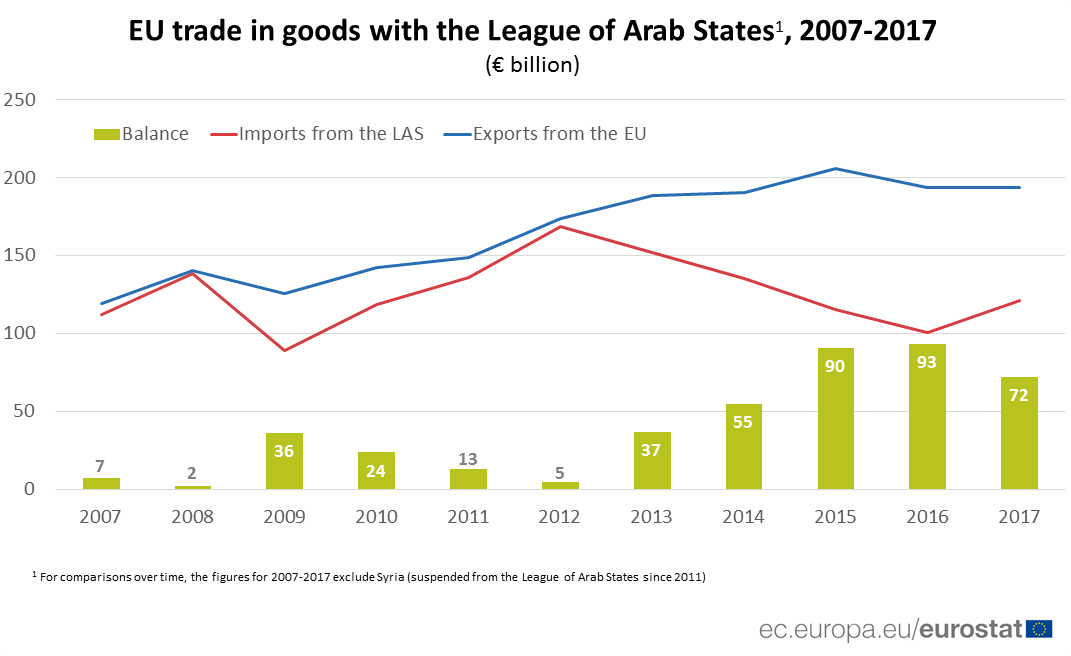 In terms of the types of goods traded in 2017, imports into the EU from the LAS were predominantly energy products (61 %), whereas exports from the EU to the LAS were mainly of machinery and vehicles (41 %), other manufactured goods (23 %) and chemicals (12 %).
The EU Member States with the largest trade in goods surplus with the LAS group in 2017 were Germany (+ €26 billion), the United Kingdom (+ €12 billion), France (+ €9 billion) and Italy (+ €5 billion). These four countries together accounted for 61 % of EU exports to the LAS. Two EU Member States had a trade in goods deficit with the LAS in 2017: Greece (- €2 billion) and Spain (- €1 billion).
Within the LAS in 2017, Iraq and Libya both exported more goods to the EU than they imported, resulting in a trade in goods surplus of €18 billion for the two countries combined. This surplus was offset by a trade in goods deficit of €90 billion in the remainder of the LAS, mostly in the United Arab Emirates, Egypt and Saudi Arabia.
The League of Arab States was established in 1945, bringing together 22 countries:
Algeria, Bahrain, Comoros, Djibouti, Egypt, Iraq, Jordan, Kuwait, Lebanon, Libya, Mauritania, Morocco, Oman, Palestine, Qatar, Saudi Arabia, Somalia, Sudan, Syria (participation suspended by LAS since 2011), Tunisia, the United Arab Emirates and Yemen.
The source data are here.
For more information about statistics on international trade in goods, take a look at these links:
More information on the summit is available here.
To contact us: estat-user-support@ec.europa.eu