In the European Union, some 630 million litres of pure (100%) alcohol was produced in relation to whisky production in 2016. This was 90 million liters fewer than in 2015 and 170 million litres fewer compared with the production peak recorded in 2012. In 2016, the EU's whisky production was equivalent to slightly over 1.2 litres of pure alcohol per inhabitant and it amounted to a value of €4.4 billion.
The United Kingdom dominates the market
With a production worth more than €3.7 bn, the United Kingdom was by far the top producer in 2016. In value, its production accounted for 85% of the EU total, while it represented 88% of the EU total in terms of quantity. In other words, about nine in every ten bottles of whisky produced in the EU originated from the United Kingdom.
Unsurprisingly, the United Kingdom is also the largest EU exporter of whisky. It sold almost €5 billion-worth of whisky in 2016 (of which 69% was exported outside the EU). This made up almost three-quarters of all EU Member States' whisky exports that year.
France top EU importer
In 2016, the EU Member States imported whiskies to the value of €3.1 billion. France imported whiskies worth €750 million that year (24% of the EU Member States' total value of imports). This made it the largest whisky importer of all EU Member States, ahead of Germany (€441 million, 14%), Spain (€372 million, 12%), the Netherlands (€264 million, 9%), the United Kingdom (€202 million, 7%) and Poland (€128 million, 4%).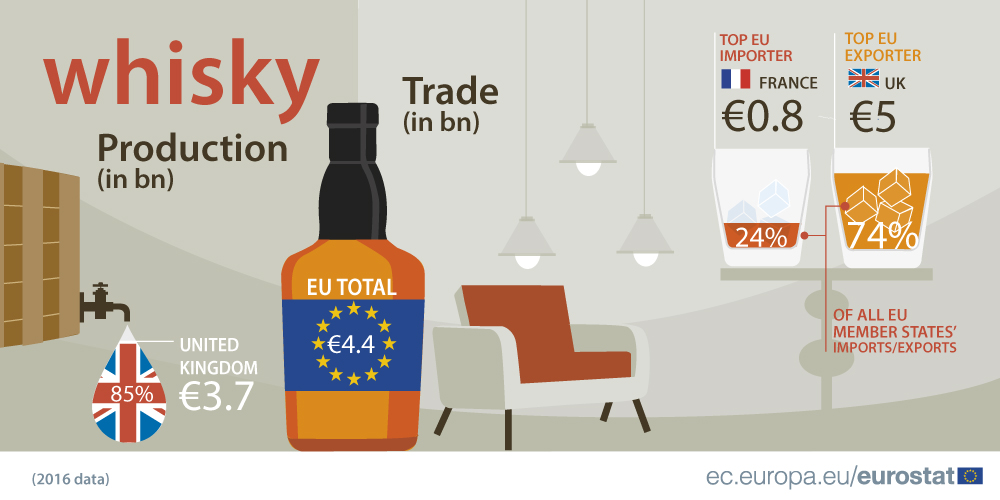 The USA, main extra-EU partner for whiskies
The EU exported €4.3 billion-worth of whiskies to non-EU countries in 2016. The United States was by far the main destination (€1.4 bn of whiskies exported to the US in 2016, nearly a third of the total exports of whiskies to outside of the EU). The United States was followed by Singapore (€306 million, 7%), Taiwan (€220 million, 5%) and the United Arab Emirates (€187 million, 4%).
As concerns whiskey imports into the EU, the United States also is the main partner. When EU Member States import whiskies from abroad (626 million in 2016), most came from the other side of the Atlantic (€506 million, or 81% of EU total imports from non-EU countries).
For more information please contact us: estat-user-support@ec.europa.eu.