On the occasion of the European Week of Regions & Cities, which takes place from 9-12 October 2017 in Brussels, Eurostat is publishing some colourful infographics showing the top 5 EU regions for selected indicators on its 'Themes in the spotlight' page. In addition, you will also find factsheets with detailed information for the regions of each EU Member State.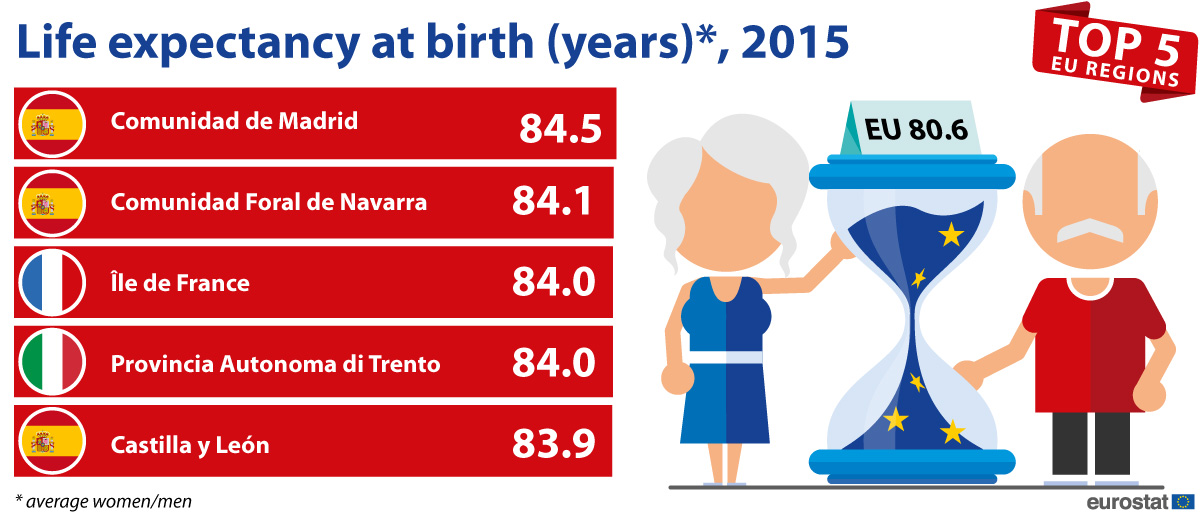 The European Week of Regions and Cities is an annual event during which cities and regions showcase their capacity to create growth and jobs, implement European Union cohesion policy, and highlight the importance of the local and regional level for good European governance. Eurostat will actively participate with presentations and workshops. If you are around, come and visit us for a chat at our information stand (located at the Jacques Delors building, Foyer, 5th floor / Brussels) and pick up your free copy of the Eurostat regional yearbook or other Eurostat publications.
If you are interested in how your region or city is doing compared to others, you might want to check out the wide range of Eurostat statistics available on regions, cities, metropolitan regions, coastal regions, degree of urbanisation, etc.
If you prefer to have all the information and statistics bundled together and you are more the 'paper type of person', maybe our recently published 'Eurostat regional yearbook 2017' is for you! If you are more the 'visual type of person', we offer you the following free tools to more easily explore regional and city statistics in an interactive and fun way:
- Statistical atlas: This is an interactive map viewer with tailor-made maps using the same data as presented in the latest and previous editions of the Eurostat regional yearbook, the LUCAS survey and Census 2011.
- Regions & cities illustrated: This is a visualisation tool containing both maps and graphs, which uses the most recent data from the Eurostat database for a wide range of statistical topics. It is the perfect tool for analysing data patterns for different geographical levels such as regions, cities, urban-rural and coastal regions, etc.
- My capital in a bubble: This is a fun tool to compare data for the capitals of the EU Member States, EFTA countries and Turkey for more than 30 statistical indicators. The indicators are grouped into the following themes: Living in cities; Economy and labour market; Quality of life; Smart and green cities; Urban demography.
- My region: This is a mobile phone app which gives handy access to a selection of regional indicators for EU Member States, EFTA and candidate countries. The application allows comparison of values for up to three selected regions at a time with rankings, timeline graphs, regional maps and statistical definitions.