We are publishing this information on trade and investment between India and the European Union (EU) to mark the EU – India summit, which takes place today in New Delhi.
EU deficit for goods for the fourth year in a row
India is the EU's ninth biggest trading partner after South Korea and ahead of Canada, accounting for 2.2% of total extra-EU trade in goods in 2016 (compared with 1.8% in 2006). Over this 10-year period, the value of EU imports from India almost doubled (from €22.6 bn in 2006 to €39.3 bn in 2016). The value of EU exports to India also substantially increased, albeit more moderately than imports (+56%), from €24.2 bn to €37.8 bn.
As a result, the EU trade balance with India, which had always been in surplus from 2006 to 2012, has since turned into a deficit reaching -€1.6 bn last year.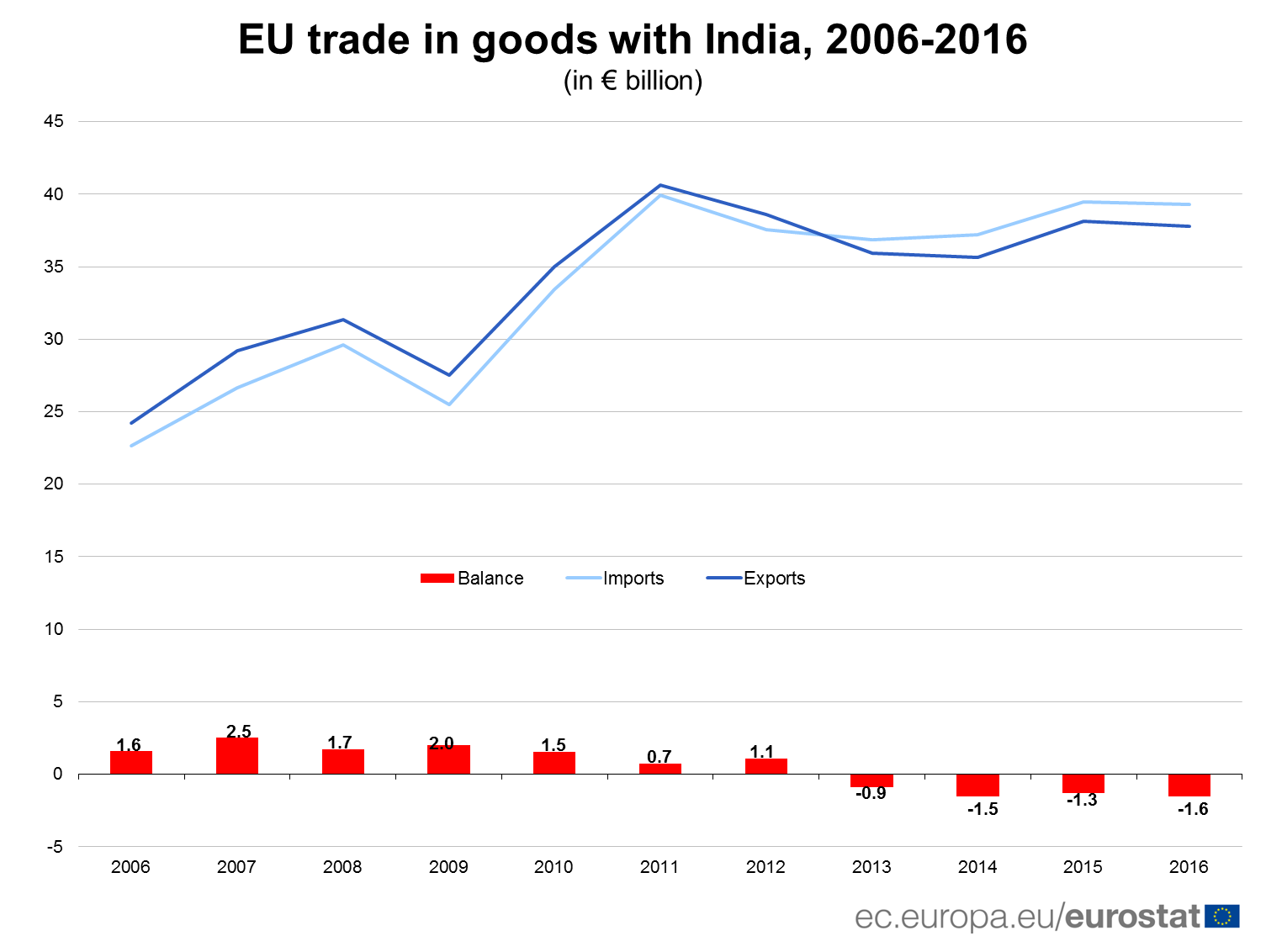 Further information on trade in goods between the EU and India is available in a dedicated article.
EU balance for services turned into deficit last year
In 2016, India was the seventh biggest EU trading partner in services, after Canada and ahead of Hong Kong and Brazil. It accounted for 2% of total extra-EU trade in services.
EU exports of services to India increased by 11% between 2014 and 2016, from €12.5 bn to €13.8 bn. In the meantime, imports increased more rapidly, from €11.7 bn in 2014 to €14.7 bn in 2016 (+25%). As a result, the EU surplus in trade in services with India recorded in both 2014 and 2015 turned into a deficit (-€0.8 bn) in 2016.
EU net investor in India
EU Foreign Direct Investment (FDI) in India increased in 2015 to €6.2 bn (compared with €4.8 bn in 2014 and €4.7 bn in 2013), while Indian investment flows into the EU stood at €1.1 bn in 2015. This means that the EU is a net direct investor in India.
Over this period, the total FDI positions of the EU in India, which reached €62.8 bn by the end of 2015, remained significantly higher than those of India in the EU (€14.7 bn).