In 2018, there were 4.25 million live births across the EU. The median age of women at childbirth was 30.8 years, while approximately 1 in 20 births (5.2%) across the EU were to women aged 40 or more.
The EU regions with the highest shares of births to women aged 40 or more were concentrated over much of Ireland, Spain and Italy. High shares were also recorded, among others, in the capital regions of Greece, Hungary and Portugal.
In 2018, the Spanish region of Galicia recorded the highest proportion of live births among mothers aged 40 or more: its share of 12.9% was more than twice the EU average. Galicia was closely followed by the Italian island of Sardegna (12.4%) and relatively high shares were also recorded in two other Spanish regions: Principado de Asturias and Comunidad de Madrid (both 11.7%), as well as Lazio in Italy (11.5%).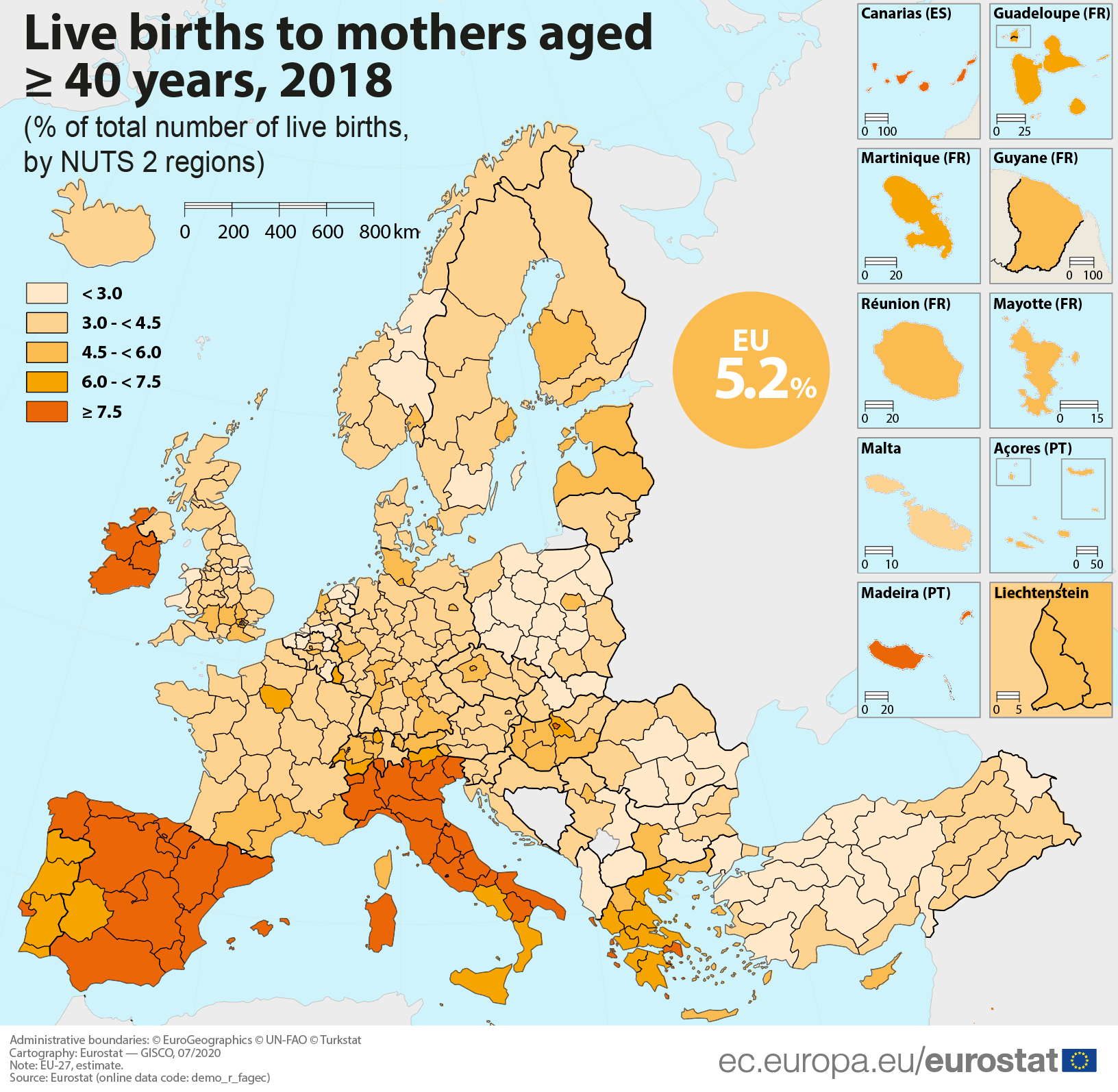 Source dataset: demo_r_fagec
In contrast, just 2.2% of all live births in Východné Slovensko (Slovakia) and Prov. West-Vlaanderen (Belgium) were to mothers aged 40 or more, followed by two Dutch regions: Drenthe and Friesland, as well as the Bulgarian region of Severozapaden (all 2.4%).
Would you like to know more about demographic structures and developments across EU regions?
You can find more information in the dedicated chapter of the new digital publication Regions in Europe, in the dedicated chapter of the Eurostat regional yearbook 2020 as well as in the corresponding maps in the Statistical Atlas.
Notes:
In this news item, the regional data are presented at NUTS 2 level.
The European Union (EU) includes 27 EU Member States. The United Kingdom left the European Union on 31 January 2020. Further information is published here.
To contact us, please visit our User Support page.
For press queries, please contact our Media Support.