In the EU, gross value added and hours worked decreased in all industries in the first quarter of 2020, as reported in the national accounts. The largest fall was observed for 'wholesale and retail trade, transport, accommodation and food services activities' and 'arts, entertainment, recreations and other service activities*', which were the industries most affected by government shutdowns to contain the spread of the COVID-19.
(*) incl. activities of household and extra-territorial organizations and bodies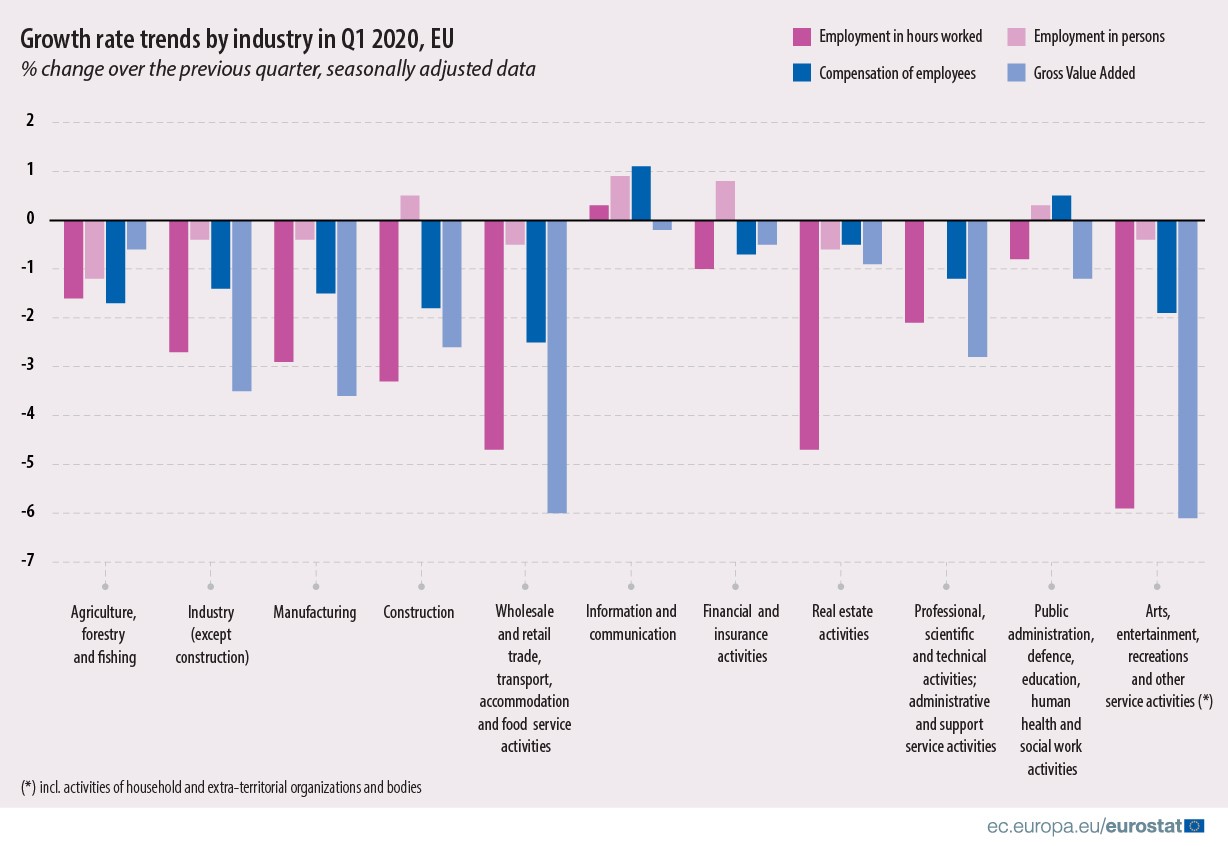 Source datasets: namq_10_a10 and namq_10_a10_e
Declines in compensation of employees (in current prices) and employment in persons were also observed in most industries, but to a lesser extent, reflecting government support schemes.
'Information and communication' activities showed a different trend for number of persons and compensation of employees as both of them recorded an increase (+0.9% for number of persons and +1.1% for compensation of employees).
To a lesser extent, the same trend was observed for 'public administration, defence, education, human health and social work activities' (+0.3% for number of persons and +0.5% for compensation of employees). Nevertheless, gross value added also decreased for both of these industries.
For more information on the impact of COVID-19 crisis on main GDP aggregates including employment, you can read this Statistics Explained article. The article presents a short analysis of the main GDP aggregates including employment for the first quarter of 2020, which were affected by the COVID-19 pandemic in most countries.
Note: Data are based on national accounts. National accounts are compiled in accordance with the European System of national and regional Accounts 2010 (ESA 2010), which is fully consistent with the worldwide guidelines on national accounting (System of national accounts – SNA).
To contact us, please visit our User Support page.
For press queries, please contact our Media Support.