There is a wide variety in the economic structure of the
regions
in the
European Union
. Eurostat has taken a deeper look at the
gross value added
of six main economic activities across EU regions, as available in
regional accounts
at
NUTS 3
level, to analyse their economic specialisation in 2017. The current coronavirus pandemic may impact regions differently in the short term, depending on the economic sectors in which they are specialised. Regions specialised in public administration and health services will be affected differently than those specialised in distributive trades and tourism.
Agriculture, forestry and fisheries
Ileia, on the western coast of Greece, is the NUTS 3 region most specialised in agriculture, forestry and fisheries in the EU. In 2017, 24.3% of the gross value added created in Ileia came from growing corn, tomatoes and other fruits and vegetables, from livestock and from fishing (in particular squid).
Silistra on the Danube in north eastern Bulgaria, with its fertile soil, was also specialised in agriculture; agriculture accounted for 22.8% of the region's value added in 2017. Across the Danube, the neighbouring Romanian region Călăraşi is also strongly specialised in agriculture, with 20.4% of the region's gross value added coming from agriculture in 2017.
Other regions that sourced close to 20% of their total gross value added from agriculture in 2017 included Pella (19.6%) in Greece, Bjelovarsko-bilogorska županijathe (Bjelovar-Bilogora County) (19.5%) in Croatia and Almería (19.2%) in Spain with its greenhouses and large vegetable production.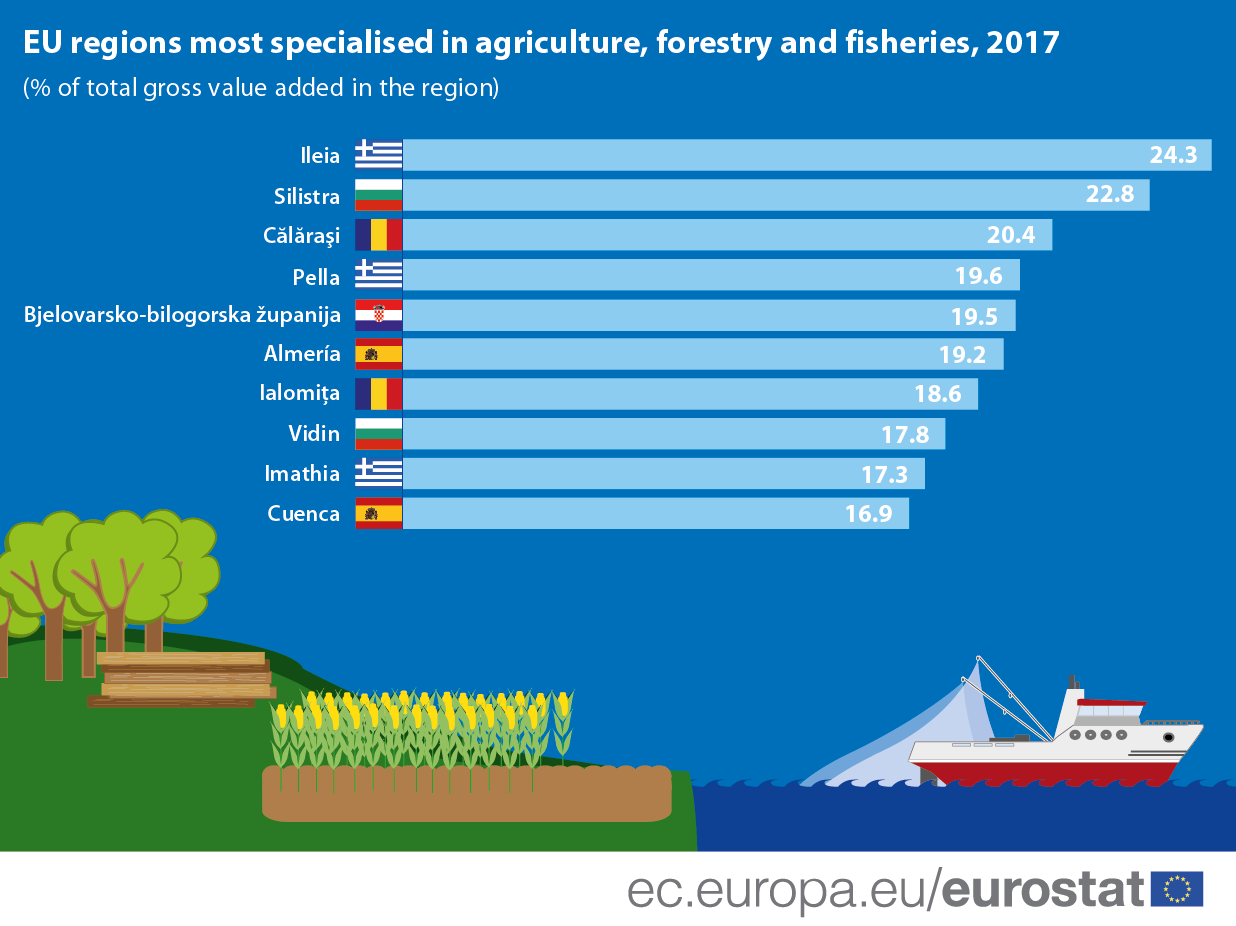 Industry, including energy
In addition to manufacturing industries, this category also includes mining and quarrying and the supply of electricity, gas and water. The Top 10 list of NUTS3 regions most specialised in industry is dominated by German regions, in particular associated with the production of cars, steel and chemicals. Wolfsburg (75.5% of gross value added came from industry in 2017), Ingolstadt (72.4%) and Dingolfing-Landau (68.2%) are all closely associated with major car producers. The fourth region on the list, Salzgitter (66.4%), has a quite diversified industrial section, while the economy of Ludwigshafen (65.6%) is dominated by chemical production.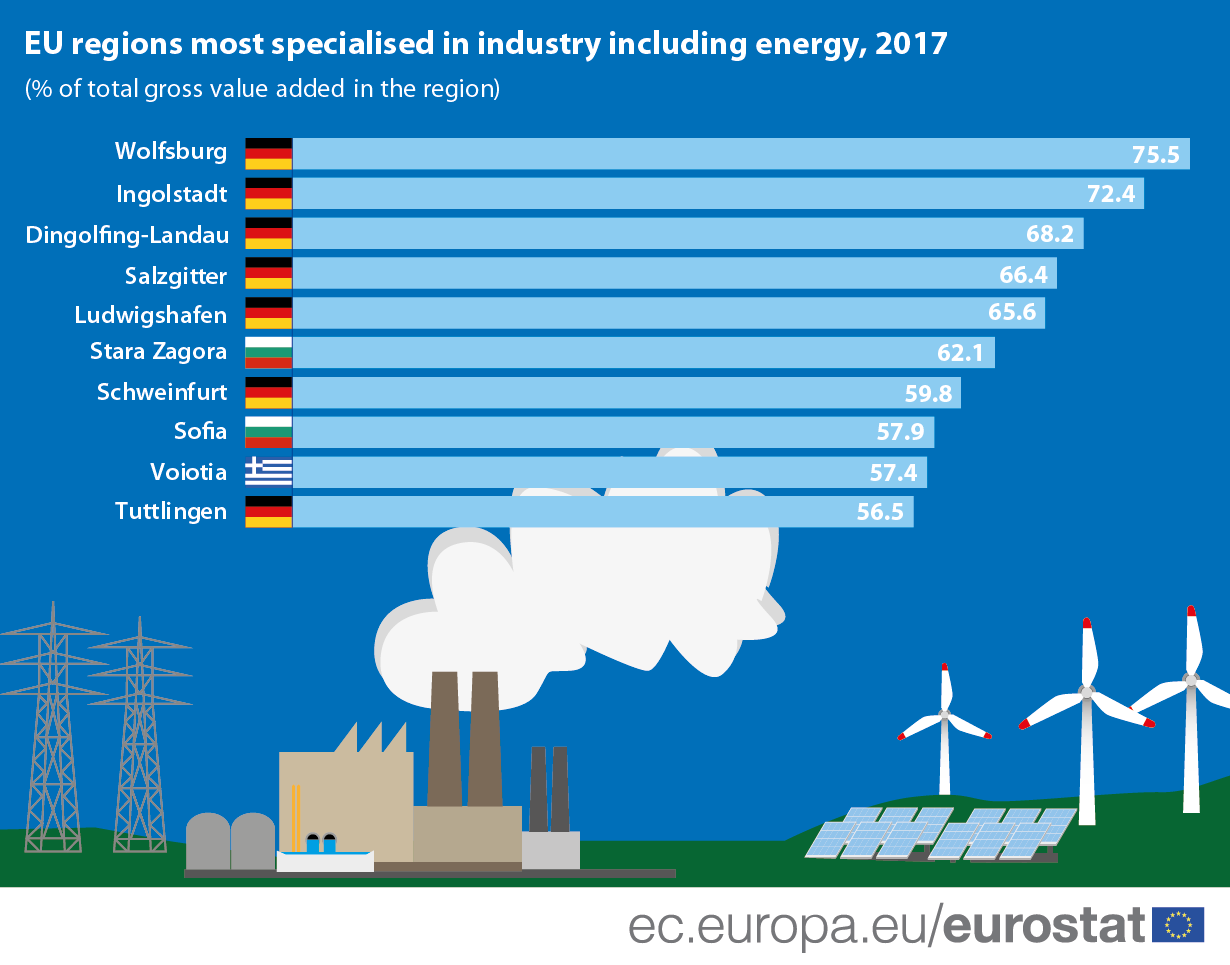 Construction
Construction covers the development of building projects and construction of residential and non-residential buildings, as well as civil engineering of roads, railroads, utility projects, etc., and specialised construction activities. Overall, gross value added from construction has a relatively limited importance in all regions of the EU. Neumarkt in der Oberpfalz Germany, close to Nürnberg and München, has the highest specialisation in construction of all NUTS 3 regions in the EU; construction contributed 15.3% of total gross value added in the region in 2017. Closely thereafter follows the Belgian region of Neufchâteau (15.0%), Mittelburgenland (14.7%) in Austria and Deggendorf (14.5%) in Germany.
Trade, tourism, transport and communications
This category covers a wide range of economic activities, including wholesale and retail trade, repair of motor vehicles and household goods; hotels and restaurants; transport and communication. The NUTS 3 regions in the EU most specialised within these economic activities are all well-known tourist destination; eight of the Top 10 regions are located in or along the Mediterranean. Five Greek regions and three Spanish regions feature in the Top 10 list.
The Greek region Andros, Thira, Kea, Milos, Mykonos, Naxos, Paros, Syros, Tinos, comprising the Cyclades island group, created more than half (53.9%) of its gross value added in 2017 from these economic activities. The same applied to the Spanish region Fuerteventura in the Canaries (51.6%), the skiing and trekking region of Tiroler Oberland (51.5%) in Austria and the Greek region Zakynthos (51.2%) in the Ionian Sea.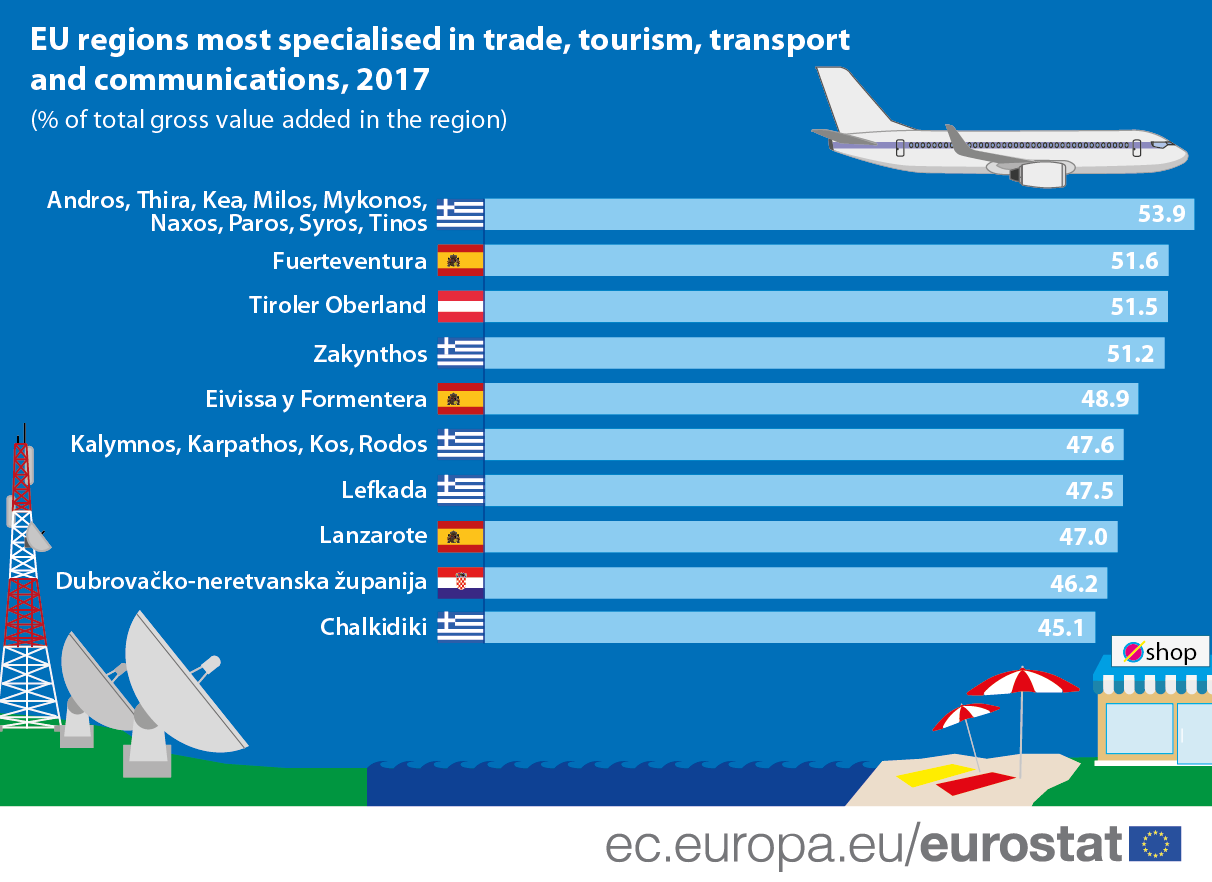 Finance and insurance services
In addition to financial intermediation, this category comprises also real estate, renting and business activities. At the top of the list of EU regions most specialised in finance and insurance activities is the relatively small Bavarian region of Coburg (Kreisfreie Stadt). As the seat of a well-known German insurer, one half (49.6%) of Coburg's gross value added was generated from such activities in 2017.
The other NUTS 3 regions on the Top 10 list include several large European financial and business centres. In Hauts-de-Seine on the western edge of Paris, financial and insurance activities accounted for 48.4% of gross value added (2016 data), while in Luxembourg they accounted for 46.9% of gross value added in 2017.
Groot-Amsterdam in the Netherlands, with its many international business headquarters, generated 44.1% of its gross value added from these activities. The German regions Main-Taunus-Kreis and Frankfurt am Main are both part of the Frankfurt metropolitan region. Both are highly specialised in financial and insurance activities, with 43.8% and 42.8% of gross value added respectively in 2017, reflecting Frankfurt's position as a major international financial centre.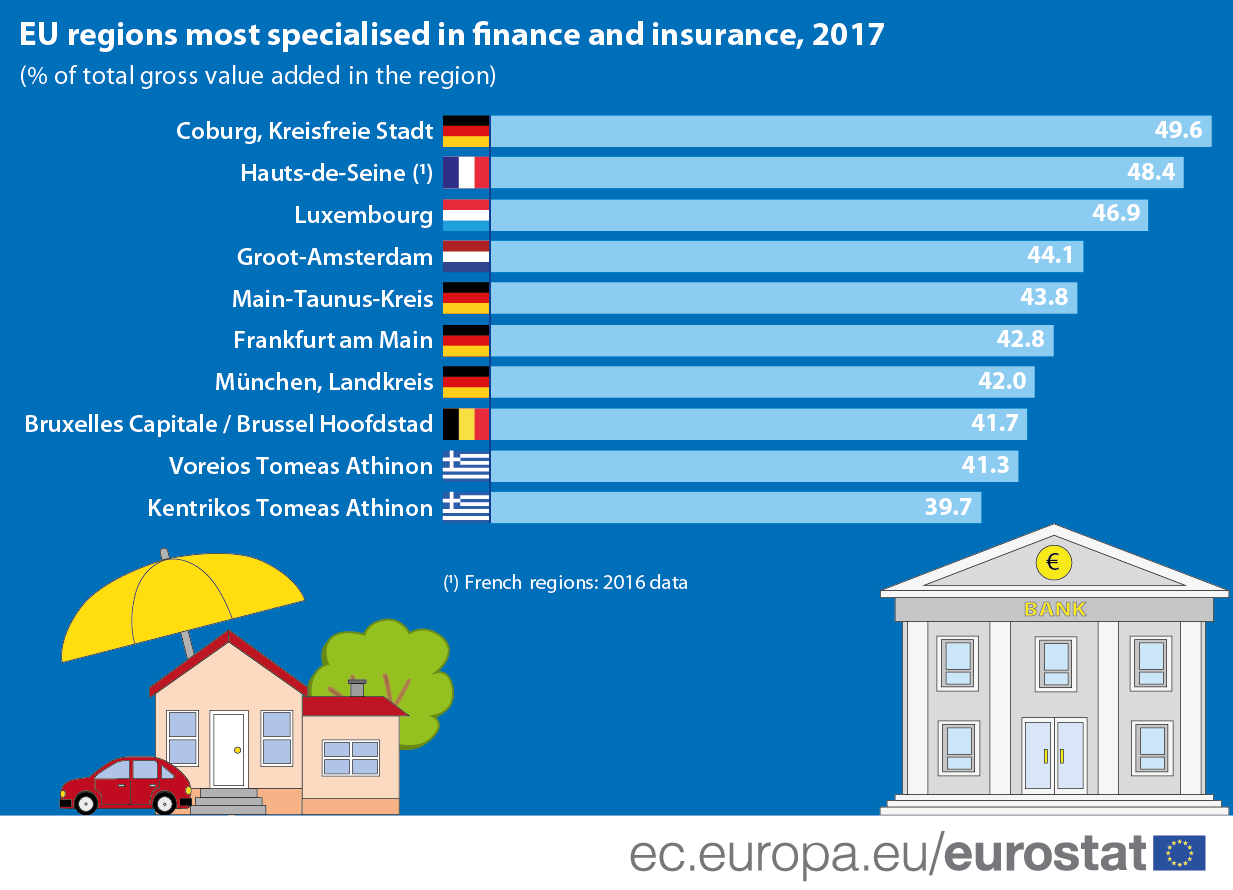 Public administration and other services
This category also covers a wide range of economic activities, from pubic administration via social security, education, health and social services to other service activities. The French region Mayotte, situated in the Indian Ocean, is characterised by high unemployment and low economic activity. This is reflected in the high importance of public administration, social security, education, health and services to its economy; these services accounted for 55.7% of the region's gross value added (2016 data), the highest of all NUTS 3 regions in the EU.
The next regions in this Top 10 list are the two Spanish enclaves on the North African coast, Melilla and Ceuta. Public administration and other services made up respectively 51.8% (Melilla) and 51.3% (Ceuta) of the regional gross value added in 2017.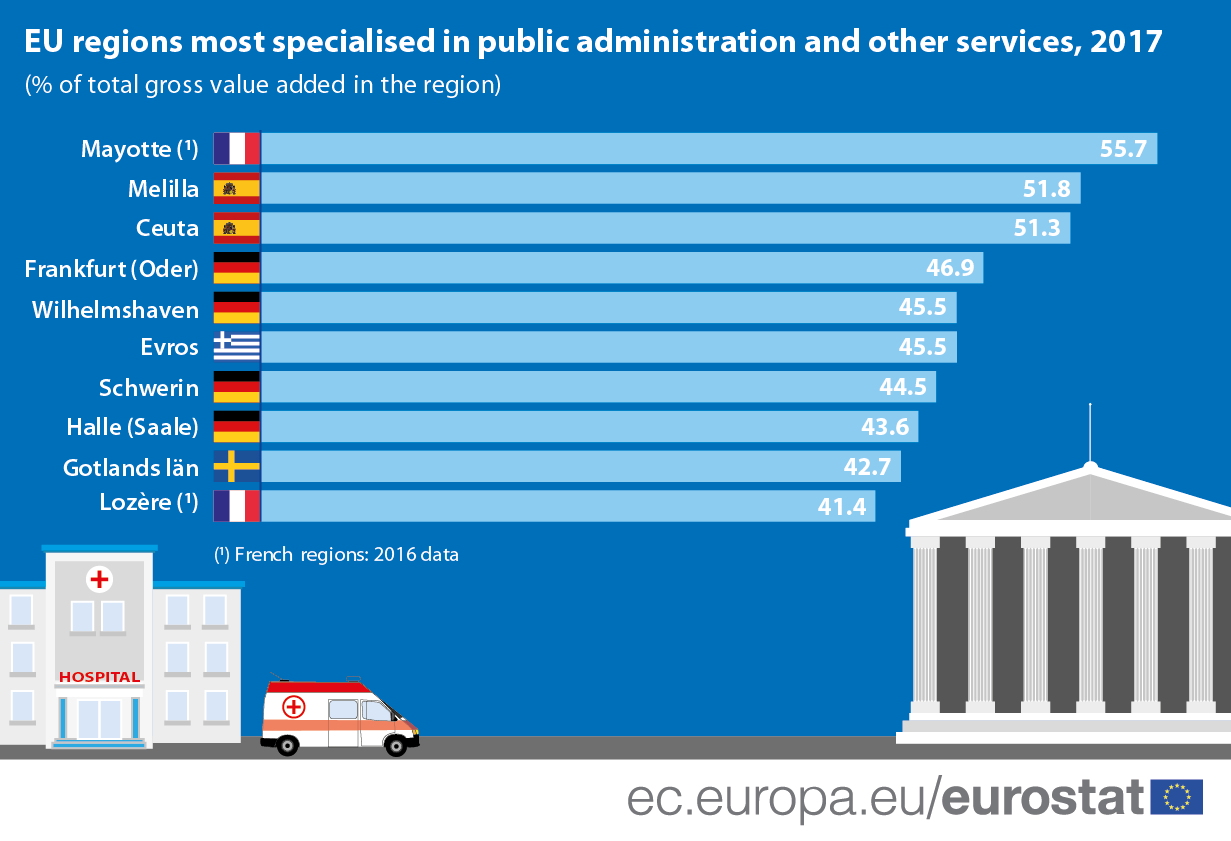 Notes:
This comparison analyses regions at NUTS 3 level, which defines small regions for specific diagnoses. Germany accounts for almost one third of the NUTS 3 regions, which might explain why so many German regions appear in these Top 10 lists. More information on the NUTS classification of European regions can be found here.
Data for French NUTS 3 regions were not available for 2017 for this comparison; 2016 data have been used instead.
The European Union (EU) includes 27 EU Member States. The United Kingdom left the European Union on 31 January 2020. Further information is published here.
To contact us, please visit our User Support page.
For press queries, please contact our Media Support.