In 2018, around 12.6 million tonnes of soap and detergents were produced in the European Union (EU). The vast majority (81%) of this were detergents and washing preparations, while around one-fifth (19%) was soap and organic surface-active products.
The five main producers of soap and detergents among the EU Member States were Italy, Germany, Spain, France and Poland. These five countries together accounted for 74% of detergents and 85% of soap manufactured in the EU in 2018.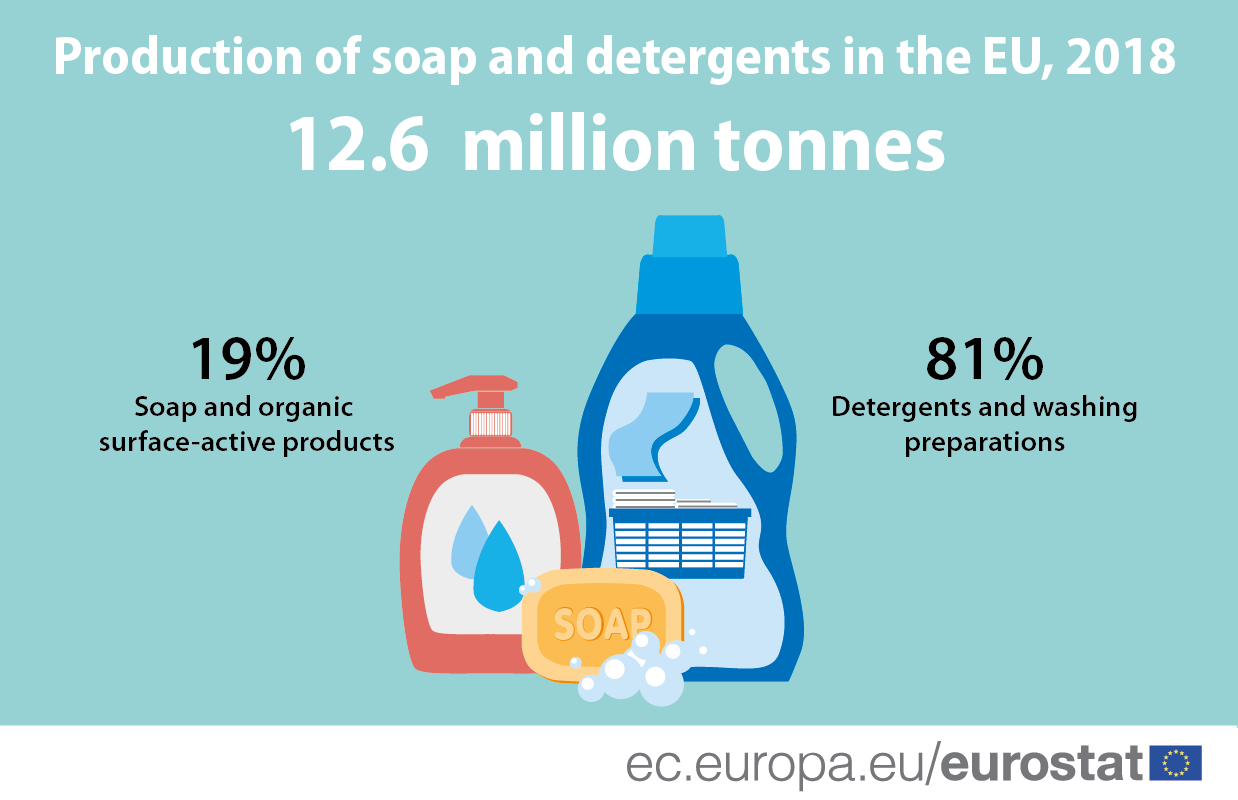 The EU is a net exporter of soap and detergents. In 2019, the EU exported 3.2 million tonnes of soap and detergents, while importing 1.3 million tonnes of these products. Both exports and imports were roughly stable compared to 2018, increasing only slightly.
Data source: DS-645593
Among EU Member States, Germany exported the most soap and detergents to non-EU countries (795 500 tonnes, or 25% of the extra-EU exports), followed by Italy (416 200 tonnes, 13%) and Poland (351 200 tonnes, or 11%).
The United Kingdom was the main destination for EU exports of soap and detergents with a 28% share (893 400 tonnes). It was followed by Russia (252 000 tonnes, 8%), Turkey (179 700 tonnes, 6%) and Switzerland (176 100 tonnes, 5%).
For more information on statistics available in this area, take a look at the overviews of production of manufactured goods (PRODCOM) and of international trade in goods.
The European Union (EU) includes 27 EU Member States. The United Kingdom left the European Union on 31 January 2020. Further information is published here.
To contact us, please visit our User Support page.
For press queries, please contact our Media Support.