The transition towards a circular economy is not just about recycling more. The circular economy is a cross-cutting issue covering how we produce and use energy, emissions of greenhouse gases and pollutants to the air, food intake and food waste, and accumulation of material stocks in our society, among other things.
Sankey diagram of material flows
Eurostat is publishing a new experimental interactive visualisation tool for the circular economy: the Sankey diagram of material flows. We invite you to play around and explore material flows by country, year and material type. Discover what happens to the materials you use or discard every day. The diagram is now interactive and includes new features, such as time graphs, pie charts and animations where you can visualise the changes over time. You can display or hide data values and labels, and choose between different units (tonnes per capita, billion tonnes, and other).
The diagram shows the flow of materials as they pass through the EU economy and are eventually discharged back into the environment or re-fed into economic processes. The green loop represents materials recovered from waste recycled and other waste reused. The diagram shows them to scale with other flows such as imports, natural resources extracted from the natural environment, exports, emissions to air (mostly from energy production), and more.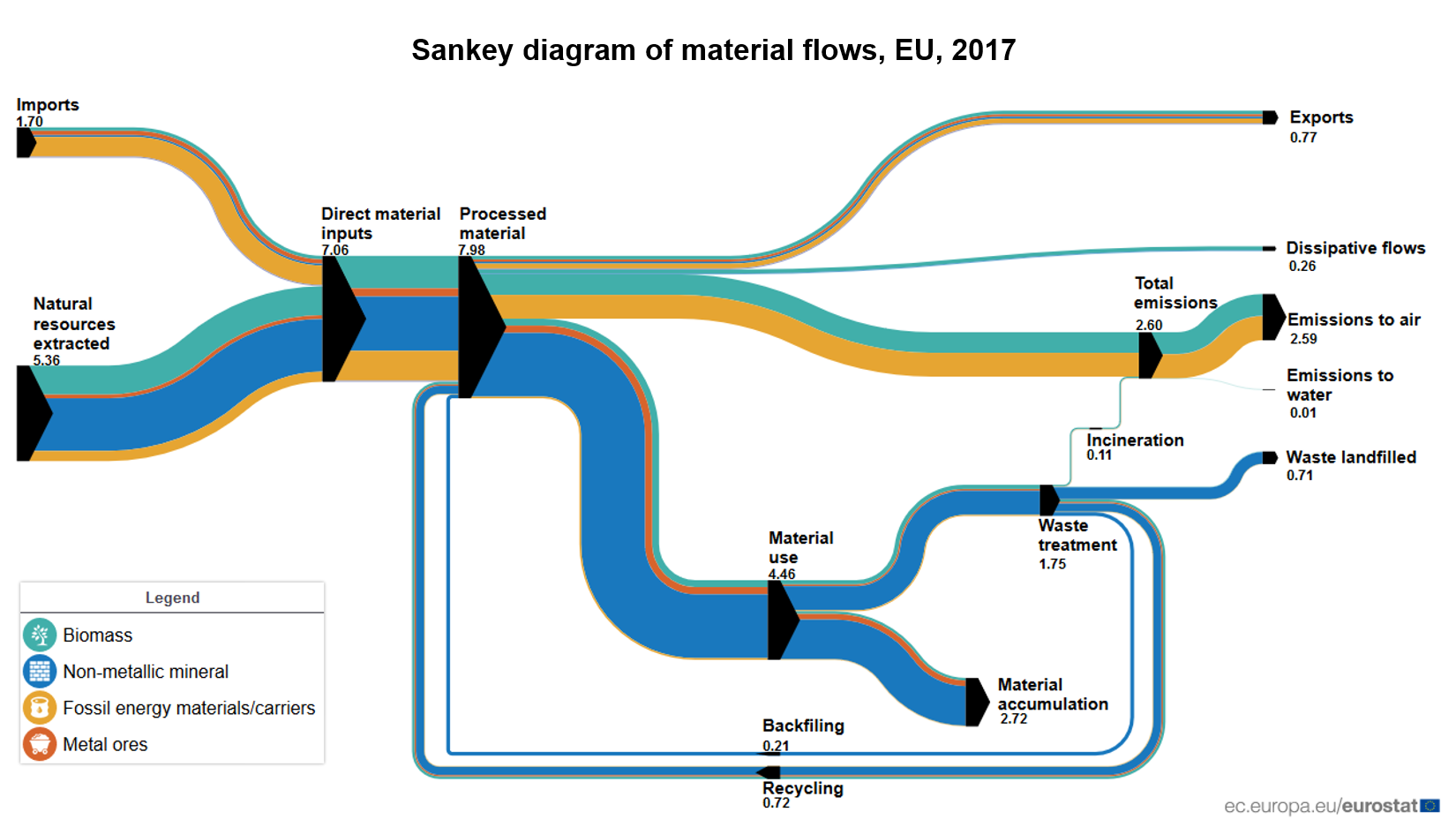 Flow runs left to right; the width of the bands is proportional to the weight of materials flowing, data in billions of tonnes
Source: Eurostat data: env_wassd; env_ac_sd; env_ac_mfa
Further information on how to interpret the diagram is provided in the Statistics Explained article Material flows in the circular economy.
For more information:
Note: The European Union (EU) includes 27 EU Member States. The United Kingdom left the European Union on 31 January 2020. Further information is published here.
To contact us, please visit our User Support page.
For press queries, please contact our Media Support.