The share of energy used for transport that comes from renewable sources stood at 8.0% in the European Union (EU) in 2018, compared with 7.1% in 2017, 3.9% in 2008 and 1.4% in 2004, the first year for which data are available.
Compared with 2017, the share of energy from renewable sources used for transport increased in 21 of the 28 Member States in 2018, remained stable in two Member States and decreased in five.
Sweden had by far the highest share - lowest share in Cyprus
Sweden, with 29.7%, had by far the highest share of renewable energy in transport fuel consumption in 2018, ahead of Finland with 14.1%, the Netherlands 9.6% and Austria 9.8%.
At the opposite end of the scale, the lowest proportion was recorded in Cyprus (2.7%). Low shares (below 4%) were also recorded in Croatia, Greece and Estonia.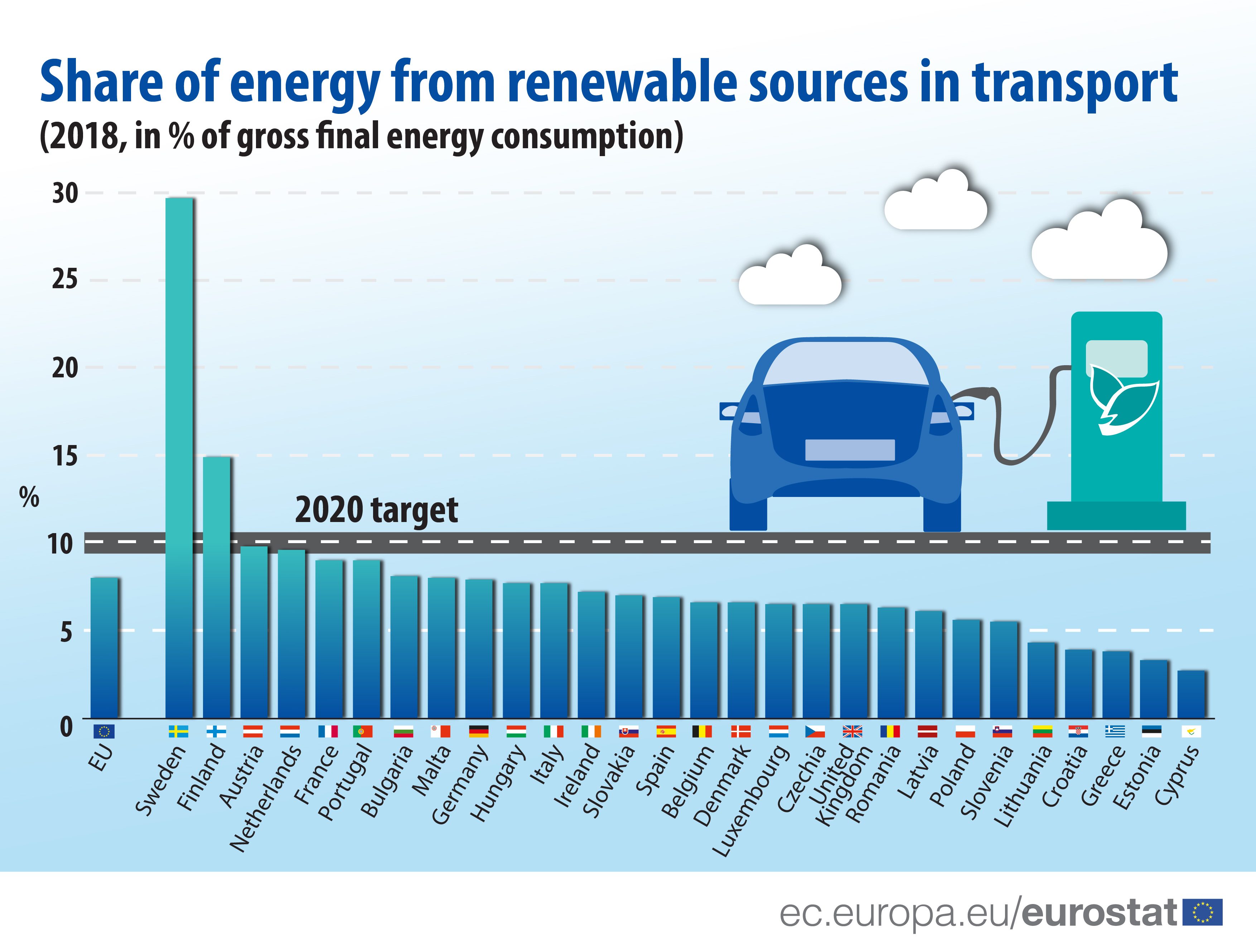 Data source: nrg_ind_ren
For more information
The share of energy from renewable sources is calculated in a harmonised manner across the EU Member States using the Shares Tool. More information about the Shares Tool, and the "Summary Results Shares 2018" can be found in Shares dedicated section.
Renewable energy sources used in transport typically include liquid biofuels, hydrogen, and biomethane. More generally, renewable energy sources also cover wind power, solar power (thermal, photovoltaic and concentrated), hydropower, tidal power, geothermal energy, ambient heat captured by heat pumps, and the renewable part of waste.
You can find more statistics on renewable energy in the latest Statistics Explained article on Renewable energy.
For press queries, please contact our Media Support.
To contact us, please visit our User Support page.