The EU Member States spent over €138 billion on paid sick leave benefits in 2014 (1% of EU GDP). Social protection expenditure for paid sick leave represented 3.6% of the total spent on social benefits and accounted for 12% of total expenditure on the sickness/health care benefits.
Over the last few years, the share of social protection expenditure on paid sick leave benefits in the EU has increased slightly from 3.4% in 2010 to 3.6% in 2014.
Share of expenditure on paid sick leave highest in Cyprus, lowest in Greece
The share of total social benefits spent on paid sick leave varied significantly between EU Member States. It accounted for more than 5% of total social benefits in Cyprus (8.5%), Germany (6.1%), the Netherlands (6.1%) and Luxembourg (5.3%). The lowest shares were registered in Greece (0.7%), Italy (1.2%), Portugal (1.4%) and Romania (1.6%).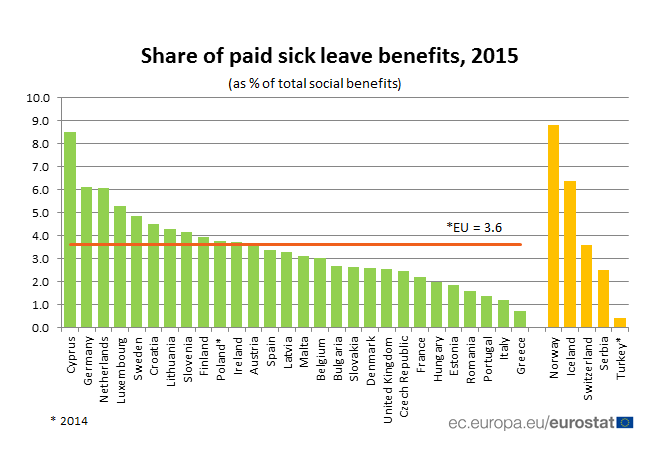 The source dataset can be found here and here
For more information: Eurostat website section dedicated to social protection statistics