Trafficking in human beings statistics
Data extracted in January 2023
Planned article update: December 2023
In 2021, there were 7 155 victims of trafficking in human beings in the EU and 2 517 convicted traffickers.
In 2021, 2 out of 3 victims of trafficking were female while only 1 out of 5 suspected traffickers was female.
In 2021, 59% of registered victims of trafficking in the EU were citizens of Member States.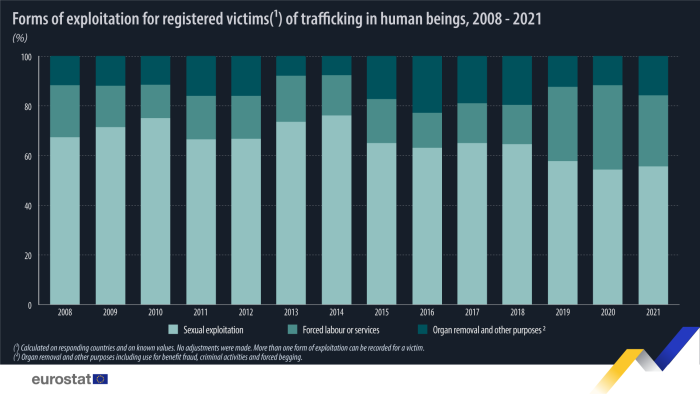 The statistics presented in this article are based on official figures for persons involved (registered victims[1], suspected traffickers[2] and convicted traffickers[3]) in trafficking in human beings in the European Union (EU) between 2008 and 2021. Directive 2011/36/EU on preventing and combating trafficking in human beings and protecting its victims (Anti-trafficking Directive) lays down, in Articles 19 and 20, requirements for EU Member States to gather and report on statistics on trafficking in human beings. Eurostat has been collecting and making available EU-wide data since 2008. This data collection has been carried out as a coordinated effort between the national rapporteurs and/or equivalent mechanisms for reporting statistics on trafficking in human beings and the European Commission (Eurostat). The data are unadjusted and published as they are reported by EU Member States.
Trafficking in human beings, as defined in Article 2 of the Directive 2011/36/EU, is a grave violation of human rights, a crime against the person, the goal of which is the exploitation of the person. Trafficking does not require the crossing of borders and can have many exploitative purposes.