Glossary:Services producer price index (SPPI)
The services producer price index, abbreviated as SPPI, is a business-cycle indicator which measures the gross change in the trading price of a number of services including freight transport, air transport, postal services, telecommunication, computer programming, consultancy services, architecture and engineering, advertising, security services etc (see box).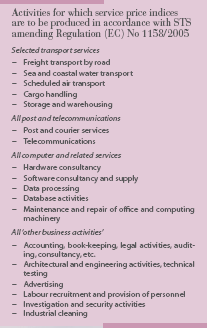 Public services are excluded, as for those services (for example health and education) the notion of price is not obvious and the ways they are provided are very different from country to country.
Similar to the industrial producer price index, the SPPI is an output index – it measures price changes from the perspective of the seller. The SPPIs are used as an aspect of output for the seller and as a cost factor for the buyer
The SPPI covers services provided for all uses, i.e. for intermediate as well as for final consumption. However, the economic service activities for which the SPPI is calculated (see above) are mainly consumed by other businesses for the production of their own goods and services. Inflation experienced by consumers is measured by the harmonised index of consumer prices.
The SPPI is an important measure of inflation as services account for over half of modern economies. It is also employed to analyze the origins of inflation since it shows which services consumed by other businesses might be the sources of price increases. The SPPI is used as well as a deflator for services turnover (measured in current prices) and thus allows calculating a volume indicator for services similar to the volume index of industrial production.
The SPPI is calculated on a quarterly basis, EU data are available from 2006 on.
Further information
Related concepts
Statistical data